The Nokia 105 Price in Pakistan is at Very Nominal Rates of PKR 2,850. The Nokia 105 is the 4th edition in the phone and launched in September 2019 in Pakistan.
The Nokia 105 comes in 1.8 inches screen display with TFT 65 K colors technology. TFT stands for thin film transistor. It is usually used in budget phones like the Nokia 105. The screen imagery is much more advanced than normal LCDs due to the incorporation of TFT in them. Moving on the screen resolutions are 120 x 160 pixels with a pixel density of 113 ppi.
The built of the phone is of a plastic polycarbonate body incorporated with a glass front and keys for typing with a home button in the middle. The weight of the handset is 73 grams and supports mini sim system on dual standby. The dimensions of the phone stands at 49.2 x 119 x 14.4 mm. The Nokia 105 runs on Nokia 30 series plus operating system.
Furthermore, the budget phone is available in 4.096 MB RAM with 4.096 MB internal storage.
You can store up to 2000 contacts on this budget phone. The Nokia 105 does not have any features of Wifi, GPS, wireless charging, video playback, video or 4G LTE.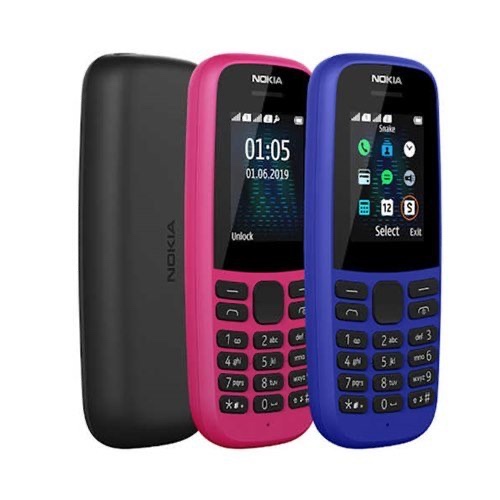 FM radio can be heard on the budget phone by using a headset.
The Nokia 105 also does not have camera incorporated in it. The phone incorporates a flash light. The Nokia 105 has sms options and games incorporated in the phone.
The Nokia 105 is not waterproof or have any display protection. The budget phone has a facility of 1.1 Micro Usb incorporated with 3.5 mm headphone jack for charging.
The Nokia 105 has a removable battery of with a capacity of 800 mAh. Additionally, it comes with micro USB 1.1 cable, 550 .01 AMP charger, handsfree.
The talk time on this budget phone is 15 hours, while music play is 45 hours and standby is up to 619 hours which is 18 days. The budget phone comes in black, blue and red colors.
The Nokia 105 price in Pakistan is at a nominal rate of 2,850 PKR.