Ohkay so, it was yet another engaging & exceptional episode of O Rangreza. First & foremost I must commend the director for making every frame of O Rangreza a complete & unique picture in its own, like I found myself focusing on so many minute details that I just couldn't keep track of where the time went & when the episode ended. Every other frame of O Rangreza has so much to provide & is so appeasing to the eye that you just can't help getting mesmerized by the attention to detail. To add more to it, I love how all the actors have acted in every single scene, like even when their dialogues are over, you can still see them being in their element & gesticulating in such a manner that keeps their character alive. In this episode, I noticed it so many times that every other actor even after being done with their dialogues stayed within their character which made everything even more realistic. The acting, the dialogues, the backdrops, the expressions, every single thing in this episode of O Rangreza was spot on so for that the writer deserves to be commended for adding so much of depth, the director deserves to be commended for putting in so much of detailing & the actors deserve to be commended for giving their 100% & making this drama a treat to watch!
So, did Khayyam realize his mistake? Partially yes & partially no because his half-hearted apology didn't mean anything. Khayyam knows his wife a bit too well & he knows that a mere sorry after such a rude behavior would be enough for her so he extended her that without actually feeling the gravity of the situation at how hurt Mumtaz was. After that hurtful interaction with Khayyam, it was so obvious throughout this episode that Mumtaz was so not feeling herself & she was deeply hurt, to an extent that she was lost in her own thoughts because she couldn't come to terms with the fact that her husband could insult her in such a way & to add more to it, her daughter wouldn't deem her father's behavior odd.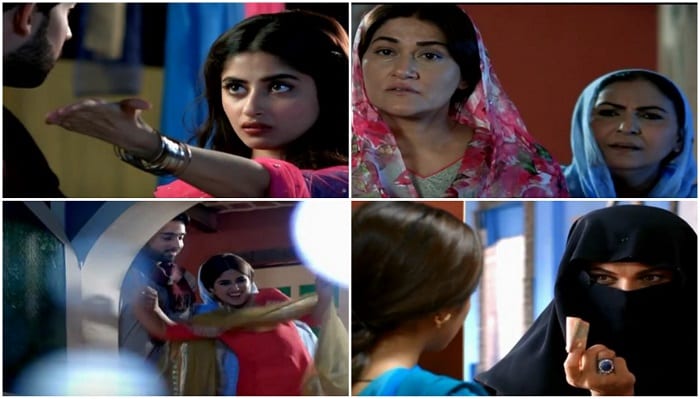 As always, in stead of feeling anything for Mumtaz, Sassi found amusement in her mother's suffering, that is why she thought this was something which had to be made fun of. Sassi still didn't feel a thing for her mother but in stead wanted to walk an extra mile for Khayyam because she believed that after that interaction, Khayyam himself must be feeling low. Sassi decided to contact Sonia Jahan (Sana Fakhar) so that she could help her father rekindle his feelings for her because Sassi knew that Sonia Jahan was someone who could make her father happy. I really want to know how did Sassi find out about her father's love for Sonia Jahan & what was the status of Khayyam & Sonia's relationship or involvement with each other in the past? All the scenes which involved Sassi & Qasim provided the perfect amount of light-hearted moments because I found myself smiling throughout their interactions, it was amusing seeing Sassi bossing around Qasim & Qasim dancing to her tunes, despite not wanting to because as usual, he can't say no to her or may be he knows that Sassi is someone who wouldn't settle for no for an answer.
It is interesting how despite having his own thought process, his own perspective & his own opinions, Qasim always finds himself doing what Sassi expects him to do. He knew that Mumtaz was hurt & Sonia's presence would hurt her some more but he ended up calling Sonia Jahan because Sassi said so. Even though Qasim has seen that Khayyam might be an ideal father but he is not an ideal husband, but just because Sassi said she wanted to get married to someone like Khayyam, Qasim ended up imitating him only to feel & understand what is it in a partner that Sassi is looking for. It was actually quite sweet how every single time Qasim tried to stay focused but his affection for Sassi forced him to go into some kind of trance where he found himself mesmerized & speechless when she was around. I think Qasim's feelings for Sassi have been elaborated in a beautiful manner where he treats her like a friend, a cousin but deep down he has such strong feelings for her which he likes to keep to himself but still enjoys the idea of her being his someone special!