Ohkay so, it was yet another engaging & exceptional episode of O Rangreza. First & foremost I must commend the director for making every frame of O Rangreza a complete & unique picture in its own, like I found myself focusing on so many minute details that I just couldn't keep track of where the time went & when the episode ended. Every other frame of O Rangreza has so much to provide & is so appeasing to the eye that you just can't help getting mesmerized by the attention to detail. To add more to it, I love how all the actors have acted in every single scene, like even when their dialogues are over, you can still see them being in their element & gesticulating in such a manner that keeps their character alive. In this episode, I noticed it so many times that every other actor even after being done with their dialogues stayed within their character which made everything even more realistic. The acting, the dialogues, the backdrops, the expressions, every single thing in this episode of O Rangreza was spot on so for that the writer deserves to be commended for adding so much of depth, the director deserves to be commended for putting in so much of detailing & the actors deserve to be commended for giving their 100% & making this drama a treat to watch!
So, did Khayyam realize his mistake? Partially yes & partially no because his half-hearted apology didn't mean anything. Khayyam knows his wife a bit too well & he knows that a mere sorry after such a rude behavior would be enough for her so he extended her that without actually feeling the gravity of the situation at how hurt Mumtaz was. After that hurtful interaction with Khayyam, it was so obvious throughout this episode that Mumtaz was so not feeling herself & she was deeply hurt, to an extent that she was lost in her own thoughts because she couldn't come to terms with the fact that her husband could insult her in such a way & to add more to it, her daughter wouldn't deem her father's behavior odd.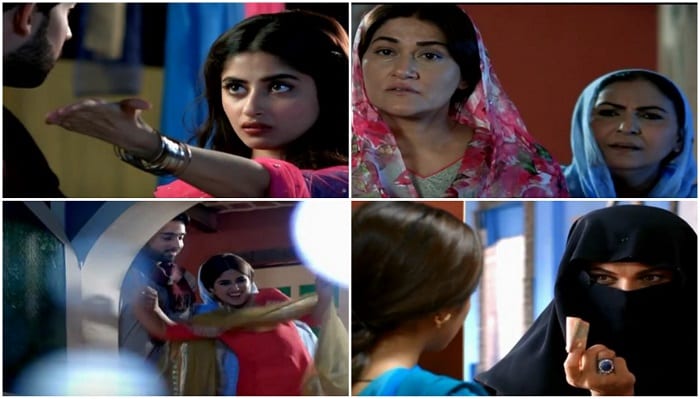 As always, in stead of feeling anything for Mumtaz, Sassi found amusement in her mother's suffering, that is why she thought this was something which had to be made fun of. Sassi still didn't feel a thing for her mother but in stead wanted to walk an extra mile for Khayyam because she believed that after that interaction, Khayyam himself must be feeling low. Sassi decided to contact Sonia Jahan (Sana Fakhar) so that she could help her father rekindle his feelings for her because Sassi knew that Sonia Jahan was someone who could make her father happy. I really want to know how did Sassi find out about her father's love for Sonia Jahan & what was the status of Khayyam & Sonia's relationship or involvement with each other in the past? All the scenes which involved Sassi & Qasim provided the perfect amount of light-hearted moments because I found myself smiling throughout their interactions, it was amusing seeing Sassi bossing around Qasim & Qasim dancing to her tunes, despite not wanting to because as usual, he can't say no to her or may be he knows that Sassi is someone who wouldn't settle for no for an answer.
It is interesting how despite having his own thought process, his own perspective & his own opinions, Qasim always finds himself doing what Sassi expects him to do. He knew that Mumtaz was hurt & Sonia's presence would hurt her some more but he ended up calling Sonia Jahan because Sassi said so. Even though Qasim has seen that Khayyam might be an ideal father but he is not an ideal husband, but just because Sassi said she wanted to get married to someone like Khayyam, Qasim ended up imitating him only to feel & understand what is it in a partner that Sassi is looking for. It was actually quite sweet how every single time Qasim tried to stay focused but his affection for Sassi forced him to go into some kind of trance where he found himself mesmerized & speechless when she was around. I think Qasim's feelings for Sassi have been elaborated in a beautiful manner where he treats her like a friend, a cousin but deep down he has such strong feelings for her which he likes to keep to himself but still enjoys the idea of her being his someone special!
So, finally, Sassi succeeded in inviting Sonia Jahan & she thought she did the right thing for the sake of her father. Obviously, out of everyone in the family, Khayyam & Sassi were rejoicing but no one except Qasim saw that Mumtaz was suffering. I felt for Mumtaz so much in this episode, like she was still recovering from the pain that Khayyam caused to her on their anniversary & just before she could move on, Sonia Jahan came as a reminder of the fact that Mumtaz was the one who didn't make Khayyam happy & she was just his wife, more like his servant who was expected to fulfill her duties without faltering. Sonia Jahan proved to be a charmer, that is why just a single meeting with her left Sassi under such an influence that you could see the difference in her attitude. Sassi felt she accomplished something huge & since she has always idealized Sonia Jahan because of her father, each & every word of Sonia left a huge impact on her that she felt this confidence & had an emotional shift which I believe will only cause more problems to her & all those who are associated with her.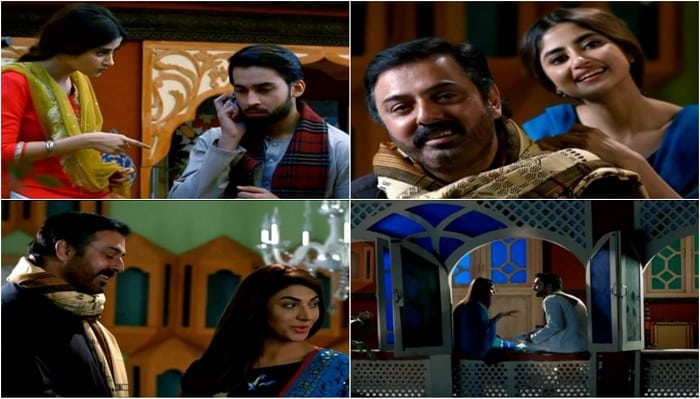 Khayyam was also not himself after he met Sonia. They showed quite an interesting contrast of emotions where Khayyam was engulfed in his own thoughts which were providing him some sort of emotional relief & on the other hand Mumtaz was feeling alone & defeated, while thinking about another obstacle that she was faced with & that she'd have to ignore because she doesn't expect anything good from her life at this stage. So, looks like Sonia Jahan is not going anywhere & like she said 'mai to appka ghar lootnay ai hoon', she might make that happen. She wants Khayyam to write the script of her biopic & that means more prolonged meetings & more such interactions between the two of them!
I thoroughly enjoyed the last scene between Sassi & Qasim, where Sassi wanted to hear good things about herself but Qasim was busy idealizing her in his own thoughts that he couldn't give words to his feelings & couldn't bring himself to say what she wanted to hear. Obviously, at this stage even if Qasim had said something based on what he actually feels for her, Sassi wouldn't have understood the depth of his words because for her, he is just someone who she doesn't take seriously. The way they both went to their rooms after Mumtaz came showed such an interesting contrast between their personalities, where Qasim ran in bewilderment, scared of giving out the wrong impression or rather scared of having his feelings exposed, but on the other hand Sassi had this confidence in her body language as if the one who ordered her to go to the room was a nobody & she had no importance in Sassi's life. I actually feel bad for Mumtaz that Khayyam being one story, even Sassi's attitude reminds her that she is a failure every step of the way because even her own daughter fails to acknowledge her status as a mother & doesn't extent the respect that she is entitled to!
Overall, this episode was brilliant. I am loving the detailing in each & every scene, it just makes everything complete & picture perfect. I love the vibrant backdrops, I loved the minute expressions of all the actors. Noman Ejaz was amazing. Irsa Ghazal was phenomenal as Mumtaz, a defeated hurt soul who has given everything but hasn't gotten anything in return. I must say, this is the first time I am getting to see Bilal Abbas Khan's performance in any drama & he is brilliant, he knows where to stop & where to give it all, like there were so many moments where Qasim had to shift between his thoughts & the reality & Bilal Abbas Khan did it effortlessly, so well done! Sajal Ali, hands down was the star of this episode again, she was phenomenal, I am loving her in this kind of role. Sajal Ali has done so many depressing & serious kind of characters that at one point it felt that was her forte & comfort zone but she really has proved her mettle as a versatile actor by giving it all to the character of Sassi, like for the first time I felt she was acting without any inhibitions & without any fears, without holding herself back & that is why she really has made the character of Sassi a treat to watch. Sana Fakhar is a great addition to the drama, I loved her in Alif Allah Aur Insaan & that is why I have high expectations from her in O Rangreza too. She looked poised, elegant & very graceful, so definitely looking forward to her character. I thank the writer for giving us something new to watch & such interesting characters, even though the journey has just begun but I can't imagine the sort of ride it is going to be. The director has done a wonderful job & has definitely done justice to the script. I absolutely enjoyed the usage of the soundtrack in this episode & last but definitely not the least, I loved the dialogues as well. I think it's going to be a long wait till next Friday. Please share your thoughts about this episode of O Rangreza.
Keep Supporting,
Cheers,
Zahra Mirza.