Inaam Ghar is a show hosted by Aamir Liaqut Hussain on Geo TV. As per Urdu Daily Jang – Showbiz Cell (aka the propaganda cell of geo), this show has broken all the records of all types of the past and also any records that could have been made in future. It includes all the records that exist to-date and also the records that are yet to be made at any time in near and distant future.
Not contented with this success and popularity, the management of show is still using all the measures to make further records. As per one report of Urdu Daily Jang, the show is heading towards its destiny. But before it reaches there, the host of the show has become impatient so the speed of giving gifts has increased (to make a universal record of gifts versus time). But the program is not just about gifts, it is there to serve a much bigger cause that is to serve humanity (only for the sake of high rating and cheap publicity). There are hundred thousand ways to serve humanity, but Inaam ghar knows only one way, that is to give a toddler to some child-less couple in front of camera, creating as much drama, sentiments and emotions as possible. The name of this segment of this show is named 'Paalna (Baby Swing)'
Few weeks ago a baby was given to a couple, and this thursday (17th April 2014), there was another one ready to be handed to another couple. The only difference was the gender of baby, which was a girl (previously it was a boy), rest of things i.e. the cameras, the wicked host, emotions, tears, sentiments, were all same. The toddler was handed over to a child-less couple, after creating an emotionally charged situation (which is necessary to earn cheap publicity and high rating).
Few weeks ago Aamir Liaqut Hussain, showed his determination to continue this act which as per him is a service towards humanity. He definitely is a man of his words, as he has done as said, wow what a character to be saluted by the nation. Who says there are too many hypocrites in our society, here is a golden example of a man who stood by what he said.
Coming back to the segment of Paalna of Inaam ghar, since only emotions and tears were not enough to serve humanity so the rhetoric of how this toddler reached the show was also told in front of camera too. As per Ramzan Chippa (Head of Chippa foundation, which provides these toddlers to Inaam Ghar), the baby girl is from a very poor family, already having five daughters, unable to raise the sixth one they consider Aamir Liaqut a ray of hope and left it at Chippa center. The family had plans to throw the baby on a garbage heap, but after watching Inaam Ghar they changed their mind and send the baby to Inaam Ghar via Ramzan Chippa's organization. Unable to handle so much emotional charge, the audience also joined in by shedding further tears, and each tear was captured by camera and telecasted live to the nation, as ultimately all this adds up to this service towards humanity.
Here is full report from Urdu Daily Jang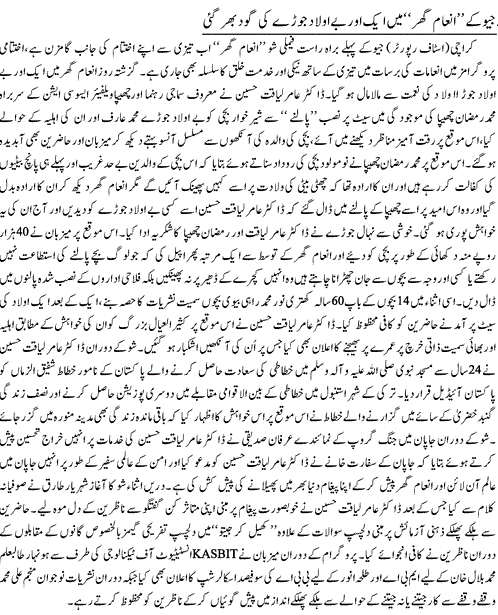 As per official website of show Inaam Ghar (http://inaamghar.tv/palna/), the purpose and criteria of segment 'Paalna' is mentioned in these words
'As the inhumane act of throwing a new born away due any issue is on a rise, we all need to work together for a positive change. Inaam Ghar has taken a step to aware people and make them accept the ground realities of the world. The babies who are thrown away by their guardians are not the ones to blame. They are innocent and deserve a life that any normal individual has. To give these toddlers the life they are worthy of, the show set of Inaam Ghar has a Palna. Whenever there is a homeless baby up for adoption, Dr Aamir Liaquat would give the baby as charity to an infertile couple'
Rashid Nazir Ali