This year, Ramzan transmissions have not been as magnanimous as they evolved to be in the last few years. However, the channels did their best to come up with a different format keeping the global pandemic of Covid-19 in mind. They immediately decided to cut short the crowds and only invited a handful of celebrities to lit up the screens. This way the viewers stayed connected with their favorite stars and the celebrities got the chance to provide entertainment during the times of despair. While keeping the social distancing in mind, a few celebrities were seen regularly on Ramzan transmission, whereas a few made guest appearances in some of the selective shows that are running these days.
The celebrities put an extra effort and one day after another, graced these Ramzan transmission with their presence looking their absolute best. This way, they not only got to showcase beautiful collections from different talented designers of Pakistan, but also got to inspire the ideas of Eid outfits to those watching. This way, everyone got to understand what's in trend and how solid colored dresses are the new fashion. All these beautiful dresses showed that simple and plain set of shalwar kameez or trousers can make quite a statement. A few celebrities were also seen wearing classic ghararas with modern twist on them. All in all, these celebrities picked up some beautiful dresses for Ramzan transmissions.
Here are the best dresses worn by Pakistani celebrities during the second Ashra of Ramzan:
[lwptoc]
Emerald Green Formal Dress of Reema Khan
Reema Khan is known for being one of the most well-dressed celebrities. Especially when she is making an appearance as a guest anywhere, she makes sure to pick the best available outfit that will not only enhance her beauty but also add more to her grace, charm and elegance and this beautiful creation of Nilofer Shahid was no different. Reema Khan appeared on Amir Liaqat's show wearing this gorgeous emerald green down, which had beautifully designed embellishment and some details to it. It was a layered gown of silk and chiffon. The same color scheme of embroidery and embellishment enhanced with the rhinestones. The top layer of the gown was worn over and was tied together, the slit another design feature of this dress. The color, the fit and the finish was all a winner and this gorgeous shade of green suited Reema Khan's complexion a lot. She kept her styling simple yet beautiful as always and looked stunning.
Turquoise and Beige Shirt Trousers of Ayesha Omar
Ayesha Omar was very selective in making appearances on TV this Ramzan and in a few that she did, she left quite a statement by wearing some of the most beautiful dresses seen during the month. She chose this beautiful dress designed by Farah Talib Aziz and looked stunning. The shade of turquoise blue was gorgeous and looked beautiful on her. It was a flared A-line shirt with palazzo pants. The shirt had gold embroidery work around the neckline and the panels of the shirt were finished with gold lacing. The chiffon dupatta had a beautiful splatter of sequins all over which made it sparkly and Ramzan appropriate. She paired it with beige self-printed palazzo pants made of jamawar fabric. It sure was a gorgeous dress picked by Ayesha Omar.
Pastel Toned Pishwas of Nausheen Shah
Nausheen Shah picked up this beautiful creation of Ka Official. There were a lot of patterns, motives and design details that went into making this outfit beautiful but it maintained it stubley due to the gorgeous pastel shades. It was a heavy formal outfit which was made out of self-printed and embossed fabric. The bustier of the shirt was enhanced with silver embroidery and the neckline had a button studded detail. The sleeves were long and fitted which gave it an elegant look. The dupatta also had a studded detail with the similar color scheme border which tied the entire dress together. She wore it with a flared palazzo and kept her own styling and makeup minimal, which showed she wanted this dress to do the talking.
Black and Gold Salwar Kameez of Nadia Khan
Nadia Khan was also very selective in making an appearance on TV this Ramzan and when she did, she made sure to wow everyone by picking up this gorgeous black and gold salwar kameez by Rozina Munib. Nadia Khan chose the combination that is an all time classic and can not go wrong. The solid colored black shalwar kameez had a very intricate embroidery around the collar of the neck and on sleeves. The bottom of her trousers also followed the same pattern. The actual statement article of clothing of this ensemble was that beautiful black and gold shawl that tied the entire look together and gave it that wow factor. Nadia Khan has gone lighter in terms of hair color and it complimented the outfit perfectly. She looked gorgeous.
Bright Blue Outfit of Sana Javed
Sana Javed looked ethereal in this beautiful creation of Ansab Jahangir. Once again dresses in a solid colored shirt and trousers, she looked elegant. The shirt and trousers were plain but had studded design detailing. The dupatta was the statement element of this suit with beautiful and intricate borders and cutwork on the rest of the sides. This was another example of simple looking beautiful.
All-White Flared Shirt and Trousers of Shahista Lodhi
Shahista Lodhi was a breath of fresh air in this all white ensemble designed by Omar Sayeed. Shahista Lodhi has been a regular on TV this Ramzan and she has made sure to explore and experiment more wearing different silhouettes. This one was an effortless look that she went for and the way she draped her dupatta showed she was totally invested in the spirit of the game. The flared A-line shirt had a few panels, the side ones had self-embroidered fabric, while the rest of the shirt was made out of plain white fabric. The shirt was finished with some studded pearls. The dupatta had a beautiful embroidery on it as well. She wore it with fitted trousers and dainty sandals.
White and Yellow Gharara of Tuba Amir
Tuba Amir has been making an appearance of TV alongside her husband during the month of Ramzan and she has also put in some effort to celebrate the spirit of the Holy month. Tuba Amir picked up this beautiful and elegant looking shirt gharara from Beats Pakistan. It was a white mirrored shirt with embroidery all around it. The gharara and dupatta were a beautiful pastel shade of yellow. The dupatta had a silver lace to it which matched the mirrored embellishment of the shirt. Gharara also had a design detail to it which added a beautiful look to it.
Blue and White Shalwar Kameez of Ushna Shah
Ushna Shah made a couple of appearances on TV this Ramzan. She not only enjoyed herself but put in some effort as well. Ushna Shah wore this beautiful shalwar kameez designed by Rizwan Beyg with a combination that is bound to look good. It was an all white based shirt with blue heavy and bold embroidery over it. The dupatta had similar embroidery on the borders and splatters of blue circles all over it. This was a classic suit that she picked up. She wore statement heavy earrings to match the jora and wore nude heels with it. This was definitely a beautiful choice of Ushna Shah.
Off-White and Gold Gharara of Sanam Jung
Sanam Jung put in some effort while she was at home to get into the spirit of festivity of this beautiful month. She picked up this gorgeous shirt and gharara from Beats Pakistan. It was a simple off white fabric amped up with golden laces on the shirt and around the gharara to make it a classic-bound-to-work combination. The dupatta however had a designed border and tassel lace, which completed the look and added the design factor to it. This was the perfect summer appropriate casual chic jora.
Sap Green Shirt Trousers of Sana Javed
This was a beautiful design of Ansab Jahangir. The same suit was worn by Ayeza Khan in the beginning of Ramzan but in maroon shade. Sana Javed decided to go for a sap green shade and nonetheless, it also looked just as beautiful as the one worn by Ayeza Khan. A simple solid colored shirt and trousers made with fabric which has a richness to it. The main design element of this ensemble is the chiffon dupatta which has ruffled stitching detail at the borders. A simple solid colored dress never looked this good.
Denim Gharara of Shahista Lodhi
Shahista Lodhi picked up this design by Omar Sayeed. This is a modern take on the classic and vintage gharara and this version absolutely works. Shahista Lodhi wore a white short embroidered shirt and white chiffon dupatta with it, but the main article in this outfit was the denim gharara which set it apart and gave it a fun and casual chic look. A nice design inspiration for young girls.
Black and White Outfit of Neelam Munir
Neelam Munir kept it simple and stylish when she picked up this beautiful creation of Rozina Munib. It was a long shirt and trousers with a sleek design and look to it. The bustier was white with black embellishment detailing to it. The sleeves were half white and half black with rhinestones on it. She paired it with chiffon dupatta that had a sparkly black border to it. A perfect example of less is more.
Sea Green Trouser Shirt of Ayeza Khan
Ayeza Khan showed up on TV twice but has been actively posting pictures in beautiful outfits on her Instagram. She picked this beautiful designed outfit of Nomi Ansari and wowed her fans. The shirt has a chevron self-print but the rest of it has been enhanced with thread work embroidery. The trousers were fitted and they too had designing at the bottom. This was a perfect inspiration for Eid day that she posted during the month of Ramzan.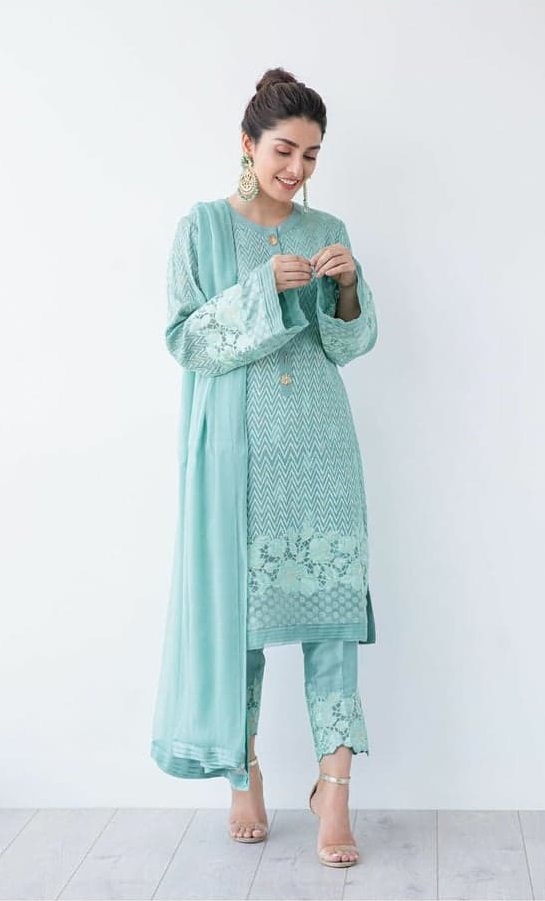 Peach and White Shalwar Kameez of Sarwat Gillani
This was the first appearance of Sarwat Gillani on TV during the month of Ramzan and she went the traditional way and kept it classic in this beautiful Rizwan Beyg designer salwar kameez. The gorgeous peach shirt was heavily embroidered all over and was enough to catch the eye. The dupatta had a beautiful white border and the rest of it was a solid peach color. Sarwat Gillani went for a darker makeup look because the shade of the dress was so subtle and pastel. She looked gorgeous.
Sea Green Outfit of Ayesha Omar
Ayesha Omar wore yet another beautifully designed dress of Farah Talib Aziz. It was a layered and flared outfit with self-embroidered and printed fabric shirt and flared culottes. The shade was a beautiful pastel color and the dupatta had a tint of pink to it to break the monotony and add another color to the outfit. Another beautiful summer and Eid appropriate suit.
Dull Gold and Black Shalwar Kameez of Reema Khan
Reema Khan has been hosting her own show during the month of Ramzan and she has worn some of the best looking shalwar kameez during the different episodes. This one was one of them. A dull gold look gave this dress a vintage and timeless vibe. The color combination as well as the design is such that it can not go wrong and is always going to look beautiful. The addition of traditional jewellery adds more to the overall look.
Plain Outfit With Floral Dupatta of Sana Javed
Sana Javed picked this outfit from Ansab Jahangir again. The shirt and trousers were plain off-white with pink finishing detail on the sleeves and bottom of the shirt. The trousers followed the same cutwork pattern that was on the shirt. The pink button around the neckline also added a cute pop of color. The main design element of this dress was the dupatta with pink floral embroidery. This is a classic example of less being more.
Nude Shaded Gharara of Shahista Lodhi
Shahista Lodhi was definitely a fan of ghararas this season and she carried them gracefully. This one was no different to the rest of the ghararas that she wore. This beautiful outfit was designed by Beats Pakistan. It was a gorgeous shade of brown nude with white and brown embroidered on it. The dupatta was another gorgeously designed element of this outfit with brown embroidered border all around and motifs splattered across.
Block Printed Outfit of Ushna Shah
Ushna Shah wore this gorgeous ethnic outfit designed by Wardha Saleem. The design pattern follows an ethnic theme and the color combination of brown and blue elevates the design of this outfit. A block printed shirt and dupatta which is bound to look beautiful. Although there is so many designed patterns on this suit but all of them gel well together and form into a harmonized design.
Black and Gold Gharara of Sanam Jung
Ghararas are back in fashion and Sanam Jung along with Shahsita Lodhi made it quite obvious. Sanam Jung wore this beautiful designed outfit of Beats Pakistan. A simple plain shirt and dupatta with gold accents to it. The main design element of this outfit was the jamawar gharara which gave this outfit a classic yet timeless look.
This completes the list of best dresses worn by Pakistani celebrities in the second ashra of Ramzan. Which one of these do you like? Feel free to share your opinion in the comment section below.