There was a time when Pakistani celebrities kept their relationships secret. With social media and the new generation of celebrities, trends have surely changed. Dating is not an alien concept in Pakistan but definitely one which is not discussed openly. Celebrities have been in relationships in the past too but never have they displayed their affection so openly. Some of the celebrities who were dating in the past are now married like Iqra, Yasir and Aiman, Muneeb. There are also those who openly declared their relationships but are not together any more like Sarah Khan and Agha Ali.
There are other celebrities who make sure that no one knows that they are together. Sadia Ghaffar recently got engaged to Hassan Hayat Khan and that is when many of their friends disclosed how they had kept their relationship secret for years. Everyone has their own preferences and not all the celebrities want to make their relationship public. There are many Pakistani celebrities who make sure that they let their fans in on all the time they are spending with each other. While most people still do not accept the fact that these celebrities openly disclose their relationships, there are many others who find them cute and can't get enough of them. And then of course when these celebrities eventually get engaged or married people are happy for them.
Iqra and Yasir faced so much criticism when they were dating but when they finally got married, people were happy for them. Similarly Sarah Khan and Agha Ali were never criticized even when everyone knew that they were in a relationship. Ahad and Sajal are another couple who received a lot of love from people and their fans were ecstatic when they got engaged. All these love stories from the world of entertainment, give people hope that celebrities who love each other eventually do get married which is perhaps the reason why more and more people are okay with watching these celebrities spend time with one another, even if it means going on holidays together. Whether this is good or bad is debatable but one thing is for sure that trends have changed. Celebrities might not always mention openly who they are dating in interviews but their social media accounts tell the story loud and clear.
Here are those 5 Pakistani celebrities who are currently dating. Which one are you rooting for?
Hania Aamir and Asim Azhar
Hania Aamir and Asim Azhar have been together for almost 2 years now. Both these celebrities spend a lot of time together which includes travelling together as well. Their pictures clearly show that they are in a relationship. While Asim Azhar has talked about his feelings for Hania Aamir in an interview, Hania most often says that Asim is a good friend. Well, they are good friends who are dating then! Unless Hania decides to change her mind in the future! Hania is one of those celebrities who are least bothered about what people say. She can take criticism and also respond to it therefore it does not come as a surprise that she shares the details of the time she spends with Asim without any reservations.
There have been times when Asim shared his discontent with people wanting to know more about their relationship status. Hania Aamir in her recent blog shared how Asim was the one taking care of her when she was sick. The relationship they have is both cute and definitely much more than just friendship. Apart from that, they have a lot of fan following too. So many people wanted to see Hania there with Asim on his concerts. Whenever she does live sessions people request her to do these sessions with Asim. People have been very accepting of this couple but they also faced a lot of criticism especially in the beginning. Now, most people have warmed up to them and they get more love than hate. There are so many fans who like Hania and Asim together even more than they like them individually.
Aima Baig and Shahbaz Shigri
Aima Baig and Shahbaz Shigri have been together for a year now but it wasn't until a few weeks back that people actually started talking about them as a couple. Aima Baig and Shahbaz Shigri like all the other celebrities in this list have the kind of relationship now that they do not have an issue sharing their pictures and their relationship status on social media. Shahbaz Shigri is definitely the romantic one who often makes sure that the pictures he posts have the most romantic captions. He also calls himself cheesy at times and has no qualms sharing how much Aima means to him. Aima Baig on the other hand, keeps the captions and comments short.
Aima and Shahbaz too have posted pictures from different parts of the world in the time period they have been together. They too love to travel together and these picture show their chemistry. In the recently held PISA awards they did not only come to the show together but were also seen twinning in black.
Alizeh Shah and Noaman Sami
Alizeh Shah and Noaman Sami both are quite young but they already seem to be serious about each other just like Aiman and Muneeb were. Alizeh Shah declared her relationship with Noaman Sami when few months back she shared a picture with him captioned, "will you stay with me under the silver light of the moon?" This picture had everyone wondering if Alizeh and Noaman were more than just friends. After that the pictures and the captions of both these actors clearly suggested that they in fact were dating.
Alizeh Shah praised Noaman's dedication and acting skills in a recent interview but they have never openly talked about their relationship in interviews. Their social media posts however are evidence enough that not only are they dating but they are also madly in love. Alizeh and Noaman will also be seen together in the ARY drama Mera Dil Mera Dushman. Most people like their couple and are excited to see them together on screen. Alizeh Shah and Noaman Sami too have no issue sharing the good times they have together with their fans in the form of pictures and romantic captions on social media. Unlike other couples in this list, Alizeh and Noaman do not go on holidays together but they make sure that they spend time with one another.
Mashal Khan and Ali Ansari
Mashal Khan and Ali Ansari are another popular celebrity couple who recently disclosed that they are together. Ali Ansari posts more pictures with Mashal Khan than Mashal does of them together. Ali Ansari loves spending time with Mashal and he always makes sure that his captions say exactly what he feels when he is with Mashal. Mashal is relatively new in the industry but Ali Ansari is already a well-known actor who has worked in dramas and is also part of a film now.
Mashal Khan and Ali Ansari's pictures show how much they like hanging out together. They go on parties together and also spend time with each other on their own.
Sana Javed and Umair Jaswal
Few weeks back when the news of Sana Javed and Umair Jaswal's marriage went viral, that is when this celebrity couple came in the limelight. Sana and Umair denied the rumors of marriage but there is no denying the fact that they are in fact dating. Umair posted a picture on his birthday in which he was seen standing next to the cake Sana got made for him. He thanked Sana for the cake and this innocent exchange didn't seem to mean much until the news that they were tying the knot came to the forefront.
Recently, Sana Javed and Umair Jaswal were also seen side by side at the PISA. This was definitely their way of formally announcing that they were in fact together. Just like the other celebrity couple Aima Baig and Shahbaz Shigri these two were also seen wearing black. The color coordination was another way of letting people know that they were a couple. Unlike other couples in this list, this celebrity couple is keeping a low profile for now.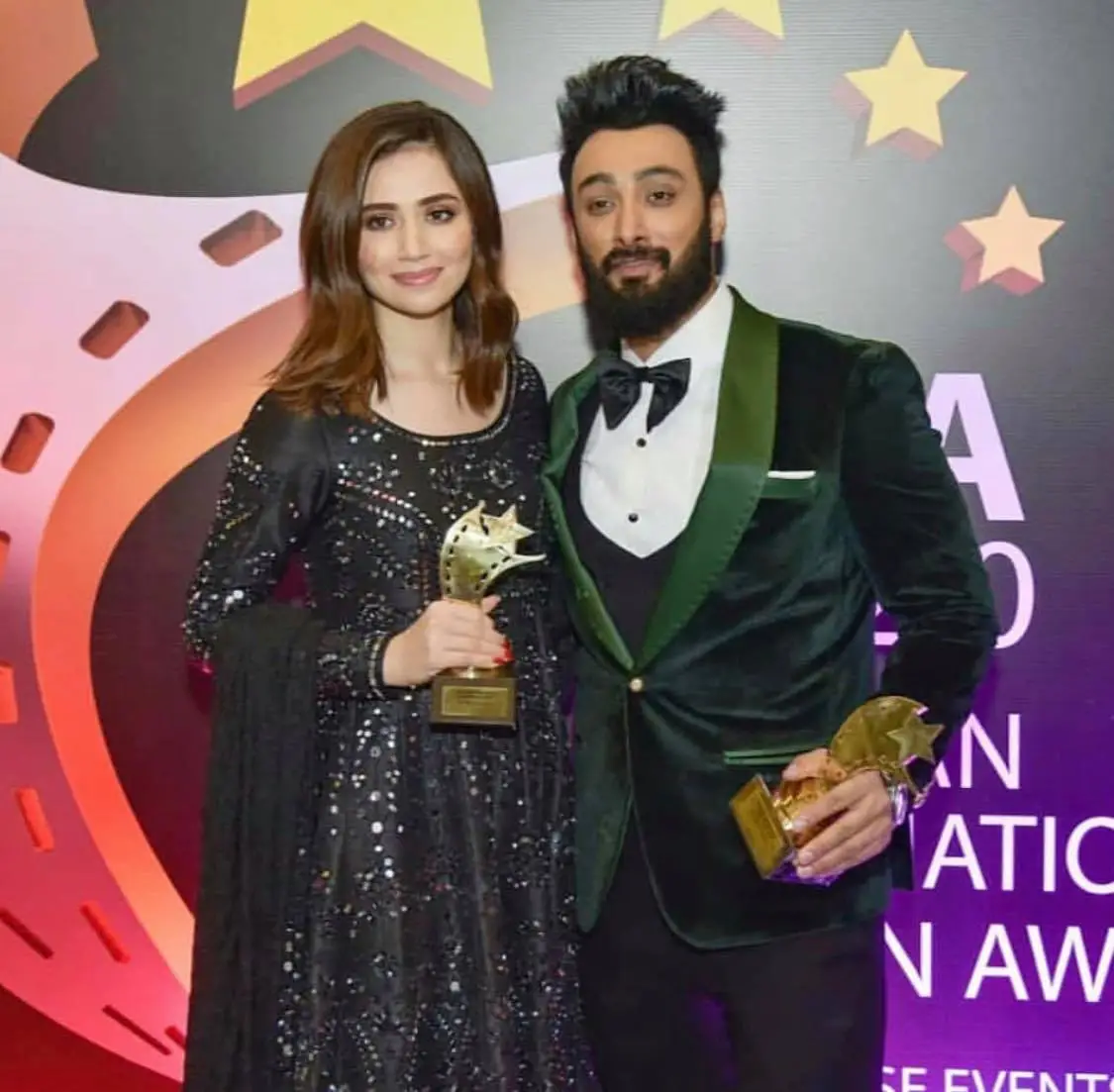 Which one of these celebrity couples is the cutest? Share your views in the comments section.