This was yet another beautifully penned-down episode of Parizaad which was not flawless but it was engaging throughout. It is interesting how far this character has come and in the most unexpected manner! The script of this drama is not just different but also meaningful which makes it one of my favorite dramas. I think Hashim Nadeem shows character development exceptionally well which is why it is always easy to connect to his leading characters in particular no matter how 'bizarre' their journeys might turn out to be! Parizaad met many people from his past in this episode – some by chance and others by design. These meetings gave the viewers a chance to witness the Parizaad we knew once because he is an entirely different person around his staff. The only part which did not work for me was that Parizaad had never even seen Lubna's picture or heard about her. The timeline in the drama is also sometimes confusing. I find myself doing the math but there is definitely some confusion in every other episode. The dialogues and conversations are almost always impressive.
Watching Parizaad put his foot down wherever it was needed was the best part of his transformation – I found myself saying 'Parizaad not coming slow' more than once! My favorite scene from this episode had to be the flashback scene when Parizaad's brother told him how much faith he had in him! Parizaad continues to learn as he moves forward in his life and I am really enjoying watching how meaningful all these lessons are!
The Reunions
Tonight's episode opened with Parizaad's chance meeting with Lubna who also has a new identity now but is the same person as she was before, just like her friend Parizaad! It was interesting just how similar their situations were in a way but this time around Parizaad definitely had an edge. Lubna was one of those few people who saw the beauty in Parizaad even when no one was willing to accept him because of his looks and financial status. I still remember her dialogues when Parizaad uttered those lines about blind love. This was another one of those scenes that reminded me of Raqs-e-Bismil. Although the overall circumstances were different the setting was somewhat the same as Moosa's chance meeting with Zohra at the party where both of them met in the most unusual circumstances. However, it is quite evident that Pari was never in love with Lubna but she is another one of those friends who he will go out of his way to help now that he has the financial resources and a higher status. I loved how Pari told Seth Rehman off for using a woman to achieve his objectives. Later on, he also made sure that Kamali did not get away with it as well. He definitely has newfound confidence which comes with the status he now enjoys.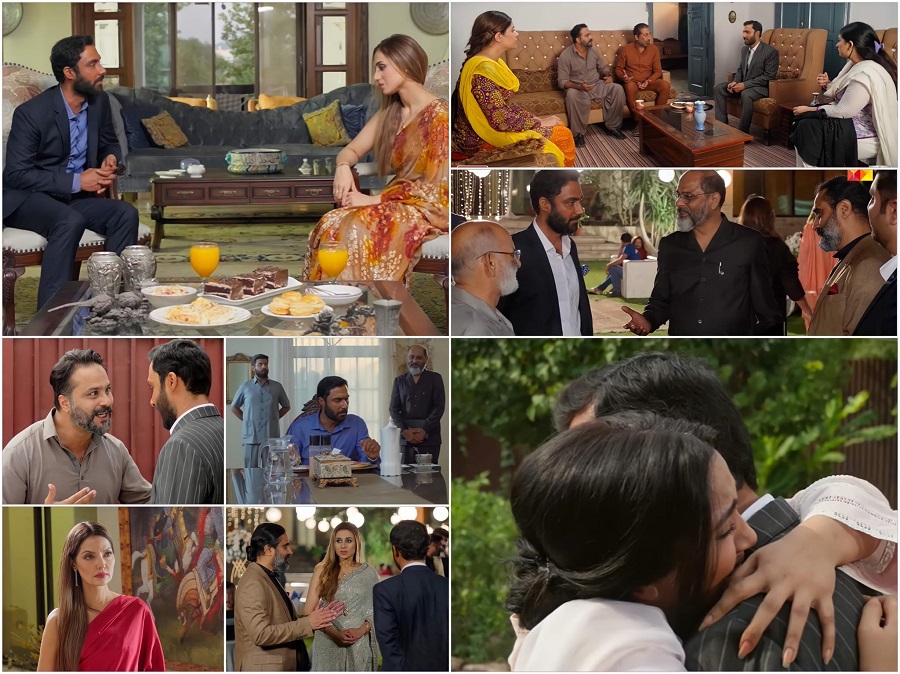 It was interesting how Parizaad's body language change depending on who he was with. Lubna's mother's flashback scene was used intelligently to make the viewers wonder what Parizaad's next move was going to be. Lubna's mother's expressions when she realized who P.Z. Mir was actually Parizaad! The expressions on Parizaad's face were priceless as well. I am waiting to see what he intends to do for Lubna now that he has so many resources.
People's attitudes surely have changed a lot now that Parizaad is rich! The way his brothers welcomed him and were trying so hard to win him over was only because of his financial status. Their conversations also suggested that Parizaad had been sending them money and that is how they managed to live more comfortably. This came as a complete surprise since they were completely out of the picture for so long and their reaction when they found out that Parizaad had been arrested also suggested that they didn't benefit from his earnings in any way. I am still hoping that Parizaad is not too generous with them since they don't deserve it. We were all eagerly looking forward to Parizaad's meeting with Saeeda but that came at the very end. This last scene was beautifully acted out since we got to see the same old Pari with a smile that was genuine yet awkward. Saeeda is such a likable character and her relationship with her brother has always been the most endearing element of this track. Yumna's character was also introduced partially in this episode, Parizaad was instantly attracted to this person since she recited his poem and was clearly a big fan! Will he be meeting her next?
Final Remarks
Apart from a script that is full of surprises and dialogues that always impress, the performances in this drama have been exceptional throughout. Ahmed Ali Akbar impressed me tonight more than ever because there were some parts of his past life that he had to retain and others that really were a thing of the past. Mashal Khan has also been quite convincing and likable in this role. Parizaad's brothers are definitely hiding something; I hope there was a good reason why their discussions got so much screen time. It is almost as if Parizaad is still trying to figure out how he wants to manage his new status and life. I am extremely interested in finding out where his journey is headed. He has the money now, will he get true love?
Did you watch tonight's episode of Parizaad? Do share your thoughts about it.