"Jis ne paya us ne paa kar matti kr diya aur jis ne nahi paya wo khud khaak mein mil gaya". This was another episode of Parizaad that covered Pari's reunion with all those people who were once a permanent part of his life. Every single meeting and scene was an absolute treat to watch. The conversations were penned down beautifully and executed just as well. However, I did feel that another short flashback scene, especially when the bhabis were offering Pari to stay, would have fit in so perfectly! This is definitely not the kind of 'happy ending' which Pari had imagined! He is enjoying his wealth, doing what he does the most – helping others – but he is still searching. The writer through his journey is putting forward an important message that while money does get you acceptance, it does not guarantee inner peace and contentment.
Parizaad always helped people he loved even when he did not have money. The big difference now is that he has more resources. Parizaad's journey continues to have my undivided attention; it is meaningful and easy to connect to. There were so many scenes tonight that should definitely be re-watched. The flashback scene in this episode yet again made the changes in Parizaad's life more obvious than ever. Ahmed Ali Akbar's performance has been beyond impressive throughout and his makeover has been just as convincing. When you watch the flashback scenes, you can't help but appreciate the way the makeover artists have transformed Parizaad in the most believable manner.
Acceptance & Apologies
Parizaad's meetings with everyone he met from his past tonight can be easily summed up as a series of acceptance and apologies. Apart from Saeeda, everyone Pari met had failed to accept him in the past. Lubna's mother was right when she said that money does cover your flaws even though Pari did not have any 'flaws' in his personality to begin with! Now that he was wealthy, all these people were not only willing to welcome him with open arms but were also more than willing to accept the mistakes they had made in the past. There were some who had truly realized that they were wrong such as Shoki and Naheed's fathers. I must say that the writer and the director have made sure that the viewers pick up minor nuances in Parizaad's character. For example, it was quite evident that Parizaad was still the same person even with all his wealth especially when he was around family and tonight his brother-in-law said just that out loud. His meeting with Saeeda also showed that even though Pari was so influential there were some things he had no control over. He could not visit his sister often or stay somewhere near to her.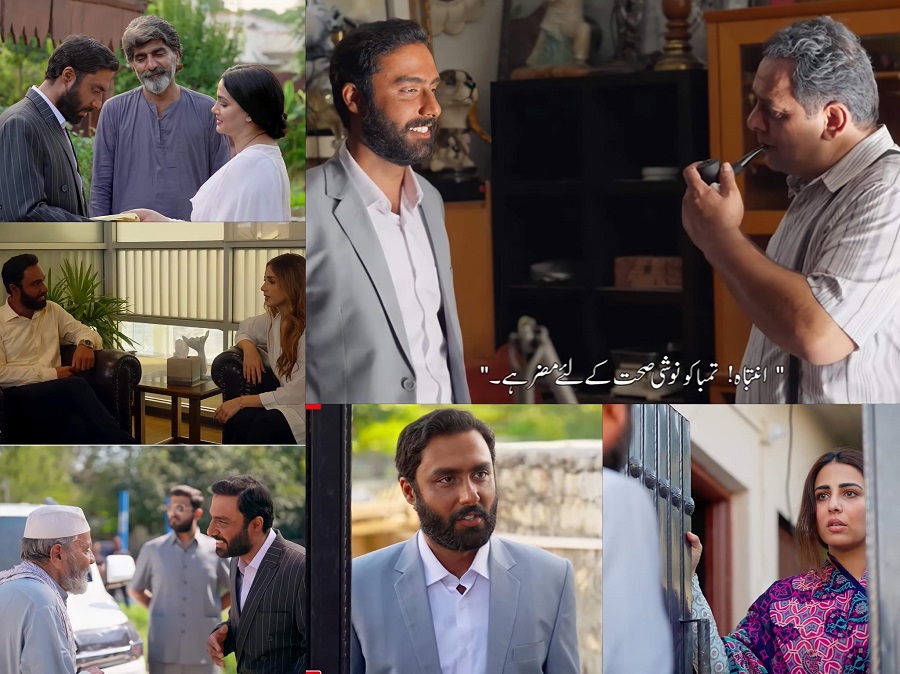 Parizaad also visited the room where he once used to dream about the life he is living now! In the past, he cried in that room more than once thinking about all the times he was rejected by the one girl he ever fell in love with. This is where he wrote all his poetry and was free to express himself without any pressure from the outside world. This was such a beautiful scene since it was each one of us going through our old belongings and thinking about the good and bad times which shape us to be the individuals we are at present.
The scene at the antique shop was another meaningful and impactful scene in this episode. The dialogue I quoted on top was definitely one that immediately made me think! Getting what you wish for can most often lessen the importance of whatever is it that you desire. That is exactly what is happening with Pari right now too. He dreamed of making it big one day yet he is just as lost and lonely right now as he was when he was running after his dream. And had he not achieved this status, he would have worked hard all his life to attain it! This was the kind of dialogue that stays with you for a long time, beautifully penned down and delivered! The outcome of this meeting yet again showed how Parizaad always finds a way to get what he desires! However, he continued to be restless, perhaps wondering if he would ever find contentment in life. He can easily be termed as someone who has been striving and searching for acceptance all his life yet somehow he does not really enjoy the attention he gets because of his wealth.
Parizaad and Naheed's meeting did not go as I imagined it would. There was no acceptance or apology as such but more like closure perhaps for Parizaad! Even though Naheed's life had changed completely, her overall body language was still the same. Also, the floor was a little too clean when she was sweeping it! This scene could have been far more realistic if Ushna Shah looked more worn out considering her circumstances.
Final Remarks
This was another beautifully written and for the most part well-executed episode of Parizaad. Pari's restlessness and confusion stood out more than anything else in this episode. I am waiting for Yumna's character to make an appearance; will that be the turning point in Pari's life? He got the acceptance he always wanted yet he is not at peace. Will he find love? The antique shop owner made it clear that sometimes 'wants' are endless therefore it could mean that restlessness might be a permanent part of Parizaad's journey.
Did you watch tonight's episode of Parizaad? Do share your thoughts about it.