Tonight's episode focused on Parizaad's gradual transformation; in this latest episode, we saw less of the Parizaad we once knew. Gradually he is getting more comfortable in this new role and making the most of the opportunity he has been given in a way that only Parizaad could have done. He continues to be his older version when he is interacting with people from his past but there is definitely newfound confidence. This episode also once again showed how readily he was getting acceptance even from Naheed, this time around! Parizaad's meeting with Naheed towards the end of the episode was definitely one scene that stood out more than others. The fact that even his university invited him as a guest of honor went to prove that because of his money and might he was welcome and respected in an educational institution even though he did not complete his education. There are so many such examples of accomplished businessmen in real life who did not complete their studies but managed to make it big in their respective fields and are considered icons. Parizaad's story is definitely different but in his case too education was definitely not the yardstick.
Yumna Zaidi's character formally made an entry in the drama with this episode. We 'heard' her recite Parizaad's poetry before as well but tonight her character was properly revealed. There were a lot of scenes tonight that did suggest that Parizaad was not content with his life. Now more than ever, he had realized that money and status in fact were the two most powerful things in terms of gaining the approval of the masses. The only scene tonight which confused me was the one in which Parizaad refused to cooperate with Seth because he did not want to compromise on his maalik's principles. Behroze Karim was an underworld don therefore it is difficult to connect to these moral principles which were linked with him since dons do strive on drug trafficking! This part of tonight's episode was flawed and confusing.
Old Friends & New Acquaintances
Tonight's episode opened with Parizaad canceling yet another meeting to meet an old friend! Even though he has a big business to run, Parizaad has not been trying enough to retain or increase his wealth. He takes his business rather casually and all those people from his past who he wants to be with or help are definitely a priority. This basically goes to show that even though becoming rich was his ultimate objective at one time, he is not scared of losing and sharing his wealth. His meeting with his old ustad was penned down well since the outcome was surprising. The way this scene started suggested as if Pari actually was there to hold his ustaad accountable. Yet again, he decided to help an old friend out and this time around Kamali questioned him since he has been observing how generously Parizaad has been spending his money. Parizaad's silence and that deep breath he took when he was questioned about how it felt to be this rich said a great deal about his true feelings at this point. He was definitely not happy with his life and was perhaps still trying to figure out if this ultimate goal was worth it or not.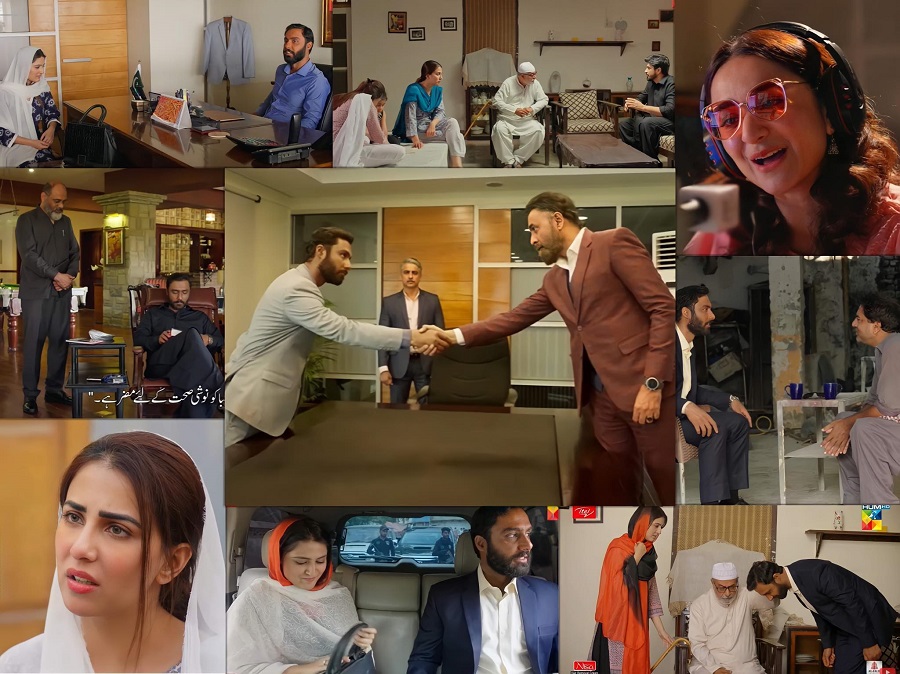 It was good to see Kanwal back in the picture. Although she did not get a lot of screen time earlier she always came across as a pleasant and positive individual. She was the only one outside of Parizaad's family who had complete faith in him. She had also warned Naheed that she will someday pay for what she had done to Parizaad. It was great watching her witness Naheed flirting with Parizaad even though Majid quite clearly disliked him more than ever before. Naheed did turn out to be an opportunist and hopefully now Parizaad can see that he did not lose much. His dialogues when Naheed asked him to meet her somewhere also suggested that he no longer felt the same attraction towards her which he did before. Even though Naheed is married, she feels that she can somehow start afresh with Parizaad. Not being able to win Naheed over and being treated like a lesser human by her was one of those things that made Parizaad feel useless and unworthy of love. The last scene showed that he understood the reason for Naheed's sudden interest in him a little too well! It is good to see Parizaad being the sensible and grounded person he was before even with his present status even though outwardly he has changed a lot.
Annie and Parizaad's track is a completely different story altogether. Her only introduction to Parizaad is his poetry. She is fascinated by the person who penned down those poetic verses but Pari is convinced that he left that person far behind. Parizaad also felt an instant connection to her even though he only heard her recite his poetry a few times. Tonight, Annie finally got to see Parizaad in person and did not hold back while showing her admiration for him. Yumna Zaidi looked great in this episode and it seems as if Annie's role will be an interesting addition to the list of characters she has played over the years. We have all seen Yumna Zaidi and Ahmed Ali Akbar's on-screen chemistry in Yeh Raha Dil therefore there is reason to be excited about what these two will have to offer in the upcoming episodes. For the first time, Parizaad will be interacting with someone from the opposite gender who finds him attractive in a 'non-visual' way.
Final Remarks
The Seth and Annie's entry in the story will definitely change the course of Parizaad's track in different ways. While watching tonight's episode I wasn't sure if enough happened but when I sat down to write this review, I realized that once again the writer managed to cover so many different aspects of Pari's life and transformation in this episode. Ahmed Ali Akbar continues to be remarkable. Will Parizaad meet Naheed on her request? I am also looking forward to Annie's interview with Parizaad. I am certain the friend who has always been with him must be his loneliness! Will this loneliness chase him right till the end?
Did you watch tonight's episode of Parizaad? Do share your thoughts about it.