This was another interesting episode of Parizaad which started a new chapter in Parizaad's life. It was yet another episode with well-written, meaningful conversations. Each scene reflected the fact that even though Parizaad's status had altered completely, he had not forgotten his past. He was playing PZ's 'role' well but deep inside he was still the same person who was sensitive, giving, and felt unworthy of love. The most important element of this episode was the way the writer showed that while Parizaad's new status had won him a lot of acceptance from the outside world, he was still struggling to accept himself!
After facing so much rejection in his life, Parizaad is still as convinced as ever that he is not worth loving. So many of the dialogues we heard in the previous episodes synced in so well with Parizaad and Annie's present situation. The dialogues from the past, "insan ka dusra aur asal tarruf us ke alfaz hote hein" and "kaash jin se hum mohabbat krte wo bhi andhe hote" were two such dialogues that fit in this situation perfectly! Annie and Parizaad's track already has my attention; Pari is falling in love yet again and this time around the person he is falling for cannot see his 'shortcomings'! I absolutely love how the story flows even after all these weeks and the fact that there are some aspects of Parizaad's personality that can easily be labeled as imperfect. His imperfections make this character and its journey easier to connect to.
Realizations
Tonight's episode opened with Parizaad meeting a young boy who clearly reminded him of the person he was at that age. He understood the challenges faced by this boy instantly and did whatever he could to make a difference. Parizaad did not have someone to look out for him when he was young but he was lucky enough to have mentors who did not just teach him the ways of the world but also helped him 'survive'. Therefore, no one can understand the importance of a mentor better than Parizaad! It was also good to see Parizaad expressing his regret over not continuing his studies. Even though he is rich, he understands the importance of education and would not want to give the wrong message.
Parizaad's instant connection with Annie was visible right from the start. Tonight, Annie got a chance to tell him just how much she valued him more than once. Annie is a vivacious young girl who believes in speaking her mind. She is also one of those fans who do not give up no matter what! Yumna Zaidi breathed life into this character and made sure that the viewers did not feel for Annie but in fact, had multiple reasons to fall in love with her confidence. While Parizaad still lacks confidence, Annie has so much of it that hopefully, she will be able to make Parizaad believe that he indeed deserves to be loved!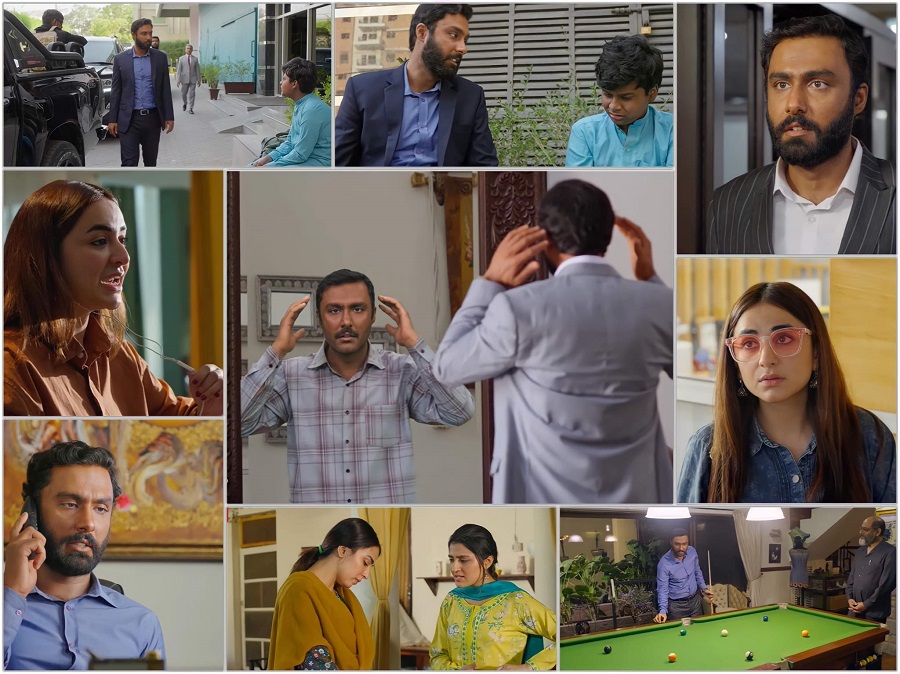 Parizaad always in some way reveals how his life has shaped up based on his past experiences whenever he talks to Kamali. Tonight, in a way he thanked all those people who had rejected him since they were the ones who shaped him into the person he is today. Parizaad was always fearless therefore it did not come as a surprise that he could not care less about the opposition against him. However, his policies as a businessman leave a lot to be desired, they also show that he is not interested in making more money. He always wanted all this money but he is not going to let it dictate to him in any way. He is also still frightened of people – getting too close to them! That is why he prefers to be alone and was afraid of falling for Annie. For someone who has faced so much rejection, this comes across as the perfect defense mechanism.
Kanwal and Naheed's conversation showed that Naheed wanted the kind of love and attention from Parizaad which she never got from her own husband. A big reason was also Pari's wealth! Had he been the same old young man, she would not have been attracted to him. Naheed is so sure that Parizaad is still in love with her. However, I feel that Parizaad does not love Naheed anymore. The mirror scene was one of my favorite tonight; it was actually enlightening as well! I never thought that Pari felt attracted towards Bubbly or even Lubna. It also went to show that he was scared of feeling that way about anyone at all now because he did not want yet another heartbreak. The confusion regarding Annie was also an interesting one. This was such a remarkable way of showing the viewers that Pari was still as conscious about his looks as he was before. The realization that Annie did not even know what he looked like was the turning point of this track and it immediately reminded me of the dialogues I mentioned in the beginning. The disbelief with which Parizaad looked at Annie when he realized the truth was the highlight of this episode.
Final Remarks
Ahmed Ali Akbar is an exceptional actor who has made sure throughout that every emotion is reflected convincingly on screen. This journey would not have been the same without his phenomenal performance. Hashim Nadeem deserves tons of credit for penning down an exceptional story and Shehzad Kashmiri for making sure that the writing does not get lost in translation. Will Annie make Parizaad believe in himself? Or is this track going to end with heartbreak? I am waiting to find out.
Did you watch tonight's episode of Parizaad? Share your thoughts about it.