Parizaad's journey continues to be engaging and heartfelt. Tonight's episode was beautifully put together; showing the main protagonist's shortcomings and strengths with the utmost precision yet again! It has only been 7 weeks but I am already more invested in this story than any other in a really long time. A great deal has changed in Parizaad's life and through it, all the viewers have seen different versions of him. A beautifully etched-out character translated in the most poignant manner on-screen; Parizaad will be remembered for a really long time for all the right reasons. This was another one of those episodes which took me completely by surprise. Lubna's character turned out to be the complete opposite of her first impression. Meaningful conversations, brilliant performances, and amazing camerawork make Parizaad the only drama right now I truly look forward to watching and discussing. Ahmed Ali Akbar's performance was superb as usual; this should be counted as one of the best performances in Pakistani dramas ever!
New Friendship, Old Inhibitions
When I watched the promo of this episode, I got the feeling that Lubna was perhaps one of those rich spoiled brats who would probably end up making fun of Parizaad! She turned out to be someone who saw Parizaad's soul through his poetry and was actually fascinated by him. Parizaad and Lubna's scenes tonight were a treat to watch since they did not just introduce Lubna's character but also showed how shy and awkward Parizaad was around her even when she made him feel so comfortable. As someone who was never accepted by most people around him and was continuously trying to fit in, Parizaad's inhibitions make so much sense! While he does not shy away from sharing his poetic verses with the world, he is not too keen on being around people even when they welcome him. After Nasaaz, Parizaad has a new person in his life who believes in him. Interestingly enough, he made his first true friend because of common interest and knack for poetry, and this time around too Lubna extended her hand of friendship mostly due to Parizaad's poetry. It seems as if his poetry isn't just another side of his personality but it is the most important interest which will perhaps determine what turn his life takes in the near future. There has been constant stress on how gifted he is right from the start and now Lubna introduced him as one of the best. Even now the experience he had with Naheed continues to be his 'inspiration' while penning down poetry.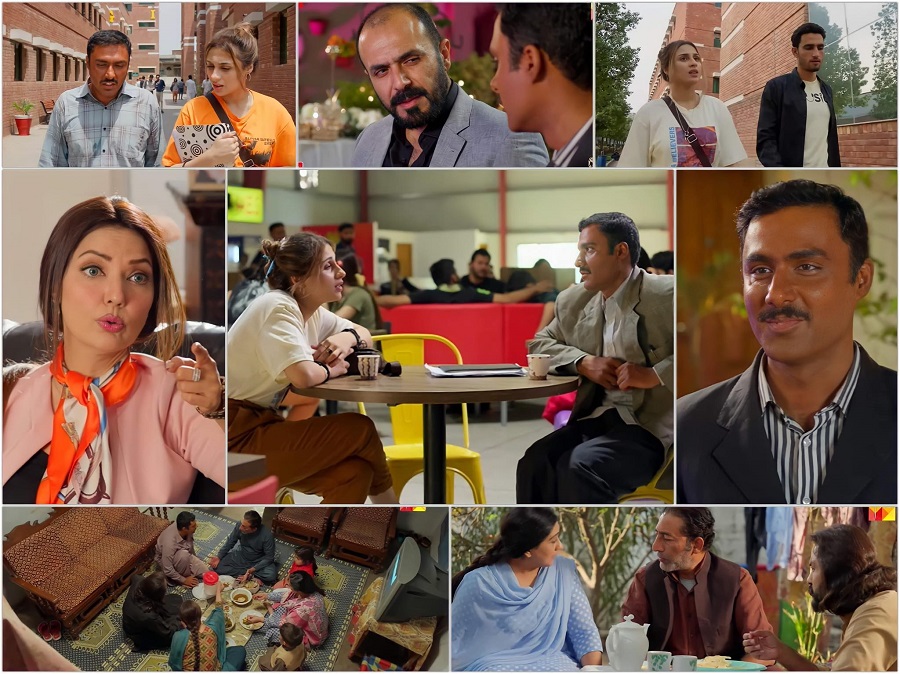 Right from the start, Parizaad was honest about the visible differences between him and Lubna. Even though he is shy and well aware of his 'shortcomings', Parizaad is always eloquent. He wins people over with his words, even when he is not reciting poetry; his conversations are a true reflection of his actual personality. You would expect someone as shy as him to hold back while talking to someone but Parizaad does not do that, perhaps because one thing he is confident about is his intellect and how he puts his feelings into words. This part of his personality makes him an even more appealing character. He also enjoys attention and praise; in this episode as well, there were at least 4 scenes in which he enjoyed the attention he was getting.
At the party, he knew he was a misfit but he turned up. Even when Noman made the offer, Parizaad did not just refuse but left with a remark that you would normally not expect from someone like him. He has a strong side to his personality as well and it is this eloquence that makes all his scenes more interesting. Lubna's track is also quite interesting; I want to know more about her. She also seems like a misfit and is constantly pushed around to do things she's not comfortable with. The move was done against her wishes and her mother also keeps a check on who she can be friends with. Mashal Khan acted well in this episode and I warmed up to this character instantly.
Saeeda's Track
Saeeda's track also took an unpredictable turn. We were all expecting her to be happily married but now her husband is pressurizing her just as much as her mother-in-law. The brothers and the bhabhis are not willing to give her the share and are also hiding a big secret! So far Parizaad was not too 'involved' in everything that was going on since at the end of the day this was going to be his brothers' decision. Now that he heard what kind of a situation Saeeda is facing first hand and then he also has the 'offer', he might be tempted to sell his poetry to help Saeeda out. I am waiting to see if and how that happens because I cannot even imagine Parizaad taking such a step. But then everything that has happened so far has been quite contrary to my expectations therefore it is impossible to predict what turn the story will take. There must be a solid reason why Saeeda's track is being given so much screen time. It will definitely impact Parizaad in some way, I am waiting to see how that will happen.
Final Remarks
While Parizaad himself continues to be the star of the show, every new character brings with it something new and unpredictable. With Lubna's entry into the story, Parizaad's life has taken yet another different kind of turn. Watching this drama is like reading different chapters of a person's life who is continuously experiencing something new. I have a bad feeling that this might turn out to be another bitter experience for him. The possibilities are endless! Parizaad's dialogues about love and hatred tonight completely won me over. The writer Hashim Nadeem has penned down the most beautiful dialogues for Parizaad in particular. It is evident that this character is really close to his heart. I missed Bubbly Badmash tonight and wouldn't want Lubna to exit the story too soon.
Did you watch tonight's episode of Parizaad? Share your thoughts about it.