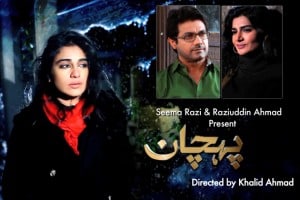 Through a series of flashbacks we get an insight into Laila's background. Rushed into marriage by her mother who feared her fate would be similar to that of her spinster phuppi, Laila gave in to her mother's pressure. Kya shaadi hi zindagi ki top priority hai? Laila had ambitions to pursue her scholarship in Paris- ambitions her father was willing to support. Though her mother stated that she continues to struggle for acceptance with her in-laws, its seems that she has the final word in all matters of her home. Tum khush nahin ho Laila, mein tumhari aankehn par sakta houn. Yet, despite being upset, Laila's father was incapable of stopping or even delaying the wedding for that matter.
The repeated mention of bari and zewar signals that there's trouble ahead. I was amused to note that even Mansoor was part of the petty conversation that involved comparing the baraat vs valima functions. Laila seems oblivious to her surroundings but Mansoor's cousin's admonition is not something she should take lightly- Kahin Mansoor Bhai hamdardi mein ulajh gaye toh… As it is, we've been seeing far too many instances of men being swayed by this forbidden h word. The slightest attention by Mansoor gives Laila the confidence to express her feelings towards her Shareek e Hayat in the form of a poem she fondly pens for him. Laila's emotions as a coy, new bride has been captured to perfection- every time her heart flutters upon seeing Mansoor, she blushes and breaks into a shy smile.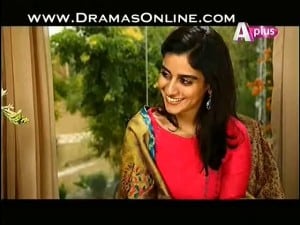 Ever since his wedding, Kuku has been avoiding Mansoor. He comes by unannounced at her salon and is startled to see Khurram there who seems like a desperate insurance salesman rather than a businessman as he haughtily states. This triggers the jealous button and Mansoor warns her- Tum kuch bhi karlo Kuku, I'm not going anywhere. I liked the cold shoulder treatment she gave Mansoor- the tension between them was portrayed seamlessly. Kuku despises Khurram- she reacts over every crumb he leaves behind yet despite her frustrations she has allowed Khurram to stay with her. Is Khurram keeping her afloat while she fights her inner demons and tries to break free from Mansoor?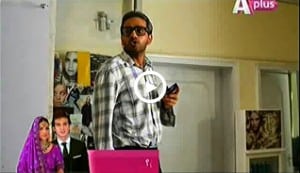 So far, I have to admit this drama has my undivided attention. The story arouses my curiosity, I'm looking forward to a showdown between the two leading ladies- both very talented actresses but I must admit I'm quite unhappy with the choice of supporting actors- Khurram has no expressions and his constant use of jaan seems forced. The boy who was filming Laila while she was in her mayyoun seems related to Khurram since his banno raani sounded like someone slapped him into saying it. Other than that, I would rate this high as of now. I hope I don't have to eat my words! What do you have to say about today's episode?
P.S I'm covering for Fatima again this week but hopefully she'll continue reviewing from next week. Please leave your comments below.
Yours in watching,
Kanwal Murtaza