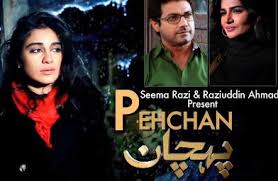 Love him, or hate him, you can't ignore him- Mansoor is exactly the kind of bad boy your mother warned you about. And he does so with such ease, you wouldn't know what hit you! Mera kya hai, mere paas ek biwi hai, tum reh pao gi? He exudes charm that leaves Kuku aching for more. Kuku, after all is a woman and a woman wants to be wanted. She needs to be acknowledged, appreciated, understood, cared for and loved. But what is love? Is it a gesture? A passing notion? Or is it something more? What about forbidden love? Love that you yearn for but can't have. Impossible to attain yet tempting. Temptation is a very strong desire that can drive one to the end of despair. Kuku can't have Mansoor but she's finding it even harder to let go. And Mansoor knows he has her wrapped around his finger. Men like Mansoor view women as objects of instant gratification- to appease their carnal desires and nothing more. With a compliant wife at home and a needy girlfriend, he has it all worked out. At least for now.
Laila's visits to her parent's home are full of sweet moments, meaningful conversations and a retreat from the stress of putting up appearances at her in-laws. While her mother leaves no opportunity to remind her of how fortunate she is to have found a husband like Mansoor, her father considers Mansoor to be a lucky man to have landed a wife like Laila. Her mother lectures her on starting a family since children strengthen the husband-wife relationship. She thinks Laila is the luckiest girl alive to have landed the most eligible bachelor around. Is being married to a wealthy man a guarantee of a happy future? Does having children secure and strengthen a marriage? Bachiyon ki zindagi mushkil banane mein aaj kal ki maaein hi kaafi hain…
Following her mother's advise, Laila ends up at Crisp Edge for a new look. Kuku greets her with professionalism and warms up to her quickly until she finds out that this new bride is Mansoor's dulhan. Laila has a status- given to her by virtue of marriage. But what about Kuku- the ill-fated mistress? Kuku goes cuckoo as the harsh realization torments her soul and she hits another low. Khurram's generalization that her wet eyes are the result of an allergy show his immaturity. Even after Kuku implies that she may have been crying, he shrugs it off and states that it's nothing but an allergy although he does immediately get her some medication. Khurram is a loser in her eyes but he does show concern even if it's selfish concern. Mansoor on the other hand is indifferent- he turns to Kuku at his convenience because he knows he can. Mr. Smooth-Talker flirted shamelessly with Mrs. Khan- another cuckoo woman obviously frustrated by her life.
Mansoor's mother thinks the world of her son and expects Laila to attend to him 24/7. Not that she doesn't already but the one time she's away, she voices her discontent and expects Mansoor would tame her! I wonder how she'll react when she finds out that her perfect son is not-so-perfect after all. I doubt she'll accuse her son of infidelity, she'll most likely blame Laila's lack of attention for it. The ease with which Mansoor shifts between the two women is nauseating- he is comfortable with Laila playing the role of the dutiful wife and tells her bluntly to forget about the incident involving his friend. He clearly likes the way she takes care of him- biwiyon ko maa banne ka bohut shauq hota hai, shauq se maa baniye apney bachey ki… Will the news of her pregnancy bring the two of them closer or will Mansoor behave like the jerk that he is?
P.S I'm covering for Fatima  this week but she'll continue reviewing from next week. Please leave your comments below.
Yours in watching,
Kanwal Murtaza