Kayee rishtey koriyu ke mol bikay tu yeh chat mere haath ayee jahan mein sans le sakti hun, jee sakti hun! After watching this episode I am even more sure now that this time around Laila is not going to let anyone stand in her way. She has found her pehchan; she may feel sorry for Mansoor because like Mrs. Khan she may not like him, she might not have forgiven him but she feels sorry for him! Mrs. Khan calls the strange bond which she has with her husband "love" although it is anything but that! She does not like him but she loves him! Which in my opinion means that she is so used to having this man in her life now that she is not sure how life will be without him. Mansoor's apology seemed fake; he realized that it was his wedding anniversary only after his friend called him. I think he wants Laila back in his life so that he can control her. And I also think that the writer added this twist in the story at this point because she probably wants the viewers to keep on guessing if Laila will forgive Mansoor or not. I am sure that Laila will make up her mind in the next episode because until now the writer has not stretched anything about the story only to gain the attention of the viewers. It was rather ironic the way Mrs. Khan reacted when Laila told her that Mansoor visited.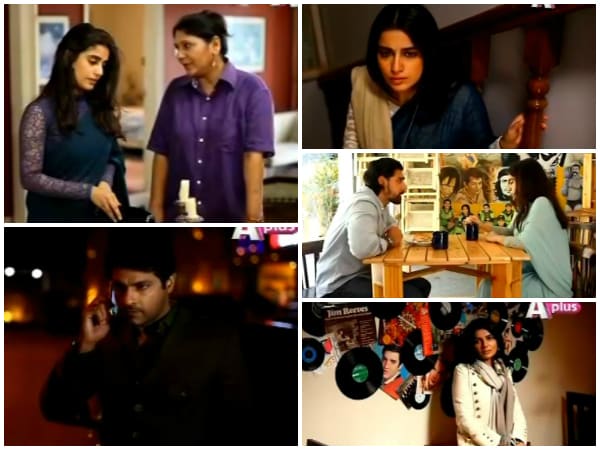 Laila does not see the world with other people's eyes now and she does not care about what others want. This is the reason why she forgives her mother so easily; she has no expectations from anyone but on the contrary she wants to "rescue" her mother. Laila's mother does not show an ounce of concern let alone love for her daughter; I am disliking her character more with every passing episode. Laila's dialogue " mujhe Mansoor ka nahi khud apna dur hai, mein buhat bekhof ho gaye hun…apni bahadri ka dur hai bus!" clearly showed that she may get tired every now and then but she is confident enough to make her own decisions now. It has been exactly a year since Laila finally gave up on her husband completely and she has surely come a long way since then
I thought I would never say this but I am definitely warming up to Saadi. He is nothing like the typical male characters we see on our screens all the time. The scene between Laila and Saadi when he brings Laila the candle stand was very cute. The romantic lines were delivered in such a manner that they did not sound very cheesy and I actually thought Laila was being very honest when she called Saadi "dheet"!
Some of the conversations in the first half of this episode sounded repetitive like the one about Mansoor's pehchan and ego. The conversation between Laila and Mrs. Khan about vegetables and humans did not really strike a chord with me. Maybe because there were many heavy-duty dialogues in tonight's episode therefore some of them seemed forced. The light-hearted moments between Laila and Saadi were a breath of fresh air.
Do share your thoughts about tonight's episode.
Fatima Awan