Do opposites really attract? Both the couples in this play have nothing in common; Kukoo and Khurram are worlds apart and Laila and Mansoor are like two completely opposite people who have been caged together for life. Laila tries her best to hold on to every single remotely loving/caring gesture by her new husband; she spends every minute trying to convince herself that this stranger who isn't really letting her in to his life as openly as she would have wanted him to, actually loves her the way a husband should love his wife.
Mansoor's mother was right, he is "farmabardar" no doubt. He knows how to keep his mother happy. He could have taken a stand to marry Kukoo but he didn't do so because he knows she will be a part of his life even if she is not his wife. This man has no respect for women at all; he couldn't care less about their feelings either. The only woman he truly cares about is his mother.
There was a time when Laila lived a life very different from the one that she will be living from now on. Laila was outgoing, adventurous, progressive and ambitious but her mother was in such a rush to push her towards the next phase of life that she totally forgot that this should have been more of Laila's decision than hers. I think the scene in which Laila finds out that her room had been completely changed said a great deal. Is change really good? Why are some parents so eager to introduce these changes into their children's lives without even giving their children's likes and dislikes a second thought. Laila looks up to her father like a role model and for good reasons too. She would have liked to be married to someone like him but Mansoor is nothing like the lively, fun, understanding and positive person that Laila's father is. It is sad that parents like him do not get to have more of a say in their children's lives. Laila is her father's daughter, she is positive and does not fret over things that may upset her. Mansoor's mother isn't exactly the perfect mother in law and Mansoor is definitely not the ideal husband but we still see Laila making the most of the situation. She loves her husband and wants to be loved by him although she barely knows him! Because that is how every girl is expected to feel after marriage.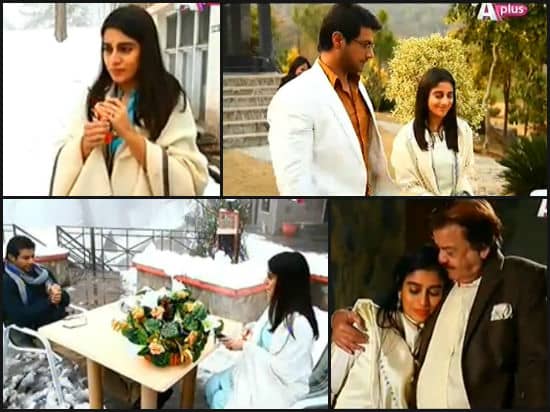 Laila's mother wants her to enjoy her new life; she has given away everything "old" which belonged to Laila. These old things probably meant more to Laila than anything new that she has now. Laila doesn't want to feel like a guest in her own house but she happily accepts the fact that this is not her house any more and she should move on. The dialogue "Ab mei chot ke dur se koi khel na khelon" says a lot about her personality. She places other people's happiness above her own that was something which was very apparent from the telephonic conversation Laila had with her father before leaving for Murree.
I feel for Laila and Kukoo both. Both of them have more than their fair share of unhappiness but they are equally brave and positive. Kukoo may have tried to end her life once but overall she is indeed a strong woman married to a man who will keep on exploiting her for as long as he can. Khurram "steals" from Kukoo but when she offers him money for leaving her, he declines. Khurram is just as controlling and selfish as Mansoor.
Mrs. Khan's subtle messages to Kukoo are ignored by her every time. The relationship between these two women is special and relatable. The scenes between Laila and her father were really well done too. The conversations between the two were meaningful, engaging and touching. Mansoor's character has been etched out and acted out brilliantly. I feel that Sohail Sameer shouldn't have been forced to say a few lines in English in every episode if he was not comfortable with the language. It just seems out of character when he has a difficult time pronouncing every single word. He is doing a brilliant job and would have been just as convincing without the use of English language. Overall, the play has been directed really well; the creativity and hard work shows in every scene. I love all the old songs that have been played in the drama so far. Pehchan has a very different feel to it. There was a time when I thought that the play maybe too slow but now I feel that it is more subtle than slow. Definitely looking forward to the next episode.
Fatima Awan