The time that Zeeshan spent in his house while he was recovering from his injury has been a learning experience for him. Nabeel fell in love with Romaissa primarily because of her genuine nature; her relationships meant more to her than anything that money could buy. It is almost as if Zeeshan never knew just how insensitive and selfish his family members were before, maybe because he spent a lot of time away from home. Nabeel knew his family members only too well because he had to deal with them a lot. He made sure that Romaissa was financially secure because he had no expectations from his parents even.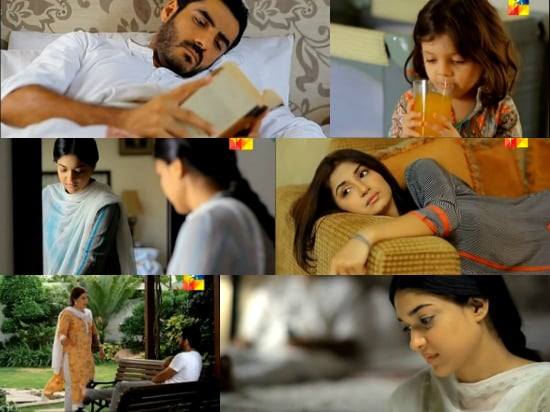 Maham is adorable, I am surprised that Zeeshan took so much time to warm up to her. I was hoping that this episode would be much more fast paced than the last few because the drama is going to end in another 2 episodes or so but some of the scenes were stretched without end. The scene in which Romaissa is cleaning the room was painful to watch! On one hand there is Romaissa who is dutiful and always there for Zeeshan and on the other hand his family members don't have any time for him. While his parents have forgotten all about him while he is still alive, Romaissa has kept Nabeel's memories alive even so many years after his death.
Hamnah was expecting a few months back (in the last episode) but there was no mention of the baby in this episode. There are no signs of Nabeel's family paying for their wrongdoings, I am not sure that we will get the satisfaction of watching them suffer the way they made their son's widow and daughter suffer. Zeeshan's mother's obsession with getting her son married is beyond me.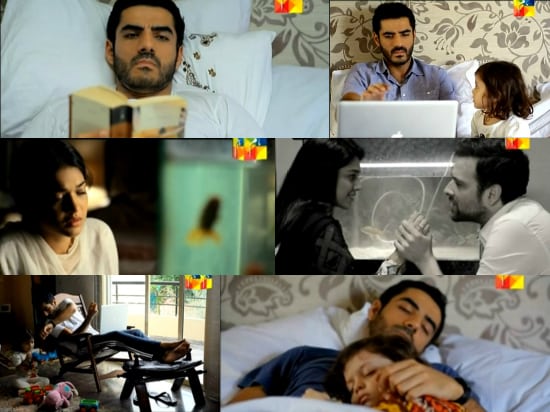 Zeeshan's feelings towards Maham and Romaissa completely changed in this episode. For me Zeeshan and Maham's scenes together were the highlight of the episode. The episode could have been much more fast paced but I guess we all know by now that the director believes in showing every little detail. It is time to wrap things up now.
I was hoping that the last few episodes will give us something to remember but that seems unlikely now. I am tired of watching Romaissa crying and working, we all know how the play is going to end so why not just end it without making the viewers suffer even more!
Fatima Awan