This latest episode of Pehli Si Mohabbat was disturbing and intense. When I titled my review last week "Trouble Ahead", I had no idea that this trouble will be of such magnitude! This episode showed the ultimate repercussions of everything we have been watching for all these weeks. The setbacks in all the tracks got graver than ever therefore tonight Rakhshi and Aslam's worst nightmares came true. Although we have witnessed similar scenarios in many other dramas, what set this episode apart from others was the fact that the writer took her time establishing the characters and their backstories hence I felt for all those involved. Also, Faiza Iftikhar always has an actual story to tell therefore she never rushes into showing such scenarios; the intent is never to sensationalize a certain scenario but to fit it in where it is needed. This I believe makes a huge difference since many writers nowadays are more focused on attention-grabbing tactics than telling their stories!
The story has advanced convincingly throughout with the exception of the fact that Akram got easy access to Aslam's cell phone. Aslam had so much to hide yet his data was not protected by a password, this in my opinion was quite far-fetched. Tonight's episode was filled with powerful emotions and all the tracks were interlinked as usual. It is unfortunate that most of the characters are trying hard to break free from their past but it is turning out to be a futile exercise. Zainab, Nargis, and even Sikandar are prisoners of their past! They constantly find themselves in situations that remind them of their past. The exceptional performances by all the actors involved made this episode an emotional roller coaster. All the scenes were executed flawlessly which made all the scenarios truly come alive on screen.
The Secret Is Out
Faiz Ullah's visit to Akram's house in the previous episode and everything that happened there led Aslam to do something which he might not have done otherwise. He wanted to prove to Faiz Ullah that his upbringing was flawed and Akram's family was not the one to be blamed. This encounter was acted out and penned down so well. The intent and fears of these characters were as clear as daylight. After the conversation with Nargis, Aslam decided to meet Rakhshi, perhaps because he felt he needed to try harder. The way Faiz Ullah barged in and Aslam begged him not to hurt Rakhshi made this scene intense. The performances were on point throughout and these scenes were directed brilliantly. Sheheryar Munawar totally outdid himself in this episode; I felt for Aslam every step of the way.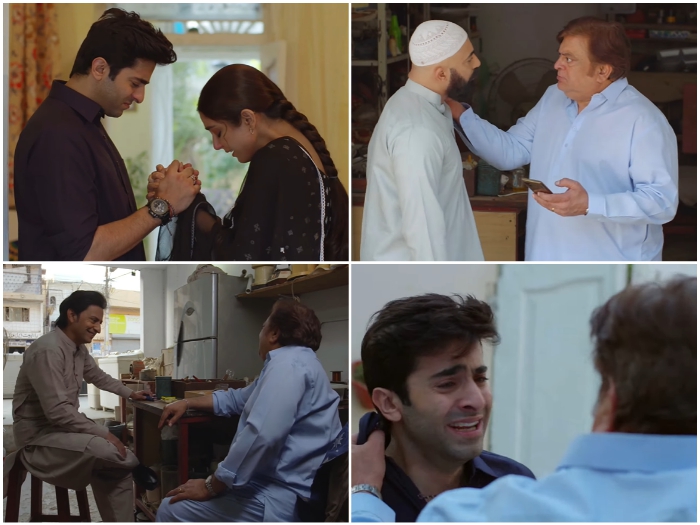 Faiz Ullah was justified in feeling betrayed but it was unfortunate that he blamed Nargis and beat up his daughter. His ego was hurt more than anything else. Nargis always dreaded being held responsible for Rakhshi and Aslam's affair and now we know why! Even after trying so hard to avoid such a situation, she ended up being in the middle of a complete mess. It was good to see Rakhshi mustering up the courage to protect Nargis. Nargis also did whatever she could to knock some sense into Faiz Ullah but he was obviously not listening. This was a repeat of everything that happened with Zainab. The beating Rakhshi got after she uttered a few lines in Nargis' defense was proof enough that Faiz Ullah wouldn't have supported her had she told him that she was in love with Aslam. Sikandar is turning out to be a vile character; he is playing games and did not think twice before beating Aslam up so violently. I am waiting for the time when perhaps Zainab will have to step in to stop him.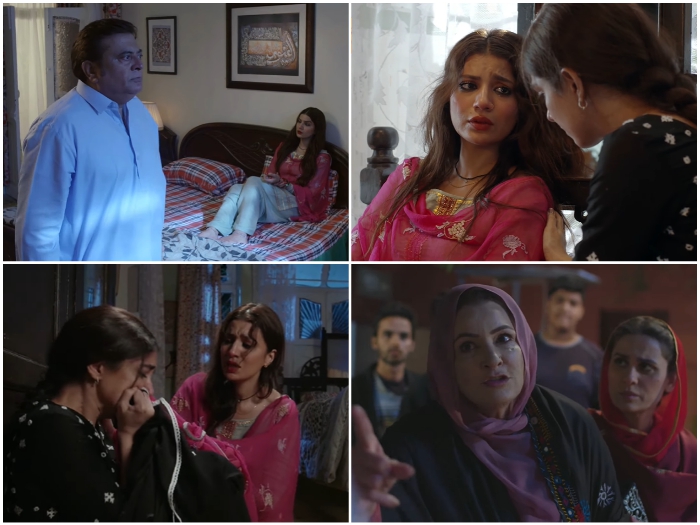 Zainab's Track
Zainab's track has been meaningful throughout. It shows what the future holds for Rakhshi! Also, the kind of emotional blackmailing that led to Zainab's wedding is quite similar to Faiz Ullah's mindset at the moment. Zainab's mother did not even try to understand her daughter's feelings and Faiz Ullah also expects Rakhshi to be thankful because he let her live! Keeping appearances is clearly much more important for these parents than looking out for their own daughters and ensuring that they get to make choices that lead to their happiness. These dialogues and the situations reminded me of one of Zainab's dialogues from the past when she told her mother how she completely failed to see the scars on her soul! Nargis also said something similar today when she asked Faiz Ullah to see if Rakhshi was alright. So much is expected from these daughters but there is little consideration for what they want.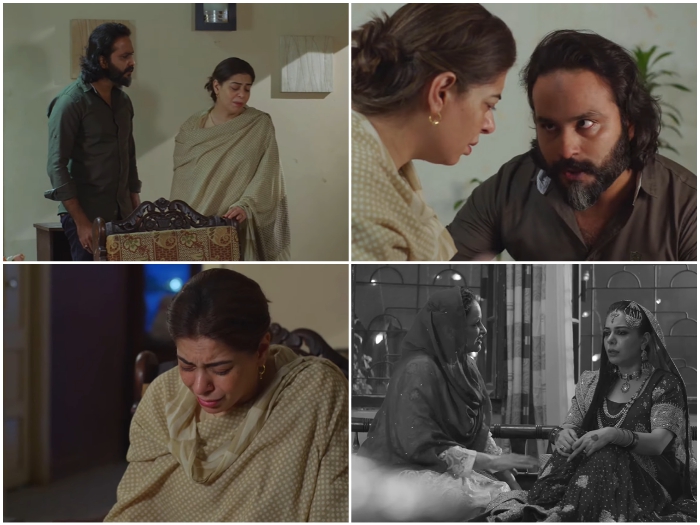 Final Remarks
This powerful episode of Pehli Si Mohabbat did complete justice to Aslam and Rakhshi's love story and at the same time raised many valid questions intelligently. It showed all the perspectives; how young people fall in love, why parents force them to get married to people of their choice and the important role societal pressure plays in everyone's lives. Faiz Ullah and Zainab's mother have been so focused on getting approval from other people that they do not even try to see things from their children's perspective. Aslam is the same; he is constantly looking for validation from society in general by following the list of dos and don'ts! Do parents raise children so that they can one day make them proud by sacrificing their happiness to get a moral certificate from society? Pehli Si Mohabbat really does make it crystal clear that you cannot please everyone and sometimes in trying to do so you make the people you claim to love and protect miserably. This episode was one of the best so far. The performances were outstanding throughout; Sheheryar Munawar, HSY, Rabia Butt, Maya Ali, and Shabbir Jan in particular acted brilliantly. The preview of the next episode was equally intense. I can't wait to watch what team Pehli Si Mohabbat has in store next!
Did you watch this latest episode of Pehli Si Mohabbat? Do share your thoughts about it.