Tonight's episode focused entirely on Zainab's tragic exit from the story and we were shown its immediate effect on everyone including Rakhshi's wedding. It is interesting how Faiz Ullah moved near Zainab's house and eventually the way Sikandar found out that Zainab was no more. The whole scenario had been penned down in such a way that there was nothing 'plain' about it. Zainab's exit from the story was expected since she had been talking about dying quite often. This was an emotional episode that changed the story's course and started the last chapter of the drama. The execution of the hospital scenes has been flawed since the previous episode because a patient who is in such a critical state will never be kept in a private room unmonitored! Our directors really need to put a little more thought into shooting these scenes because most often characters that are dying are shown misleadingly. Zainab was one of the most impactful characters of the drama; her exit deserved as much screen time as it got in this episode.
Zainab's Death
Tonight's episode opened with Murad telling Akram that Zainab was not going to survive, the writer had been setting the foundation for her exit for some time now. Murad's reaction when he read Sikandar's message was contrary to my expectations, I was also expecting this message to be slightly more dramatic. This entire development was executed dramatically since the dialogues were not overdramatic, the scenes were still subtle even though this was such a tragic moment. Zainab kept her promise in the end! Her final sacrifice also stopped Rakhshi's wedding therefore ultimately she managed to keep that promise as well! She was always made to feel like a burden as if her sole purpose in life was to fulfill other people's wishes and right till the end she did just that! Her bond with Aslam was the most endearing element of the drama, watching Aslam in such a helpless state while his sister died was heart-wrenching. Zainab lived an unhappy life due to the wrong decisions taken by those who claimed to love her. Akram had already realized that he was responsible for his sister's condition therefore when Zainab died in this episode he wanted her to forgive him but it was too late!
Zainab's death scene had to be the weakest one in this episode. She was dying yet she was left unattended and when Murad ran out of the room there was no one in sight! Since Murad already knew that she didn't have too much time, her condition should have been taken more seriously! It was almost as if he accepted her fate sooner than he should have and was a little too prepared for her to die!
The scenes covering everyone's reactions to her death however were acted out and covered exceptionally well. Surprisingly Sikandar's reaction to the news of Zainab's death was really impactful. Saleem Mairaj's phenomenal performance in these scenes made them stand out. Even though Sikandar's character has been so toxic yet I actually felt his pain tonight! Everyone acted so well in these scenes and added a more realistic feel to them, making them emotional. This was the kind of goodbye that Zainab deserved. Uzma Hassan played her role brilliantly throughout and made this character memorable.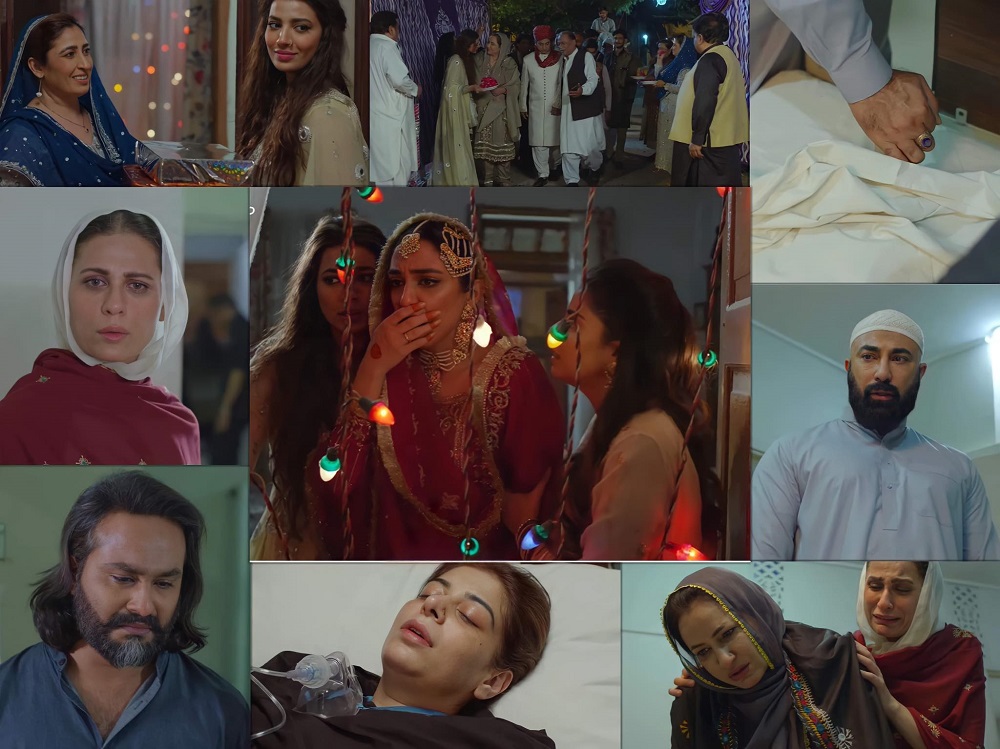 Rakhshi's Wedding
Rakhshi's wedding festivities ended with the Sikandar running away. The way Arif's character was used to break the devastating news was actually unexpected and made the scene interesting. Arif's sister's conversation with Nargis yet again suggested that Rakhshi might end up playing a mother's role in little Sadaf's life. It would have been so nice if Sadaf and Rakhshi also had a scene together in this episode…if that is where this track is headed! Rakhshi's expressions were more or less the same throughout this episode. By the end of the episode, Faiz Ullah was more than willing to get his daughter married to Aslam. No one except Sikandar knows that Zainab is the one who has died.
Final Remarks
Tonight's episode was emotional and engaging. The performances and the screenplay were on point! Will Aslam blame Rakhshi for his sister's death? It is definitely time to wrap up the story; two more episodes should be enough to show an ending to Rakhshi and Aslam's track.
Did you watch tonight's episode of Pehli Si Mohabbat? Do share your thoughts about it.