Popular OSTs 2017!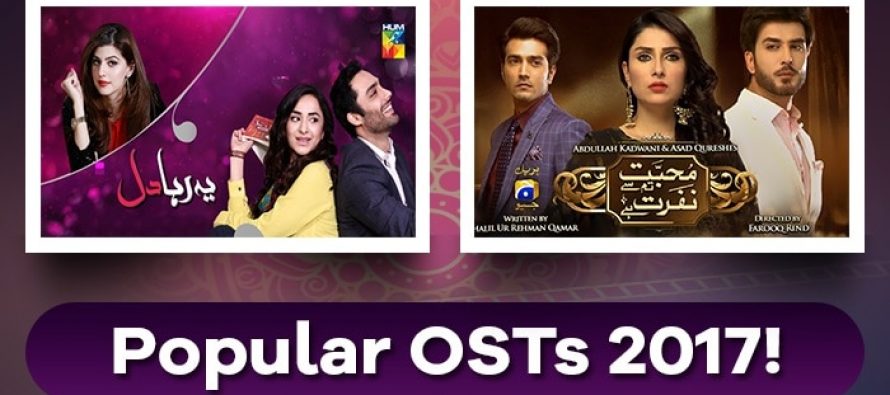 Music is the most important part of the South Asian entertainment. We cannot make a drama or film without songs in it. Where films consist of multiple songs, a drama relies on one soundtrack which has to be good enough to stay on the audiences playlists as long as the drama runs on their screens. The soundtrack of any drama is its soul. People would not have loved Humsafar as much as they did if Woh Humsafar Tha wouldn't have played in the background. OSTs have been a solace for Pakistani music lovers when the music industry was down. They made the audience connect to Pakistani music. The trend of producing soulful and heart-touching OSTs is, therefore, going on for quite some time now and our musicians have succeeded in giving the audience a lot of good stuff to listen to. This year was no different and every team tried to put out the best soundtrack they can. As a result, many heart-warming OSTs came out this year too and here are to name a few:
Khuda Aur Mohabbat 2:
The OST of Khuda Aur Mohabbat season 1 was so heart-touching that it still was a part of many people's playlists. This year Khuda Aur Mohabbat season 2 came out. The OST was a bit altered and with the magical voice of Ahmed Jahanzeb, the vocals of Afshan Fawad were added. The whole song is so perfect that once it starts, it stirs something inside you. This was one of the top OSTs this season with perfect music, perfect vocals and perfect video.
https://youtu.be/ytMwjONVtag
Sang-e-Mar Mar:
This drama was too perfect. The direction, the acting, the plot and the OST. Sahir Ali Bagga's composition and Rahat Fateh Ali Khan's vocals can create magic any day. Both of them are masters of their crafts and it showed in the OST. The ghazal feels of this OST were out of this world. The music is extremely soothing and takes you to another world.
Dhaani:
Sung by Zamad Baig, this was another popular OST this year. Whenever Nusrat Fateh Ali Khan Sahab's name is taken, the song has to be good. That was the case with Dhaani's OST, it was a remake of Nusrat Sahab's masterpiece and Zamad did a very good job and made the OST a must listen. The drama itself was not that much appreciated but the OST was. Here is Dhaani's OST:
Khuda Mera Bhi Hai:
Khuda Mera Bhi Hai talked about a very sensitive topic and brought society to think about a social issue the society skips to address as an issue even. The drama showed the problems a transgender individual face from the point of being born. Ayesha Khan showcased the mother of such a kid very nicely. The OST of the drama represents the overall theme and emotions perfectly. A win-win OST by Waqar Ali.
https://youtu.be/35NqI79c6EE
Moray Saiyyan:
People loved the pairing of Uzair and Neha in this play as well as the OST by Qurutul Ain Baloch. QB can nearly pull off anything she sings. The powerful vocals keep you mesmerized. The song was a tad bit slow and kind of sad when you listen to it but later, with the story unfolding it proved out to be a perfect OST for Moray Saiyyan.
Shadi Mubarak Ho:
The only good thing about this drama is its OST. Initially, I looked forward to the drama because of the song. The drama may be skip-worthy and not something one would look forward to but the OST is a win-win. It is a perfect shaadi song. The video is also choreographed in a filmy wedding style but as I said earlier, it was the only impressive thing about this drama.
Ye Raha Dil:
The OST was youthful as was this drama. It is sung by Atif Ali and Samra Khan. It is melodious and easy going. It sounds more like a romantic song one can listen to in rom-coms. The video suits the overall lyrics and music. It was also a good one which came out this year.
https://youtu.be/Ie2m5L3ffo4
Mohabbat Tum Se Nafrat Hai:
The OST of this Ayeza Khan, Imran Abbas and
Shehzad sheikh
starrer is also a winner, a lot like the story itself. The song is sung by Rahat Fateh Ali Khan and the lyrics are by Khalil-ur-Rehman Qamar. The two names together had to result in a masterpiece and that is what happened with the OST of Mohabbat Tum Se Nafrat Hai. And it perfectly matched the overall story and ending. Listen to it again:
Sun Yaara:
The drama was fantastic and the song impressed the audience equally. The singer was Damia Farooq and she really made the song everyone's favourite with her beautiful vocals. The video also complimented the lyrics and music. Here have a look:
Baaghi:
This is hands down one of the best OSTs of recent times. The composition and vocals of this masterpiece were given by the talented Shuja Haider. It goes with the theme of the drama so well that only listening to it can make you aware what is coming ahead. Top notch music, best vocals, all in all, a brilliant track. Lyrics written by Sabir Zafar deserve an applause.
O Rungreza:
This is a song which you can listen to on repeat. Sahir Ali Bagga's composition and voice made this a must-have for every playlist. Mohay apne hi rang main rang de nizam were the lines which Rahat Fateh Ali Khan also sang in this year's Coke Studio but even they were not able to beat the melody of this OST. This song has colours, beauty and calmness along with the ability to make you dance and whirl with the music.
So this year we got all kinds of OSTs from sad to ghazal like to chick. My personal favourite is that of O Rangreza. Sahir Ali Bagga really killed it in O Rangreza. The above list consists of all the popular and great OSTs of this year. Give them a shot if you have not listened to these and do share which one you liked or any other you think should be a part of this list. Your feedback is always important!
---