Ohkay so, this episode of Prem Gali was strictly alright. The fun elements are still there but the overall vibe of the drama is not fun anymore. Things have slowed down considerably & the fact that the main couple of the show is unable to grab the interest is probably the weakest aspect of the drama. This episode however did add a new dimension to the story with the new residents of Prem Gali. This way, the writer is brilliantly opening up the discussion about how this segment of the society deserves acceptance & courtesy, which was probably the only best thing about this episode for me.
Slow & Stagnant
Hamza & Joya are still pretty much torn between their family members, they are trying their best to be there for each other but it is unfortunate that the rest of the family members are not getting any clue. It still rightfully shows how the concept of giving privacy & respecting certain boundaries around a young & new couple is a concept people don't really pay heed to. This not only makes the couple irritated but also causes a strain on their relationship. In this scenario too, Hamza & Joya are finding it hard to speak up for themselves but the sad part is, the experienced people around them are treating them as toddlers who are unable to fend for themselves. So far, nothing in Hamza & Joya's track was new or exciting so that entire chunk of the episode was pretty monotonous & borderline boring!
It seems Manzoor (Javed Sheikh), Joya's father too is going to make an entry in her life. He is going to hire Hamza for the job & eventually will make his way into their lives, which obviously Shireen will not approve. Does this also mean that Shireen has a blissful future ahead of her? We'll see. It does seem that at this age, especially after Joya's marriage, Shireen too has started to feel lonely & has become quite sensitive. This is why she is seen introspecting about her ex-husband & kind of misses him too. At this stage, her emotions are driven by the bitterness & negativity that the separation brought with it but will her husband make it up to her? I am kind of interested to see but I just wish someone speeds up the process.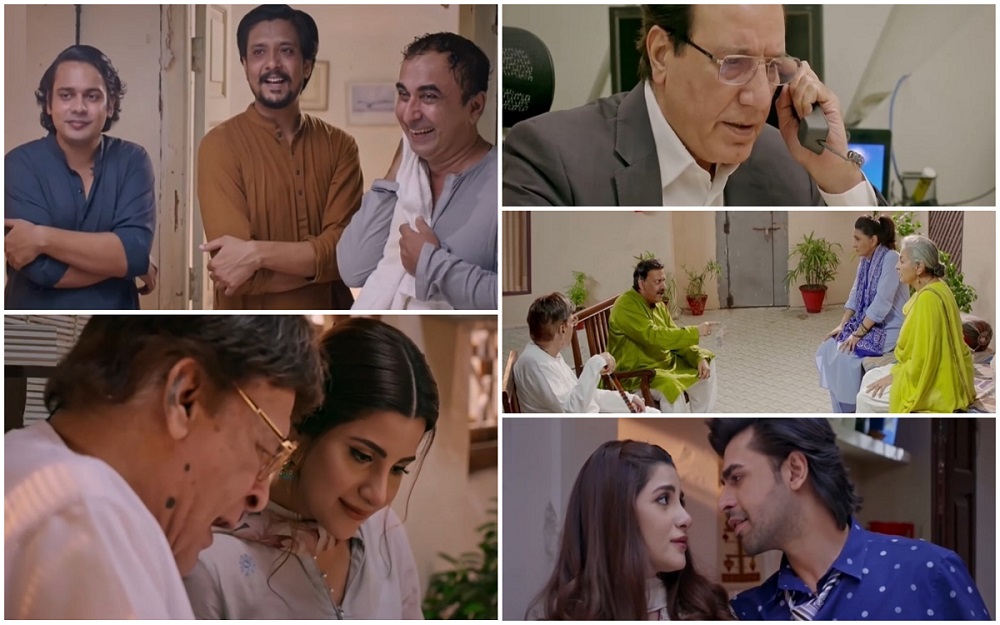 The new tenants found a place in Prem Gali & the best part was that they were struggling to start afresh & lead a normal life, which will not only make them happy but also give them the freedom & empowerment to live life on their own terms. Faiza Iftikhar definitely deserves all the appreciation for starting this conversation & showing the humane side of these people who are often ostracized & treated as outcasts. The way Hamza welcomed them was another beautiful moment of this episode & not just welcome, he sat there to listen to what they had to say. The rest of the residents were just being insensitive because so far they have not really gotten a chance to learn or grow together, but soon enough the residents of Prem Gali will come to terms with them & open their arms for them too. This new addition was definitely heart-warming & I am glad that the actors chose to portray these characters with a lot of subtlety & maturity because there are enough caricaturish characters in the drama as it is.
Some Good Moments
I will be completely honest, the preview of the next episode did not excite me much but I will still tune to it. This is the kind of drama which you can watch mindlessly & enjoy but when it comes to reviewing, there's hardly much to talk about. I am sure it might change when the story picks up the pace because right now I find it to be a bit too slow & stagnant. The best dialogue of this episode was when Joya called this entire household a laboratory, it's exactly what it is. She was told to have a child quickly & then the next moment, her own mother told her to give this relationship some time to nurture & grow. Some of these moments definitely make Prem Gali special for sure, another one such moment was when Dada Jaan decided to show Joya his family pictures. The dance that Joya & Hamza had was cute too. Please share your thoughts about this episode of Prem Gali.
Keep Supporting,
Cheers,
Zahra Mirza.