Ohkay so, this was another average episode of Prem Gali with hardly a couple of scenes that seemed interesting & were good enough to provide the entertainment that was expected of this drama. Apart from those few scenes, the rest of them were highly repetitive & added more to my frustration as a viewer because, after 21 weeks, the thing you don't expect is to be hearing the same conversations that were happening probably in the initial episodes.
Shireen The Paranoid
Hamza has become a hero of Prem Gali & everyone is looking up to him but the only one who has an issue with everything that he does is Shireen. The conversation that Shireen had with Joya regarding Hamza, trying to prove that he will eventually betray her trust was absolutely annoying & uncalled for. Shireen was coming across as paranoid but in this episode, she proved that she actually is suffering from paranoia & sadly, she is pushing Joya to be like her as well. It is kind of ironic that even after so many years, Shireen has not even once tried to analyze the situation to see where she went wrong with her marriage. It seems for Shireen, playing the blame game is easier & now she is doing the same thing with Hamza.
I was totally on Hamza's side when he felt annoyed with how Joya's entire family was interfering in each & every situation & making things hard for him. Joya also blamed Hamza's family but that was far stretched because yes, they too are invested in the newlyweds' lives but they are far from being as annoying as Joya's family is. It was nice to see Joya acknowledging Hamza's intelligence & how he earned everyone's respect. It's high time that Joya draws a line & prevents her family members from meddling in Hamza's affairs especially.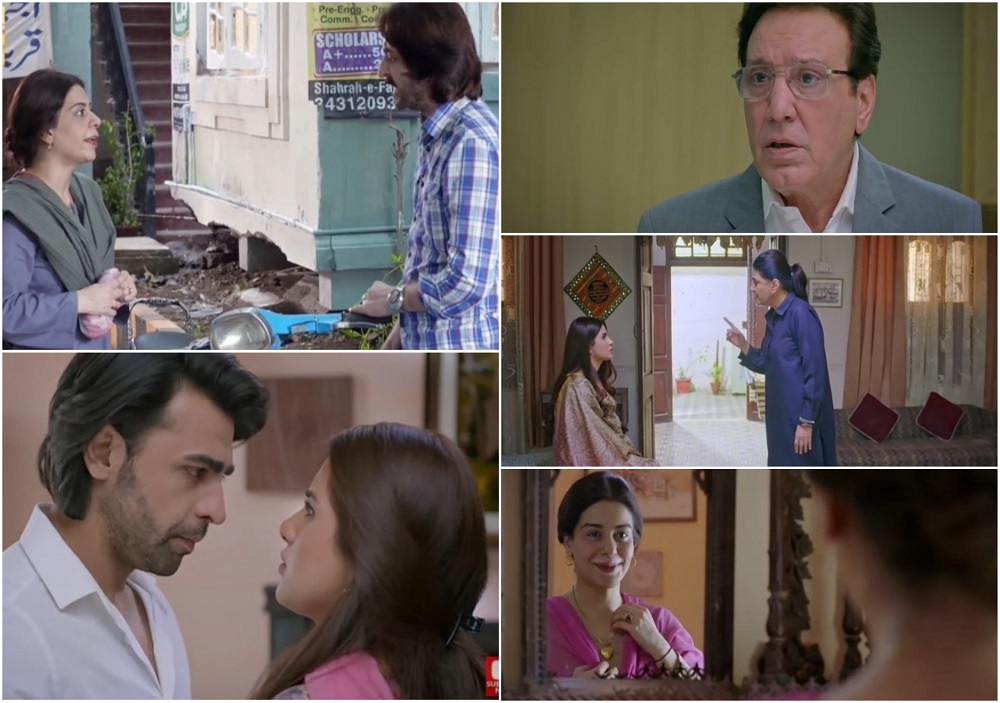 My only favorite scene of the episode was the conversation between Luqman & Musarrat. There was a spark from Musarrat's side & Luqman without actually realizing did say a few things which showed that he saw Musarrat in a positive light too. As much as I feel that Uzma Hassan has made Musarrat's character interestingly tolerable, I feel she has been wasted in Prem Gali. If it wasn't for Uzma Hassan, Musarrat's character would've looked super annoying, but as much as she has done a great job in portraying this character, I feel there should've been more for her to perform considering the phenomenal actor that she is. Another interesting conversation was between Fari & Joya, where they discussed their husbands, their marriages & the good & the bad.
Shireen & Manzoor's interaction was nicely done too. That entire scene did make it obvious why Shireen had so many fears, it was because she never really gave herself a chance to understand Manzoor & his feelings. In this entire scenario, Mazoor came across as a reasonable man who actually wanted to be there for his daughter but also didn't want to hurt Shireen or take away the fact that she was raising their daughter with so much effort & hard work. It seems after understanding Manzoor, Shireen will also start seeing Hamza differently & won't paint him with the same brush but I honestly hope that happens soon because the slow pace is already getting to me.
Sohai & Farhan Are The Saving Grace of Prem Gali
This episode had a few important developments to its credit but I don't know why, the overall execution & vibe of this drama is off because of which it fails to grab my interest. Sohai Ali Abro & Farhan Saeed definitely have emerged to be the saving grace of this drama & after so many weeks, I find their scenes interesting. I definitely have warmed up to their characters & understand how painful it must be for both Hamza & Joya to be stuck in between such people who are unduly obsessed with them. Please share your thoughts about this episode of Prem Gali.
Keep Supporting,
Cheers,
Zahra Mirza.