Ohkay so, this episode of Prem Gali followed the pattern of the previous one where it started off on a fun note & ended on a grim one showing what transpired in the past. I must say it's an intelligent way of establishing what happened in the past & also to humanize the characters a bit more by showing their struggles & emotionality. To be able to feel for a character, it is very important to understand where they come from or what they have been through, therefore I actually liked seeing the backstory of Chaudhry & Sons!
A Happening Episode
The first part of the episode was quite interesting. It uplifted my mood the moment I tuned to it because of how the day started in Shireen's house, it all seemed very realistic & relatable. The mood was grim & dull, none of them had the courage to face each other & were sulking but then Rahat took over & made sure that everyone snaps out of it. I loved seeing how Rahat brought everyone out of that mood. That's what the elders usually do because they know the situation better. She didn't want her daughters to continue to feel bad because of what happened in the past or what some inconsiderate strangers said. As a mother Rahat has seen all that her daughters have been through, therefore she understood that none of the things that people say actually matter. These are their personal lifelong struggles & they have worked hard to move past that phase of their lives. I must say the things that Rahat continued to say about those women & their dietary preferences were hilarious.
The entire scene where they thought Joya has run away was quite interesting. I loved the kind of assumptions they made, it once again showed the kind of mindset each one of them has. It didn't take Shireen a moment to suspect Kuwait returned plumber & Fari. Musarrat had a lot of faith in Joya & she knew Joya wouldn't do something like this. Rahat just panicked but then in the end also showed that she felt for Joya a lot because of all the restrictions Shireen has imposed on her. I must say, this has to be the most unique name someone would choose for their pet 'jaanu manu'. Shireen's reaction to it was hilarious!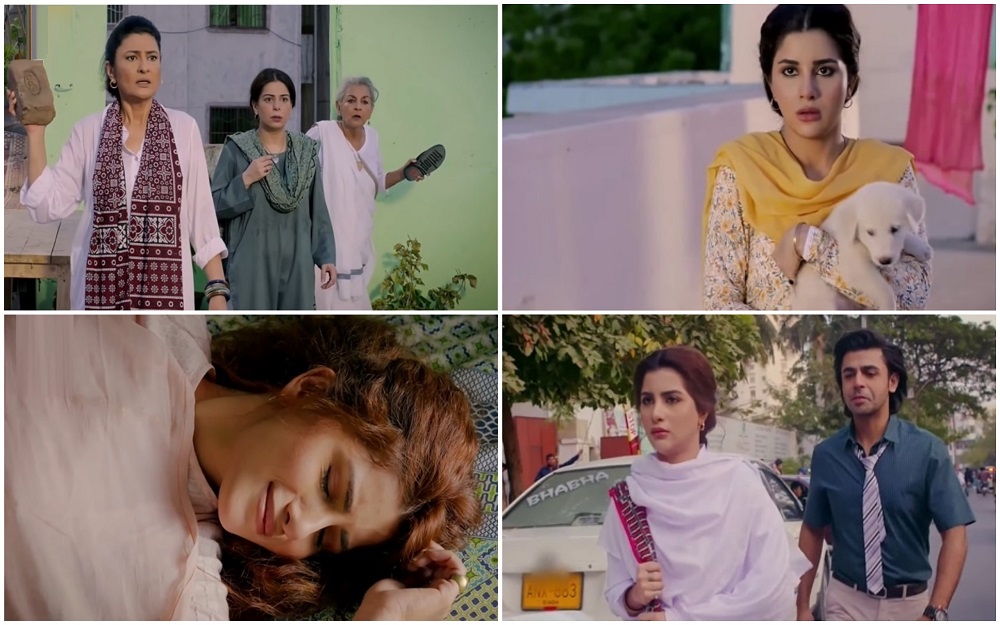 Joya & Hamza's relationship is blooming & Hamza has already confessed what he feels about her. Joya definitely likes the attention & it's understandable, considering how decent Hamza is plus Joya herself is at that age where an attention of this kind makes a girl's heart flutter. However, I really like that Joya is not unduly or unreasonably smitten by Hamza. She has her inhibitions & it shows, that too because she lives with three women who have had bitter experiences when it comes to marriages, therefore I like Joya's overall attitude & behavior when it comes to Hamza. She likes him, there's absolutely nothing wrong with it but she is not too welcoming & is maintaining a distance.
The entire Milaad sequence was quite special too. It showed how the entire neighborhood comes together with Rahat being a representation of those people who do not usually entertain the idea of going out of the way to be a part of religious gatherings because they have their own beliefs & way of appproaching things. The way Fari & Joya discussed Biryani without Alus was hilarious, it kind of makes it all look very real because these minute details are usually discussed mostly after such gatherings in general, it also adds the comedy factor without trying too hard.
So, finally, everyone got to know how Chauhdry & Sons ended up being on their own without a trace of women in their lives. Hatim still believes that because he went against the orders of his Peer o Murshid, his wife ended up losing her life. His father was too passionate about Dangal, therefore he never really paid heed to the pain that his wife was going through. She fell sick & he didn't really have it in him to actually understand how bad the situation is. All the things his wife said showed what an emotionally & physically absent he was as a husband. He let his wife suffer alone without complaining & now he has nothing but regrets. Luqman's story was really sad, he got married to his Dua who actually was in love with someone else. If only Abdullah Farhat had toned down his acting a bit in that scene, it would've made a bit more impact because yes, although he seems to be quite emotional, it ended up looking funnily dramatic which is quite unlike him, but then maybe he was given a briefing to be like that because he was in front of his family & all the emotions are usually unfiltered in front of parents & siblings.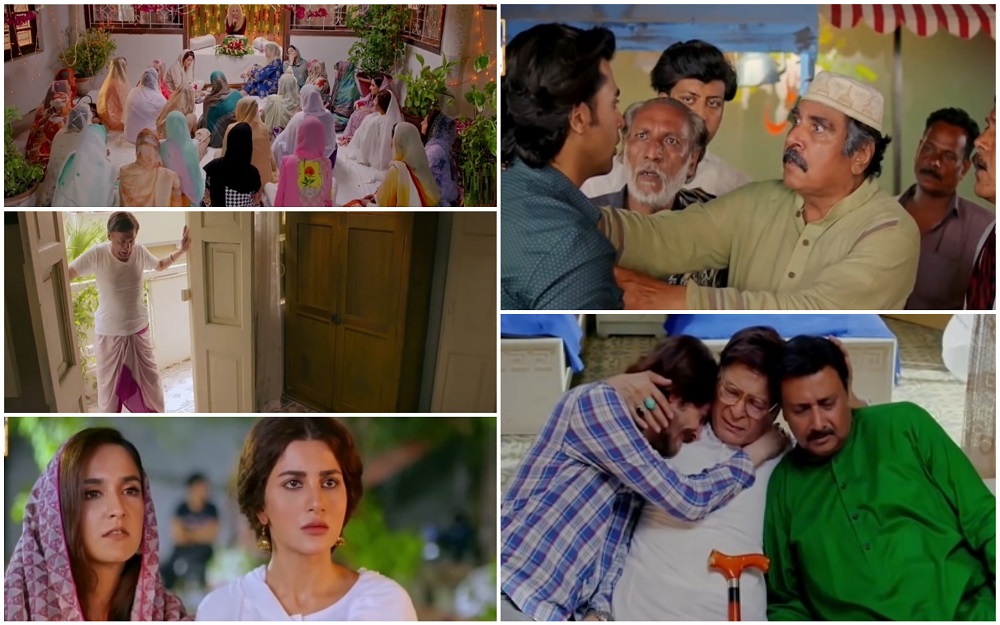 Tau Hidayat came through with his Hidayat, first when he told Joya to drape the dupatta over her head & then he caught Hamza in action. I think by now, Hamza should know that if there's one person who will be another big obstacle in his & Joya's love story after Shireen, it is going to be Tau Hidayat. Joya ended up believing what she saw, which showed how relationships usually work, there are always ups & downs, sometimes things are smooth but then the next minute they are rocky – it was actually quite cute. Now Hamza will have to show Joya a complete picture for her to understand why Tau Hidayat reacted the way he did!
My Idea of Entertainment
This episode of Prem Gali was really nice. After this episode, I think there won't be a need for more flashbacks or backstories because the main characters have been covered. I will say that I liked how the focus was shifted on Chaudhry & Sons because, in the first two episodes, it was mostly about Rahat & Co. Now that we know about all of them, it would be interesting to see their stories going hand in hand & tracks interlocking. Saba Hameed & Waseem Abbas definitely stand out & Waseem Abbas a bit more with his bright solid colored Kurtas. I really like how Faiza Iftikhar has crafted their personalities because no matter what they all are going through emotionally, they all get to be in their element & have unique personalities.
Sohai Ali Abro & Farhan Saeed have done a commendable job as Joya & Hamza too but somehow, they still have yet to draw the entire attention to themselves because at this stage of the drama, their story seems merged & although I don't mind seeing what's happening in their lives, I am more interested to see the tracks of other characters, especially the older ones. Their love story & conversations are definitely cute but at this stage, there are a lot of other things that seem far more interesting. Anoushay Abbasi as Fari is cute too, she has that sass & quirk to her character which makes me look forward to her scenes. After this episode, I am interested to find out more about Nargis & her story too. Dialogues & all the conversations make Prem Gali a fun drama to tune to, this definitely happens to be my idea of entertainment & I am enjoying it. Writing, direction & acting so far seems to be great. Please share your thoughts about this episode of Prem Gali.
Keep Supporting,
Cheers,
Zahra Mirza.