Ohkay so, Prem Gali ended last night & to be honest, I feel relieved. Although the drama ended on a good note & it was a clear case of everyone living happily ever after but I really feel that is just not enough. The major mistake the drama-makers did with this drama was to prolong it for 30+ episodes because the story of Prem Gali was just not made for these many episodes. It is unfortunate that the commercial aspects always take over such projects & instead of ending them at the right time, the viewers' patience is tested.
Characters Failed To Show Any Growth
As much as the drama started off on a high note, it kept on deteriorating, until it became hard to sit through its episodes without getting distracted. The writer Faiza Iftikhar gets full points for some of the messages she instilled in the story for the audience to see & understand. The best message definitely was how a newly married couple deserves time & space to grow as a team but then again, the way the joint family system was glorified & Hamza & Joya were blackmailed & guilt-tripped into believing they did something extremely wrong, it just took away the impact of that message because, in the end, it was obvious that Hamza & Joya themselves were a part of this craziness & couldn't function without it being a part of their lives.
I really feel this turned out to be a story of unreasonable characters. The unreasonability looked funny & interesting in the initial episodes but when the characters failed to change or show any growth, that's where it stopped working altogether. It is amusing that the madness Hamza & Joya ran away from, they themselves started showing signs of that by the end of the drama. The last two episodes were dedicated to one single misunderstanding that happened where Hamza misjudged Joya for keeping Dada Jaan's condition from him a secret & it ended up being so dragged that literally, everyone had to jump in to make Joya understand such a basic thing that she needs to let go of it. Obviously, there are never definitive answers to such situations & characters who continue to be so unreasonable but it seems they all will continue to be this way with one of them always making mistakes & others blowing things out of proportion.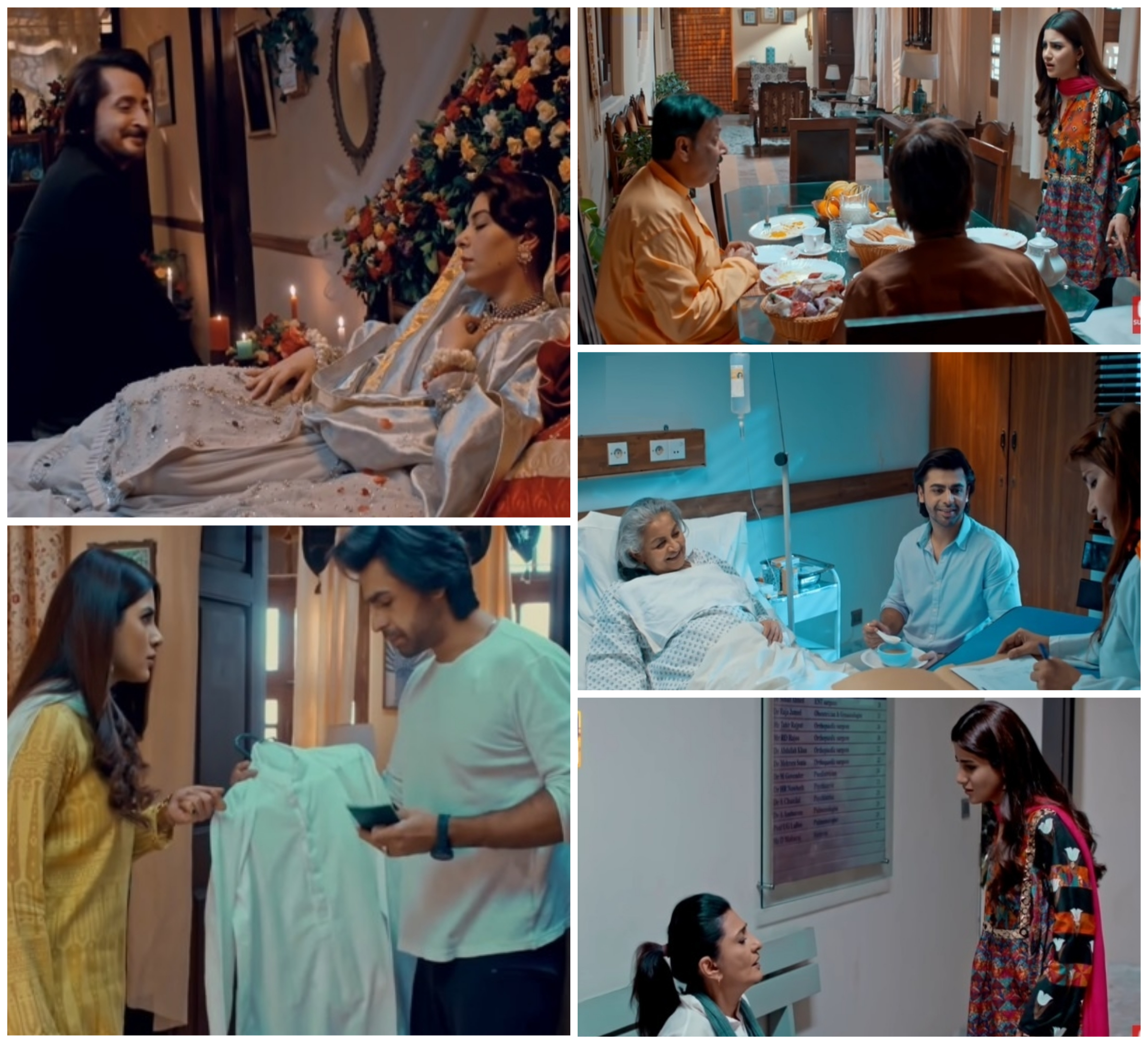 Joya also failed to forgive her father but I guess Shireen should've had that kind of conversation with her, telling her about the wrongs she committed too when she was married to Manzoor. It was sad that this could've been used as an opportunity to show that separated parents can also be on cordial terms with each other with Shireen & Manzoor coming to terms with how their life panned out & how they came to terms with it for the sake of Joya. In the last few episodes, all the characters kind of took a backseat & it was Joya, Hamza & Dada Jaan in the limelight, with their equation not being too fun either. Even at the end of the story, it was this easy for Dada Jaan to make Joya doubt her Nani's intentions & question that maybe she was faking her illness!?!
The only interesting track for me in this drama was of Luqman & Musarrat but unfortunately, they both got the limelight literally at the end of the drama that where the writer could've made the most of this particular track, even that opportunity was wasted. I am pretty sure Luqman & Musarrat could've brought the charm that both Hamza & Joya being lead couple failed to do. Uzma Hassan was brilliant as Musarrat & Abdullah Farhat was just perfect as sad Luqman.
The Execution Wasn't Right
All in all, Prem Gali could've been an interesting drama but the dragged & prolonged treatment made it what it is. I do understand that the writer Faiza Iftikhar had a very exciting idea in her mind but when it came to execution, maybe the director or even the producers failed to understand how to take it along because this drama just failed to make an impact. Usually, when social messages are given in such a light-hearted manner, it tends to make a lot more impact but this one just fell flat. The actors no doubt did a great job, Farhad Saeed & Sohai Ali Abro were brilliant & so was the rest of the supporting cast but together they all just couldn't create magic, the chemistry that would've made Prem Gali a superhit drama or an interesting watch. Please share your thoughts about the final episode of Prem Gali.
Keep Supporting,
Cheers,
Zahra Mirza.