Legendary stars Samina Ahmed and Manzar Sehbai tied the knot on 4th April in a private Nikkah ceremony at Lahore.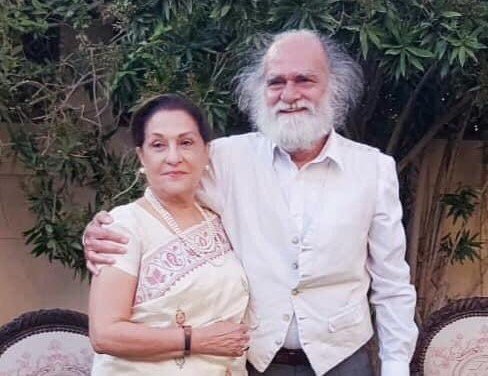 The couple needs no introduction as they are the assets of the showbiz industry. Manzar Sehbai was last seen in drama serial Alif and Samina Ahmed gave a brilliant performance in drama series Suno Chanda.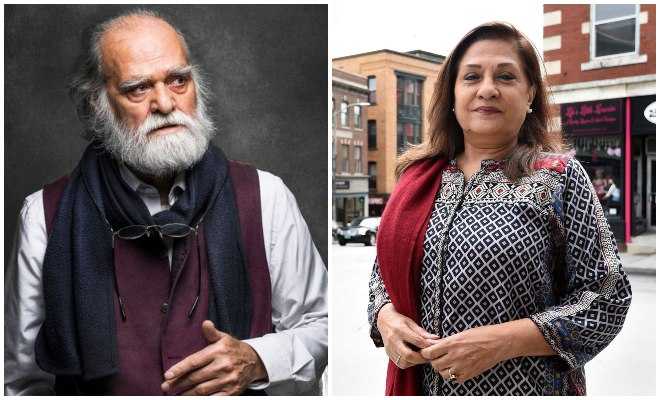 The legendary actors are truly admirable and their Nikkah picture is making rounds on social media.
Samina Ahmed is attending on Twitter and people are reacting on their Nikkah picture.
Many people wished the couple a happy married and blessed life ahead and praised them for breaking the stereotype of getting married at the age of 70.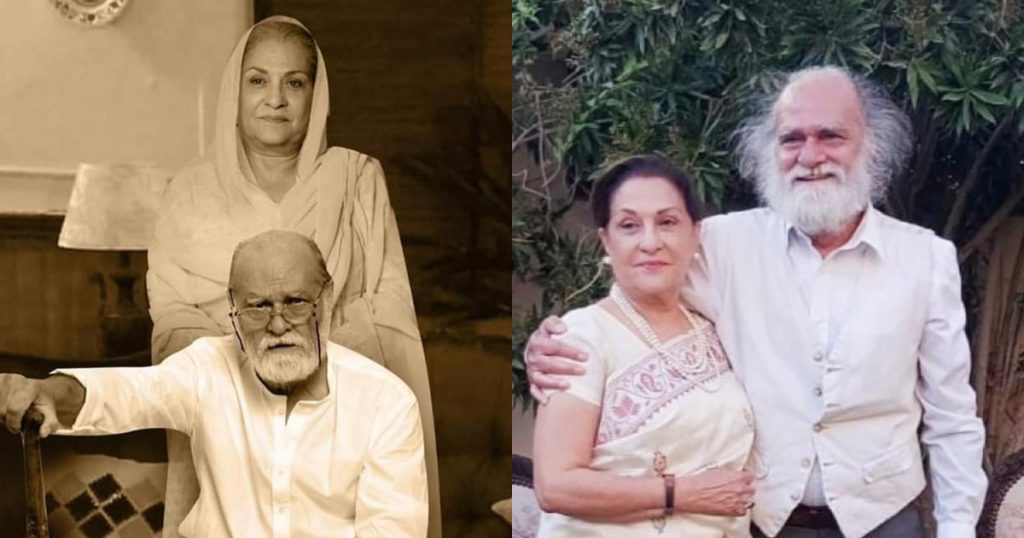 Check out the public reaction:
These Two legendary stars got married Congrats 🎉🎈🎈🎈🎉🎉 To them❤❤
they made such a lovely couple
ALLAH PAAK 💞 bless u both
… Just
LoÔvVée #SaminaAhmed
Character in Play Aangan & Suno Chanda OR
Yaad nahi😂
&#ManzarSehbai
Dadda g ❤😍 in Master piece 🔥 play #Alif pic.twitter.com/XBY4w2icwp

— Saadia Sikander (@sidumalik21) April 9, 2020
#SaminaAhmed and #ManzarSehbai did something great. They choose not to be alone for the life they have.
♥️🖤 pic.twitter.com/y3oFkEAHBI

— Israr Awan (@IsrarZAwan) April 9, 2020
Im in love with this couple 💓💓#SaminaAhmed#ManzarSehbai pic.twitter.com/PadSGOPe6C

— ١٢: ١٢ (@saneyashah) April 9, 2020
High time our society understood that a marriage is about companionship, not necessarily about producing kids only. At any stage of life if two people mutually agree to become companions for life, then why not? #SaminaAhmed

— Kiran (@KiranW_) April 9, 2020
It's never too late for a new beginning in your life!
Renowned veteran actors Samina Ahmed and Manzar Sehabi tied the knot.Wishing both a very happy & blessed married life!! 💞#ManzarSehbai #SaminaAhmed #Pakistan pic.twitter.com/zbXLtE3wtG

— Anam Hameed (@anamhameed) April 9, 2020
Two legendary stars #SaminaAhmed and #ManzarSehbai got married on 4th April 2020 . Congratulations to them ❤ they made such a lovely couple MashaAllah ❤ pic.twitter.com/pCUyQQwlpo

— Waniya Awais Khan (@Waniyak0) April 9, 2020
Bravo to #SaminaAhmed and #ManzarSehbai for being trend setters in a society which considers early marriages as the only option.
Well done, it opens up opportunities for late starters. https://t.co/jA4TwJDU8o

— Anna Khan Khaled (@aneelakhaled) April 9, 2020
#SaminaAhmed and #ManzarSehbai did something great. They choose not to be alone for the life they have.
♥️🖤 pic.twitter.com/y3oFkEAHBI

— Israr Awan (@IsrarZAwan) April 9, 2020
Samina Ahmed and Manzar Sehbai tied the knot and proved love has no age! Congratulations ❤️#SaminaAhmed #ManzarSehbai pic.twitter.com/dt8jm48d3M

— د ع ا 💞 (@d_u_aa) April 8, 2020
Two legendary stars Samina Ahmed and Manzar Sehbai got married on 4th April 2020 . Congratulations to them ..they made such a lovely couple ♥️😍 pic.twitter.com/O4vGRPH4ex

— Mian Omer 🇵🇰 (@Iam_Mian) April 8, 2020
Samina Ahmed and Manzar Sehbai tied the knot on 4th April 2020. Congratulations to the couple.#SaminaAhmed #ManzarSehbai pic.twitter.com/xJj81GpT4y

— Dr Ejaz Waris (@drejazwaris) April 9, 2020
Samina Ahmed and Manzar Sehbai tied the knot and proved love has no age! Congratulations ❤️#SaminaAhmed #ManzarSehbai pic.twitter.com/I79xQUW9N8

— JuLiEt khaTTak ( Dimple Girl) (@khattak_xalinda) April 8, 2020
Great fan of Samina Ahmed's work since long. And Manzar Sehbai's recent Series work was impressive. Wishing the newly weds great happiness.

— Moneir Aslam (@moneir27) April 9, 2020
Two legendary stars Samina Ahmed and Manzar Sehbai got married on 4th April, 2020. They made such a cute couple MA. Also, this example gives a deep insight that there has to be no age for getting married. And it does not matters if you get married in your early 20s or late 40s. pic.twitter.com/qtuvxXSxH0

— Hira Mustafa (@hiramustafa94) April 8, 2020
Some Good news in such sad times. Two legendary actors Samina Ahmed and Manzar Sehbai tied the knot on 4th April 2020 . Whatson Pakistan wishes the couple a very Happy life ahead and proves that love has no… https://t.co/X8u2pUzJDu

— Whatson Pakistan (@whatsonpakistan) April 9, 2020
Samina Ahmed and Manzar Sehbai tied the knot and proved love has no age! Congratulations ❤️#SaminaAhmed #ManzarSehbai pic.twitter.com/6RAZxfxc03

— Dr Waqar Ahmd Afridi (@imwaqarafridi) April 9, 2020
Legendary Pak showbiz stars Samina Ahmed & Manzar Sehbai tie the knot! Cultural stereotypes should be broken & such mature/ halal nikkahs appreciated/ celebrated.
Regardless of age, everyone deserves love & happiness ❤️ pic.twitter.com/SUiooDon1l

— Princess Fiona فيونا (@Ibrahimsmummy) April 8, 2020
Two Legendary stars Samina Ahmed and Manzar Sehbai got married. Congratulations to them ❤ pic.twitter.com/Xr7aMl239N

— ✨ (@iamifzi) April 8, 2020
Set an unconventional example and shattering the taboo of the society to get Marry in older age. 💕💕Congratulations for disintegrating #ModernDay relationships trend.
Samina Ahmed and Manzar Sehbai (Dada Jee) tied the knot on 4th April 2020. ❤️#SaminaAhmed #ManzarSehbai pic.twitter.com/aa2kPMnYAA

— Fãtîmå (@Kanfatima) April 8, 2020