Writer: Khalil-ur-Rehman Qamar
Director: Nadeem Baig
Producers: Salman Iqbal, Humayun Saeed, Jerjees Seja, Shahzad Nasib
Cast: Humayun Saeed, Mehwish Hayat, Urwa Hocane, Sohail Ahmed, Saba Hameed, Waseem Abbas, Naveed Shehzad, Behroze Sabzwari, Ahmed Ali Butt, Safina Behroze & others.
When you go to watch a film you have enormous expectations from, you rarely leave the cinema hall completely satisfied but that was most certainly not the case with Punjab Nahi Jaungi. On the contrary this film manages to strike a chord right from the beginning till the very end. Beautiful cinematography, flawless direction, amazing performances by all the actors involved, Humayun Saeed and Mehwish Hayat's sizzling on screen chemistry and most importantly Humayun Saeed's screen presence as a hero who isn't flawless but extremely likeable makes this film a must watch! With this film Nadeem Baig proved yet again that no one can handle a romantic story in which emotions reign supreme better than him. Humayun Saeed and Mehwish Hayat proved that they have unmatchable on screen chemistry and their scenes together are an absolute treat to watch even when at times their characters and interactions make you question the logic behind them. Most importantly with this film Humayun Saeed proved that he is here to stay! Humayun Saeed is beyond impressive as Fawad Khaaga; his performance gives his character the edge it needed to win the hearts of the viewers.
Punjab Nahi Jaungi has the perfect opening, the perfect ending and although whatever is in between isn't faultless but it is most certainly a really good effort by the team to provide the cinema-goers with wholesome entertainment. Punjab Nahi Jaungi's real success lies in the fact that it can make the viewers laugh and cry at the same time! You know a film has managed to win the hearts of the viewers when they laugh at the jokes and there is dead silence in the cinema hall when the story takes an emotional turn.
Mehwish Hayat looks stunning throughout the film; the make-up artists, stylists, her designer and the director of photography have put in a lot of effort to make sure that she looks flawless all the way through. Her character (Amal) and acting also gives you Anmol vibes at times. Fawad Khagga and Shafique Ahmed's (Ahmed Ali Butt) bromance and Ahmed Ali Butt's dance moves are the highlight of the film. Sohail Ahmed is impressive as Mahtab Khagga, his comic timing is perfect. Urwa Hocane's splendid performance was definitely the most pleasant surprise in the film. I am glad that unlike Na Maloom Afraad she got a chance to showcase her acting skills in this film and excelled in it. Saba Hameed, Behroze Sabzwari, Safina Behroze and Naveed Shehzad outshine in their respective roles. Azfar Rehman's character (Vasay) doesn't have a lot to offer and I feel this character got more screen time than it deserved. Shafique on the other hand should have been given a little more screen time.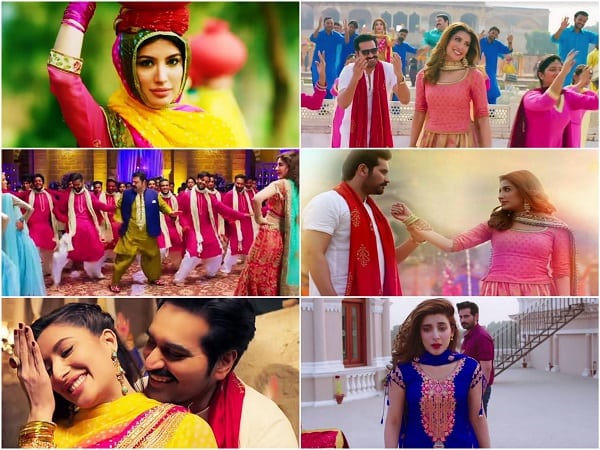 This film also has some memorable songs to its credit and for me 24/7 Lak Hilna and Ranjha were clear winners because they were a complete package; beautifully composed, written, sung and choreographed. Although 24/7 Lak Hilna looked like an item number but it was definitely not one. It was also the only song in which Humayun Saeed and Mehwish Hayat actually danced.
Punjab Nahi Jaungi's script has Khalil-ur-Rehman Qamar written all over it! Those of you who are watching Tau Dil Ka Kya Hua and Mohabbat Tumse Nafrat Hei might find a lot of similarities in some of the scenarios and even the dialogues. Also, the basic philosophy behind the script is the same as both these dramas. Nadeem Baig, Humayun Saeed and Ahmed Ali Butt in particular make this film a must watch. Those of you who fell in love with Mohid will definitely fall in love with Fawad Khagga too, not because he is perfect like Mohid but because Humayun Saeed has translated this character so well on the big screen.
I would give this film 4 out of 5. The only aspect of the film which is slightly annoying is the excessive use of English language especially from characters which would normally not speak in English. Some of the words used are complicated and seem strange coming from people like Durdana and even Mahtab Khagga. Fawad Khagga's English however will give you tons to laugh about and few phrases which you will enjoy repeating over and over again if you are going to watch this film with a group of friends!
A piece of advice for anyone who is planning to watch this film – make sure you buy all the popcorn and drinks you want beforehand because the intermission comes at such a time that you would not want to leave your seats! There are films you actually need a break from and you go out to get fresh air if nothing else during the intermission because you are not looking forward to watching the rest of the film and then there are films like this one which manage to hold your interest right till the end.
Punjab Nahi Jaungi deserves to be watched on the big screen therefore don't wait for it to air on television, you will never enjoy it fully if you don't watch it in the cinema. It is definitely a paisa wasool film so go watch it!