Writer: Faiza Iftikhar
Director: Nadeem Baig
Producers: Six Sigma Plus & Next Level Entertainment
Channel: ARY Digital
Watching a good telefilm which makes you laugh and has characters which you connect to instantly is the best treat on a weekend. I always tune into telefilms when I want to unwind because a well-written and skillfully executed telefilm can prove to be very refreshing and unlike a serial you don't have to wait for weeks to see how it ends.Pyar Ki Love Story is one such telefilm which aired as an Eid Special and it proved to be the perfect entertainment for the occasion. Pyar Ki Love Story as a whole is just as interesting as its title!
Although the title of the telefilm suggests that the story would essentially be a love story but it is actually much more than that! It is filled with witty jokes which will make you laugh, situations which definitely have a novelty to them and you will get to see some of your favorite actors in roles very different from the ones they have played recently in a few dramas. Watching Saba Hameed and Asif Raza Mir in particular in a comedy play came as a breath of fresh air especially after watching Muqabil. They are exceptionally versatile and brilliant performers who also have great on screen chemistry. Both of them exploited the potential their on-screen characters had to the maximum right from the get-go. Although, we have watched many plays with jokes targeting dysfunctional marriages but Faiza Iftikhar's take on the topic is definitely one which you cannot miss!
Pyar Ki Love Story is the story of Saman (Urwa Hocane) and Haadi (Farhan Saeed) who are in love with each other and they want to get married. Haadi comes from a broken family and was raised by his uncle (Usman Peerzada) who has a certain condition for getting Haadi married. Saman's parents Talib (Asif Raza Mir) and Amina (Saba Hameed) cannot stand each other and their track was the highlight of this telefilm. Parveen (Iffat Omer) comes into the picture in the later half of the play and few of her dialogues were the most hilarious ones. The joke about Saba Hameed playing Humayun Saeed's mother in in Dil Lagi had to be the best one!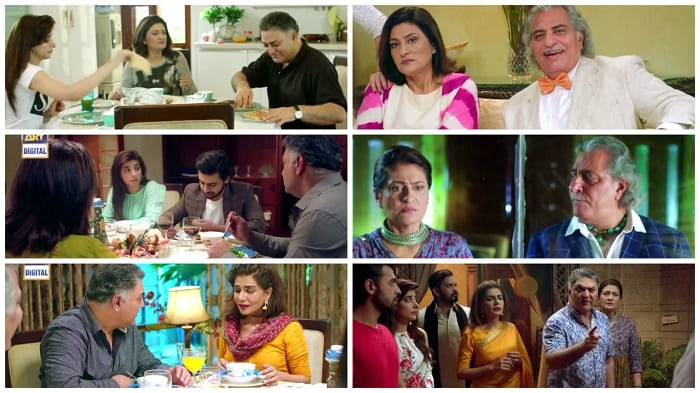 A comedy play can never be a success unless it is executed well. Even a good script can fall flat if the director and the actors are not able to create the kind of magic on screen needed to keep the viewers interested in the characters and their stories. Faiza Iftikhar and Nadeem Baig make the perfect team, they always manage to bring out the best in their projects. The casting of the play is also another reason why this one is a must watch. Urwa Hocane and Farhan Saeed clearly had fun shooting this one, something which shows while you are watching the telefilm. Usman Peerzada's outlook and character both are just as comic as the rest of the characters in the show. It isn't very often that we see him doing comic roles. Iffat Omer is another actress who hardly ever does comic roles but is hilarious as Parveen.
This telefilm isn't mindless comedy but it says a great deal about the realities and the ups and downs of marital life. You find yourself thinking, feeling and laughing at the same time! The plot of the telefilm is brand new, it is fun and comical and I highly recommend it to especially those viewers who would like to see all these wonderful actors in few of the most interesting comic roles. The person responsible for the make-up also did a really good job. I especially liked Usman Peerzada and Saba Hameed's makeovers.
How many of you watched this telefilm? Do share your thoughts about it.