Tonight's episode of Pyar Ke Sadqay was slow-paced and somewhat disappointing. There wasn't enough focus on Abdullah and Mahjabeen; there were barely any conversations between the two. Abdullah's reaction to the pregnancy could also have been covered more pleasantly. Although 'confusion' is a permanent part of his personality, this was the perfect moment for him to forget all the pressure and run to Mahjabeen. This episode had some substance as well but overall it could have been far more interesting had the story progressed slightly more at this point. There was excessive use of background score in this episode and there were times when it didn't quite fit in either. The lack of communication between Abdullah and Mahjabeen was more frustrating than anything else. Shanzay continues to be unreasonable, she married a man who didn't like her once before, and now although it is crystal clear that Abdullah is confused as well as distracted yet she chooses to 'impose' herself on him!
Abdullah and Mahjabeen
Tonight's episode did not have a single meaningful conversation between Abdullah and Mahjabeen which for me was really frustrating to watch! Abdullah was happy to hear the news of Mahjabeen's pregnancy, he has no intention of divorcing her yet when he was with her, he was distant and more confused than ever. Although I find it really easy to relate to Abdullah's confusion, if he is going to change at all this would have been the perfect time to show that change. Watching Abdullah bite his nails, shop with Shanzay, and not communicate with Mahjabeen made me wonder if he will ever change. He feels that it is his 'duty' to talk to Shanzay and to spend time with him, it is not something he would be doing if he was given a choice.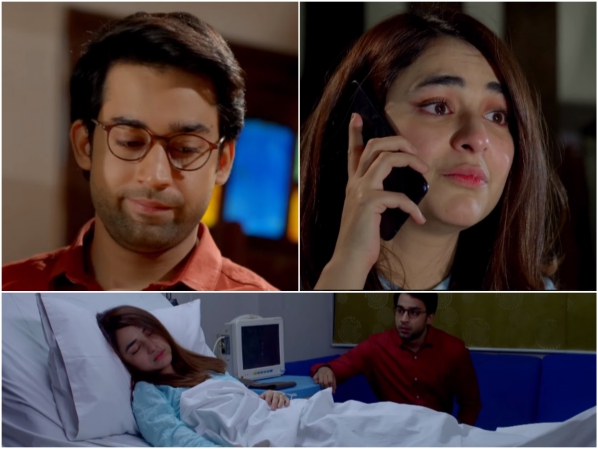 Mahjabeen has just lost her father and she knows that her husband will be marrying his 'mehbooba' really soon therefore her reaction made perfect sense. It is good news but she has too much on her mind to be happy about it. In the hospital, she was not even expecting Abdullah to drop her back but when he showed some concern, she instantly started expecting more. When Mahjabeen and Abdullah got married, I honestly thought they were the perfect match but the 'villains' at this point have taken away the spark from this track.
The Flashback Scene
The flashback scene showing how Sarwar used to intimidate Washma when she was only a kid was such a powerful scene. Until now the viewers had no idea that it wasn't just Abdullah who was bullied by Sarwar but Washma was also treated in the same manner. This scene really put things into perspective; no wonder Washma knows Sarwar so well and understands why Abdullah is so scared of him. This scene made me like this fierce and determined girl evermore! She is a survivor, someone who chose not to be a victim of Sarwar's abuse. This also explains why Abdullah finds it impossible to think for himself. He does not have a strong personality like Washma therefore at a really young age, he chose to do whatever Sarwar wanted so that he won't be punished! But it is time to move the story forward now, will Abdullah finally take a stand for himself and his wife? Washma and Pho together could have given him the strength to do so but so far there have been no such attempts by them. Pho, on the contrary, is too busy counseling Mansoora! What a waste of time!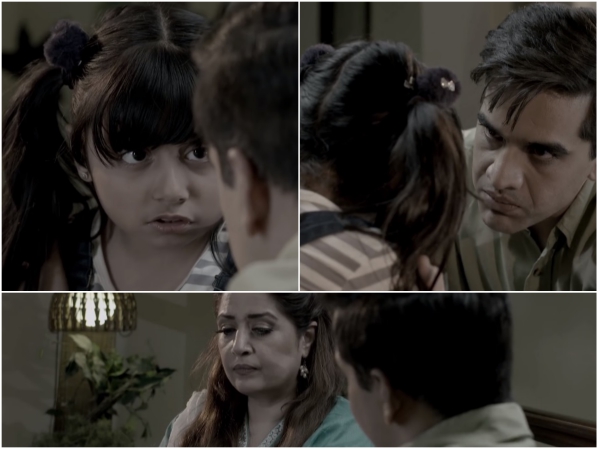 Mansoora and Sarwar
Tonight for the first time Mansoora shared why she could not let go of Sarwar even though she knew exactly who he truly was. The 'log kya kaheinge' part did not resonate with me at all since she did not think about that when she asked Abdullah to divorce Mahjabeen. She has enough money to move abroad and start a new life. The 'addiction' part and whatever Washma said made a lot more sense. I absolutely love Washma, she says whatever the viewers want to hear. She is like our spokesperson in the drama!
Sarwar's scenes tonight were more elaborate than necessary, they could easily have been chopped down. I am not sure what he meant when he threatened Pho. Is there a secret involved? I really feel that we have seen enough of Sarwar's evil ways and now things should be taking a different turn. The preview of the next episode showed that he is going to find out about the pregnancy. I hope that we get to see Sarwar's downfall and Abdullah's character development in the upcoming episode.
Final Remarks
Tonight's episode belonged to Washma, Srha Asghar; what an amazing character and phenomenal performance. She has such a strong screen presence in this drama and her energy breathes tangible life into Washma's character. I must admit that tonight I had a difficult time feeling for Abdullah, I wish the writer would have shown him in a different light after hearing this news. Although his confusion is logical, if he continues to be this way then Mahjabeen is better off without him! Having said that, Bilal Abbas Khan truly deserves an award for his performance. His acting has been on point in every single episode.
I also hope that Sarwar gets the kind of ending he deserves. The drama should wrap up now, it is better if that is done gradually instead of showing everything the writer intends to show in the last episode. I have really enjoyed watching this play and I hope that the ending is worth the wait.
Do share your thoughts about tonight's episode of Pyar Ke Sadqay.