Written by: Faiza Iftikhar
Directed by: Kashif Nisar
Produced by: MD Productions
Ranjha Ranjha Kardi Episode 1 Story Review – This first episode of Ranjha Ranjha Kardi was captivating and fast-paced. Most viewers were expecting this to be Bhola's (Imran Ashraf) story more than Noori's but tonight episode focused entirely on Noori. This was surprising but the character was introduced brilliantly. Kashif Nisar's direction coupled with Faiza Iftikhar's screenplay was nothing short of brilliance, not a single scene dragged and the attention to detail was impressive.
Noori – The Headstrong and Determined Protagonist
In this first episode every single trait of Noori's (Iqra Aziz) character along with her back story was covered superbly. Noori was shown as a misfit in her family and also someone who was lucky enough to meet a mentor who changed the course of her life. Although Noori learned to read and write but her basic mannerism remained somewhat the same. Even though Noori hated the kind of people her parents and siblings were yet she was a lot like them in so many ways even though she was a lot more educated than them. Noori's "wild" nature was the most obvious trait of her personality. Amma Janate started teaching her basic mannerism right from day one but Noori's sole concentration was on learning how to excel in her studies and she obviously did not take all the other advice very seriously. Noori and her mentor's relationship was heart-warming although I do feel that the actress playing Ama Janate's role did not emote very well. Noori's back story was shown right from the time when she was a little girl while she sat in the train frightened and worried – it looked like she was running away from somewhere. Noori is a girl who has big dreams but it seems like her dreams will be shattered. Noori's spirit and most importantly her pride stayed pretty much intact even when she was in the train. Ama Janate's dialogues about Noori's pride were meaningful, will Noori learn all these lessons the hard way?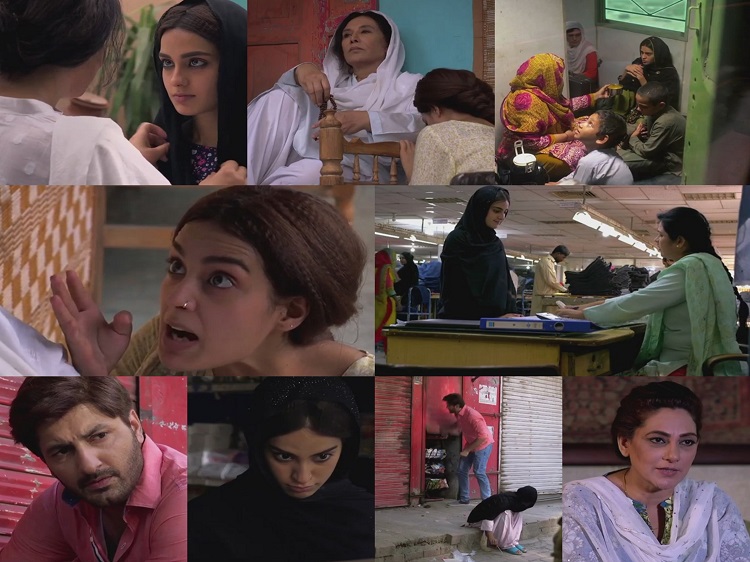 Favorite Scenes
My favorite scenes from this episode were the ones which covered Noori's time in the haveli. The way she looked around in wonder and awe when she entered the haveli said a great deal about what was going on in her mind. Noori could not believe the fact that she was getting so much respect, she was bring served in clean beautiful dishes and she was even allowed to go to the kitchen! That one scene in particular in which Noori looked at the glass was exceptional. Iqra Aziz's expressions in this scene and her performance overall tonight definitely fit the bill. Iqra Aziz definitely stepped out of her comfort zone to do justice to this character and translated the different shades of her character realistically on screen.
Overall Impression
This first episode as a whole was impactful. Syed Jibran's character was introduced in the end and he got very little screen time but his dialogues clearly indicated what his intentions were. Although Noori thinks she is clever but she was naive enough to instantly trust this man and was even attracted by all the things he had in his shop. All the shades of Noori's personality were quite clear from different scenes. Noori's journey has my undivided attention after watching this first episode and I am looking forward to watching Bhola in the next episode. The dialogues in this first episode were simple yet meaningful and the screenplay was truly impressive. The camerawork and editing couldn't have been better. The only disappointing aspect was that Bhola was not introduced in this episode, otherwise it couldn't have been better.
Do share your thoughts about this first episode of Ranjha Ranjha Kardi.