Tonight's episode was extremely disturbing because things took a turn for the worse for Noori in particular. Whatever happened tonight was shocking as well as distressing. Noori and Bhola's track went from being innocent and cute to ugly and dark. Until last week it seemed like love was the answer to Bhola's condition but with this episode it became quite clear that Bhola needed proper treatment more than anything else. The realistic approach of the writer coupled with phenomenal performances made this episode even more unsettling.
Noori Is In Deep Waters
This episode focused entirely on how the medicines which Bhola was taking made his anxiety spin out of control. His 'friends' also played their role in upsetting him further by putting the wrong ideas in his mind. The irony was that Bhola was taking these medicines regularly so that his dulhan would love him more but they had the opposite effect. The clarity with which every little detail was covered tonight made it easier to understand all these situations and feel for Noori more than any other character. Noori has been really strong and positive but tonight she faced a situation far worse than any other. The scenes covering Noori's futile attempts to make Bhola happy and entertained showed clearly how tough Noori's new role was. After what happened tonight, I can even picture Noori and Sahir together in the end.
For the first time it felt like Noori was alone. among strangers and she was not safe in this house. Tonight, Bhola's mother was not there to calm him down every time he got violent. Noori thought she could 'handle' this situation on her own therefore she did not share anything with her. This also made me wonder why she couldn't see the bruises on Noori's face and why wasn't she intervening.
Bhola Turns Into A Monster
I am certain I am not the only one who was rooting for Noori all through this episode. For the first time, I wanted Noori to pick up her things and leave. The medicines Nusrat gave Bhola had the affect he wanted them to have. The character everyone fell in love with, sadly turned into a monster today. Kashif Nisar's skillful direction showed particularly in the scene which covered how Bhola violated Noori mercilessly.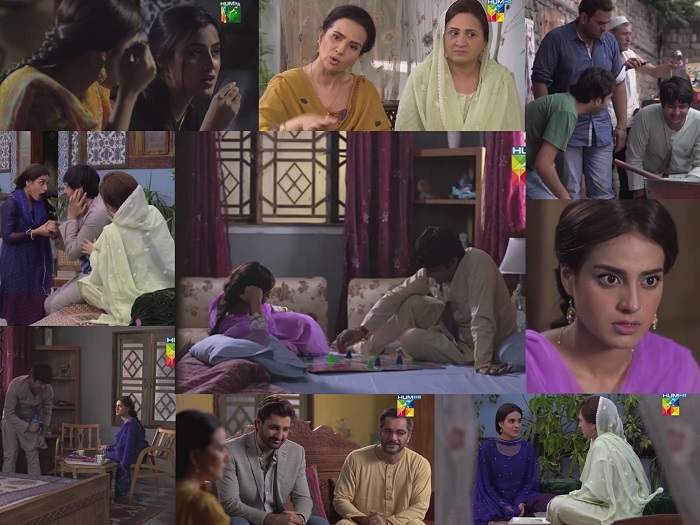 Rizwana's character is turning out to be one of my favorites because she is the perfect grey character. While she wants to leave the house and have a better future, she was not happy to hear Nusrat's plans tonight. Also, if she ever finds out that Nusrat is responsible for making Bhola's condition worse, she will not support him. Same is true for Sahir who was more shocked than happy when Nusrat shared his 'grand plan' with him. Sahir's conversation with his sister showed that he respected Nusrat a lot therefore when and if he finds out the truth he will no longer support his boss the way he is doing right now.
What's Next?
There are so many questions in my mind after watching this episode. How will Noori continue to support and look after Bhola after what happened? Living under the same roof with Bhola itself should be a challenge from now on. Will Sahir eventually be the one to make everything right? Will everything ever be right? Noori definitely deserves a good ending since she has fought a long and hard battle. The story is more complicated than ever now and it is impossible to predict what will happen next.
The preview of the next episode showed that Sahir and Noori will finally meet. They will finally meet at a time when Noori will be going through a really tough time. She has not forgotten Sahir, now it remains to be seen whether she considers him a mistake or is still in love with him! Iqra Aziz and Imran Ashraf's mind-blowing performances continue to impress. The possibilities are endless, can't wait to see what happens next.
Do share your thoughts about this episode of Ranjha Ranjha Kardi.