Tonight's episode was one of the most important episodes of this drama since it didn't only make Noori's mindset more clear than ever but it also changed the course of the story altogether. The dialogues in particular were beautifully penned down and all the actors did complete justice to their respective roles. Iqra Aziz stole the show completely since Noori went through so many different emotions tonight – confusion, helplessness, ungratefulness, realizations, empathy and most importantly the maternal instinct because of which everything else in her life took a backseat.
Noori Is No Longer Confused
Noori's pointless life has a real purpose now especially after she realized that Sahir was never the person she thought he was. He rejected her because in his opinion her character was flawed because she stole to save him yet he was the one who planned all this for his better future. Noori always wanted a better future but that never involved money, for her izzat came before everything else. Noori put her izzat at stake to save him and that incident was the only reason why she ended up doing something so drastic as a result of which she lost everything.
This episode changed my perspective of Noori's character altogether, she has been foolish but Noori proved once again tonight that she is not vile and she is not greedy for money. She loved Sahir because she still believed that he loved her too but the way Sahir opened up completely in front of her made her question his intentions as well as his character. For the longest time, Sahir's character was confusing but tonight it was quite clear to the viewers and to Noori that Sahir has always been a manipulative, greedy and selfish person who can do whatever it takes to get what he wants. Sahir has been getting away with everything he has done so far, he is a great planner and a master manipulator which is why he is clearly overconfident now. He was so certain that Noori will love him no matter what that he revealed himself completely to her. This is going to be the turning point in the drama because now it's going to be Noori against Nusrat and Sahir now.
Ama Janate's conversation with Noori tonight was one of the most beautiful scenes in this episode. Later on, Fehmida assured Noori of her support and when Noori heard Fehmida talk about Bhola with Rizwana, it made her see things from a different perspective. The flashback scene was used intelligently to show the change in Noori's thinking.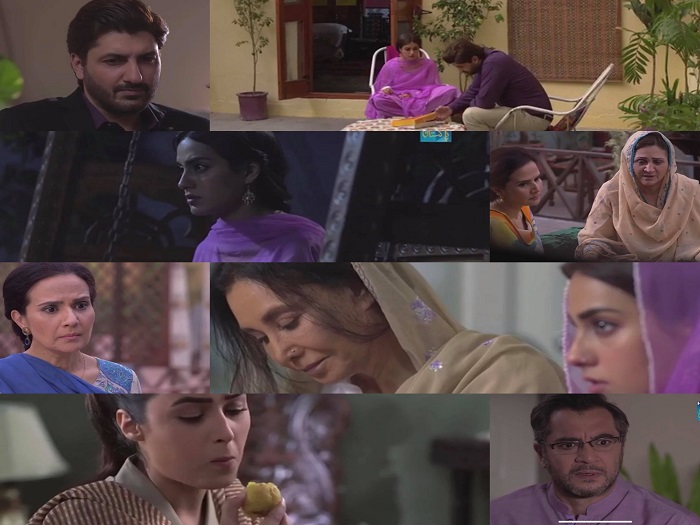 The Mannat
It seems like Fehmida's mannat involved leaving the child she gave birth to at the shrine. Her dialogues in this episode suggested that Fehmida was so desperate to have a child that she was willing to do anything therefore she made this commitment but never fulfilled it. Fehmida has always had a lot of faith in peers and mazars therefore she is convinced that she is being punished for not fulfilling her promise. Rizwana too is more negative than ever now because she knows that once Noori has the child, she is not going anywhere. She confused Fehmida further, made her feel guilty for not doing as she promised and as a result Fehmida rushed to the mazar yet again. The preview of the next episode suggested that Bhola might end up in the shrine but this could also be Fehmida's nightmare.
Sahir and Nusrat's Plans
Although Sahir said that Nusrat wanted Bhola dead now but Nusrat was never shown planning anything like that because surely that would be foolish since Bhola's child would be the legal heir so there is no point killing Bhola. Nusrat was angry and more confused than ever tonight but would he actually be foolish enough to go along with Sahir's plans? Sahir keeps on calling Nusrat 'sharif' perhaps because in his eyes he is not as evil as he himself is. For the longest time some of us were also thinking that Nusrat killed Bhola's father but tonight it seemed like he couldn't kill anyone. He is surely evil but perhaps not evil enough or maybe not desperate enough just now.
Overall Impression
The story is now headed towards an ending we can all look forward to. Noori has chosen to be a saviour and when Noori decides to do something she does it with all her heart. After a long time she is also thinking more clearly instead of letting her heart dictate to her. Syed Jibran is always outstanding in a negative character and his portrayal tonight too was right on point. This episode belonged to Iqra Aziz, Noori, completely. Bhola, Imran Ashraf, was sorely missed tonight since this drama is incomplete without Bhola. Waiting to see what Noori does next and I can't wait to see her win this battle for herself, Bhola, Fehmida, her child and even for Komal.
Do share your thoughts about this phenomenal episode of Ranjha Ranjha Kardi.