Ranjha Ranjha Kardi Episode 8 Story Review – Poignant, thoroughly entertaining, completely unpredictable and truly impressive – Ranjha Ranjha Kardi continues to be one of the best dramas of this season. Imran Ashraf yet again outdid himself tonight and made Bhola's scenes the most powerful scenes of this episode. Bhola's antics make you laugh but his frustrations make you feel for him. Bhola's dreams are just as real as that of Noori, although both of them want something completely different. Their struggles and the way they continue to pursue their 'dreams' makes their tracks engaging. There is always a surprise in store whenever the story takes a new turn. Although Bhola is getting a lot less screen time compared to rest of the characters but his scenes are always the most impactful. Every single scene tonight was effective and meaningful.
Misguided Decisions
Tonight's episode showed a mother's futile efforts to 'heal' her son, a young man's belief that his real happiness lied outside his house and a lover's ultimate sacrifice. The opening scene of this episode was one of my favorites especially because it showed just how 'focused' Bhola was! When he asked for the gold chain, his mother instantly figured out the real reason behind this wish. The way his mother struggled yet again superbly depicted how difficult it was for her to force a grown up man to do things which he did not want to do. The rest of the episode focused mainly on Noori's track. When Noori handed over the money to Sahir, the background score suggested that this was a misguided decision which will most probably lead to something completely different from the happy ending Noori is hoping for. Although Noori's actions have been highly objectionable but even then I liked how she confronted Haji sahab and stood up for herself. This was an interesting turn of events because I was expecting Noori to admit her crime. On the contrary she covered up for Sahir quite confidently and later on also used Haji Sahab's advances to her advantage. This entire development is one of those many surprises because of which I absolutely love this play! Sahir's scenes tonight kept me wondering as usual. Since there is no trace of his family therefore I find it difficult to trust him yet everything he says and does makes him look like a genuine person. The mystery surrounding this character makes this track especially intriguing.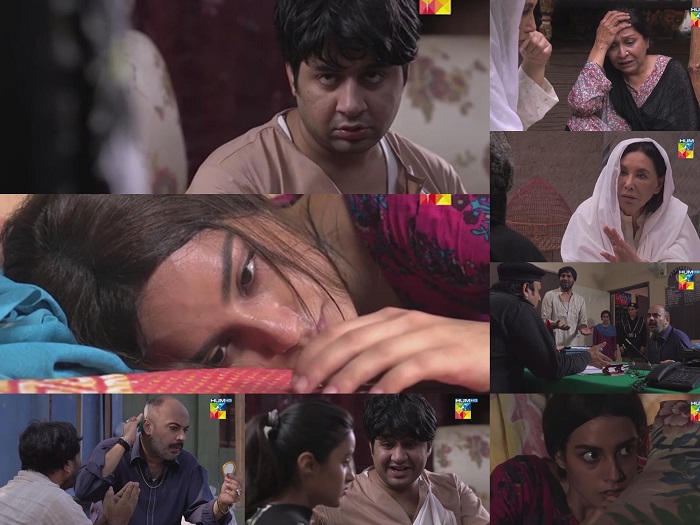 The Tables Are Turned
The way Noori's parents defended her and did whatever they could to get her out of jail made me feel for them as well, for the first time perhaps. The Noori they knew would never do something like this therefore they did not believe any of it which in a way paved a way for Noori to spin a story which will work to her advantage. Noori has always been shown as an energetic and determined individual. Before she fell in love with Sahir, she dedicated her time and efforts to her work but ever since she has fallen in love with Sahir, he has been the focus of attention. Her character is interesting and Iqra Aziz did complete justice to it, especially tonight. Her expressions when the police comes to the house were phenomenal. I find Noori's determination and enthusiasm likable even though she is not using her qualities in an intelligent manner at the moment. Noori is madly in love and although she thinks she is really clever but the fact is that Noori is naive in many ways. Noori surely turned the tables on Haji Sahab tonight, this unexpected development was the highlight of tonight's episode. Noori will probably be out of jail soon but how will she escape Shoka? Noor-ul-Hassan's versatility never ceases to impress, whether he is playing the role of a decent father /brother or a role like that of Shoka, he is always at the top of his game.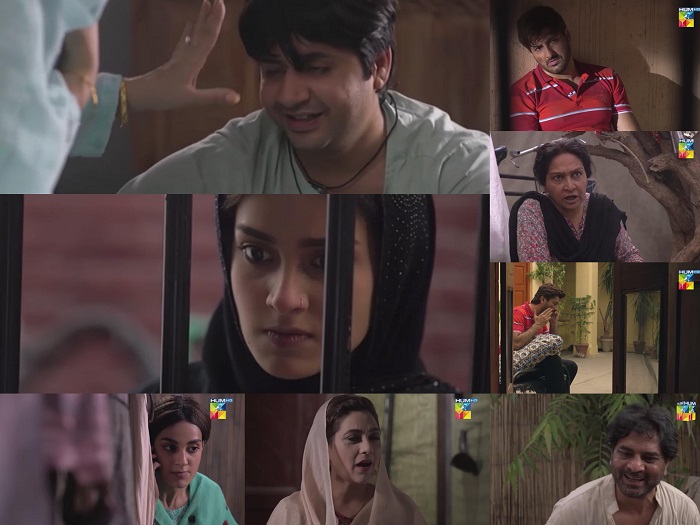 More Of Bhola Please!
Noori's track is entertaining and unpredictable but even after all these weeks Bhola is the reason why I tune into this drama. His scenes are extraordinary and always leave a mark. Faiza Iftikhar's entire script so far has been heartwarming and compelling but she deserves tons of praise especially for writing Bhola's character so beautifully. Imran Ashraf's outstanding performance coupled with Kashif Nisar's deft direction has made this beautiful character come alive on screen faultlessly. I am sure all the viewers want to see more of Bhola. Asma Abbas is equally impressive as the mother who loves her son dearly but is fighting a losing battle.
The Preview
The preview of the next episode showed that Bhola will finally succeed in running away. Noori too seemed to be in troubled waters yet again. Will these two magical characters meet soon?
I am eagerly looking forward to the next episode of Ranjha Ranjha Kardi.
Don't forget to share your thoughts about this episode.