For the first time today Kamal Hassan actually came across as a coward. Yumna showed more strength than him while facing similar issues in her own house. He has still not been able to muster up the courage to tell Bilquees or Rohail that Yumna is his wife now. Having said that, I must confess that I find Kamal's love for Yumna very cute. His romantic personality coupled with his feelings for Yumna have always been very pleasant to see on screen and even after everything that transpired today, I still find that part of his personality very charming.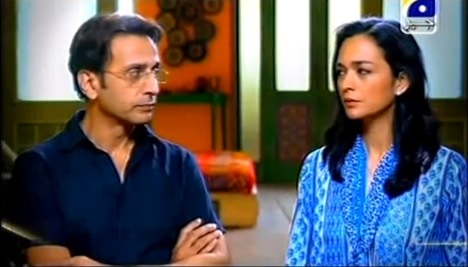 The aftermath of Kamal's failure to defend Yumna in front of his wife and son was portrayed brilliantly. I am sure that just like me many more viewers could feel what Yumna was going through; she felt betrayed and was badly hurt. She had put in all her trust in Kamal, she had been through so much just to be with him and now she wasn't sure what to expect from the man who had promised to stay by her side through thick and thin. Later on the apology scene was equally well shot. The way that Yumna looks at Kamal and the manner in which he pleads left very little to the imagination. Faisal Rehman and Samiya Mumtaz's chemistry has been perfect throughout this play.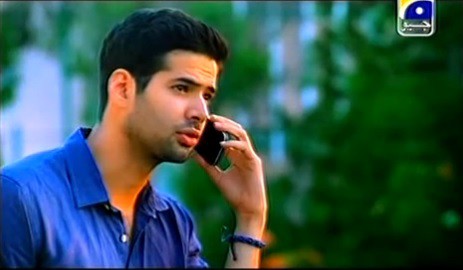 Bilquees Kamal is not the one to give up anytime soon and Rohail is bound to be there by her side every step of the way. Right now, it seems most unlikely that Kamal will be able to go against Rohail's wishes because he has not left Kamal with much choice.
Arsal's mother has trouble written all over her; she is over critical and does not think twice before speaking her mind. I would think a hundred times before getting my daughter married to a man who has a mother like her! Arsal is a sensitive and caring person who would find it very hard to take a stand for his wife in the future if there is a problem. No wonder he wanted to marry a girl like Tooba! Only a girl like her would be able to put up with his mother's annoying ways. Arsal's mother's negative personality traits were highlighted a little too much in tonight's episode, I hope that there was a good reason for it.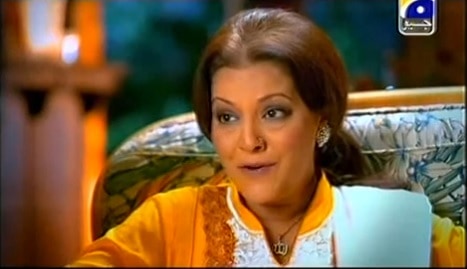 I absolutely love both the houses which have been used for shooting. The outlook of these houses adds to the entire feel of the drama. They are not one of those houses which you see in dramas over and over again. Besides that, I especially love the decor and the use of oranges, yellows and greens with such finesse.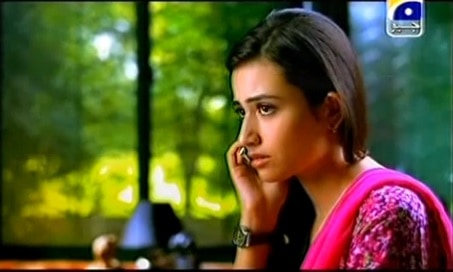 If I compare this episode to the previous ones then I would have to say that this episode was slightly less impressive than those before it but overall it was entertaining as usual. It is very difficult to predict where the story will go from here. Will Arsal's mother break off the engagement? Will Rohail and Yumna's relationship survive through all these problems? I am waiting to find out.
I would once again like to thank the writer Maha Malik for wonderful dialogues that are music to my ears every time and a big thank you to the director and the actors for a job well done. I am really enjoying this show, it is the perfect start to the week. It is like a nice change from the usual dramas we see on our television screens. Definitely looking forward to more.
Fatima Awan