I must confess that I love happy endings even if they are slightly unconvincing at times! The ending of the play was predictable because the only way for Hiba to be happy and the only way in which Kamal Hassan's son could redeem himself was by giving Hiba her happy ending but it was gratifying nevertheless; I feel satisfied and content knowing that these two sisters got their happy ending. What is even more gratifying is that Kamal Hassan and his family gift wrapped their happiness and handed it over to them in the shape of their old house and by giving Hiba the love of her life. I must say that Rohail's change of heart was too sudden but like I said I am glad it happened. Tooba decided to marry Arsal only after she found out about Hiba's feelings for Rohail; something that was completely in line with Tooba's character. Tooba always loved Arsal, she only moved on because she knew she couldn't marry him because Hiba did not want her to. Arsal went against his mother's wishes and married Tooba, something which he was always willing to do.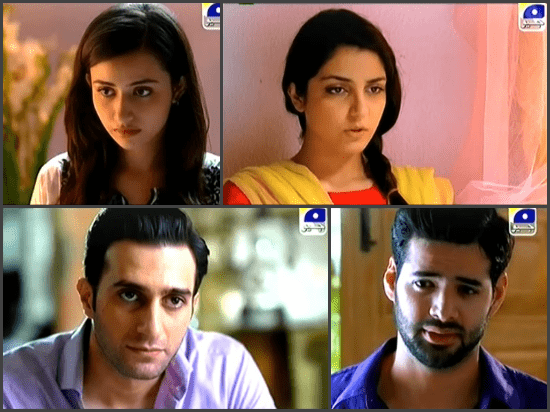 I loved the way Bilquees played the anti hero in the play. The change in her personality was mainly due to her love for Kamal. I couldn't help but feel for her character; no one should have to go through what she went through. Bilquees has learned the art of loving!!
Ranjish Hi Sahi had a simple narrative but it stood out because of a different story, grey shaded characters and beautiful conversations. I want to thank the writer Maha Malik from the core of my heart for the beautiful dialogues and most importantly for her command on the language. I said it before and I want to say this again that there are hardly any dramas nowadays in which we hear such good Urdu without any use of English language. The director Nadeem Siddique made this play a visual treat by playing with colors and by using locations which were new and pleasing. The scene in which Yumna and Kamal sit on the white bench with a green background was amazing. Every single scene was like a beautiful painting; well thought out and surely a labor of love. I must admit that I am not a big fan of Maya Ali but her character really grew on me towards the end and her acting was impressive in the last few episodes. Sana Javed made Tooba's character stand out; I am sure that she will go a long way. Emmad Irfani and Mohammad Ali did very well for newcomers; whoever discovered them and gave them a chance have done great service to the viewers by introducing talented new faces. I must add that I think that the director went an extra mile to polish these new actors so he also deserves due credit.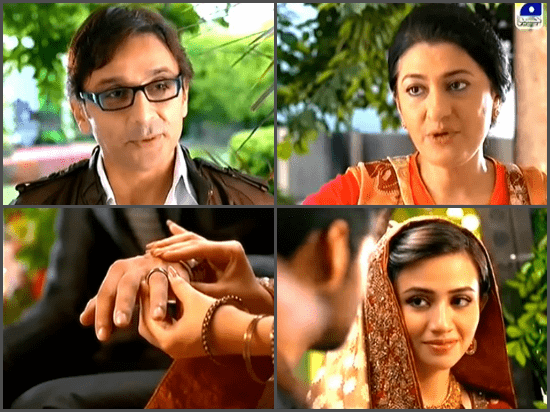 I started watching this play only because of Faisal Rehman and Samiya Mumtaz. Samiya Mumtaz's character may not have been given a lot of screen time but she made Yumna's character unforgettable only in a few episodes. Faisal Rehman is a gem; he can never go wrong. The chemistry that Samiya Mumtaz and Faisal Rehman shared was beyond amazing. I never support extra marital affairs or second marriages but Yumna and Kamal won me over completely.
Saba Hameed was perfect as Bilquees Kamal right from her very first scene till the last one. Humera Ali did complete justice to her character. I must say that whoever was responsible for the casting did a splendid job. The actors who played the supporting roles for a little while also did very well. There aren't too many dramas in which everyone acts so well. We usually see even the big production houses and directors compromising on supporting actors which basically kills the overall feel of the play. The production values were extraordinary throughout the play. Overall, it was absolute pleasure watching and reviewing the play. I would definitely be looking forward to more from the RHS team.
A big thanks to all those readers who followed the reviews and took time out to comment…where would we be without all of you.
Fatima Awan