Tonight's episode of Raqs-e-Bismil focused mainly on Moosa's track. This episode was relatively slow when compared to the first one; it was however intriguing and entertaining. Wajahat Rauf's direction and the overall feel of this episode was such that it made all the scenes come alive on screen, making them visually pleasing. The solid performances of all the actors involved added a touch of reality and I like the way the dialogues have been written; short and meaningful. For a change, it is good to see that the actors were not made to look extremely fair. Moosa's love story is already off to an interesting start since he has fallen in love with someone who appears to be his 'ideal' but is actually quite the opposite in reality! The writer has taken the phrase 'looks can be deceptive' to a whole new level! The relationships of all the characters with each other have been well-established in these two episodes which I think is a huge success.
Love At First Sight
Moosa fell for Zohra instantly and even though he is not the kind of person who would go ahead and propose to a girl like that, this time around he is really sure that she is the one he has been looking for all his life! I am glad quite a few beautifully shot and compiled scenes were dedicated to showing how madly in love he was. He wasn't the same person who was introduced to us in the first episode since he was not focused on his work and was completely lost. In the previous episode, Moosa had no intentions of marrying, and falling in love was out of the question. All of that changed in a few seconds and it remains to be seen whether Moosa fell in love with Zohra solely because of her parda, if that is the case then how will he continue loving her knowing that the veil is only a way to hide her actual identity? We all know that he will continue loving her therefore I am waiting to find out how this love story unfolds in the upcoming episodes.
Moosa and Zohra's first interaction in this episode suggested that Zohra did not have a high opinion of men in general, for obvious reasons. She told Moosa off and I especially liked the advice she gave him. Her other scene at her house/workplace showed that she was considered a favorite which is why she was allowed to get higher education. Sarah Khan has played a somewhat similar role before in Deewar-e-Shab, hopefully Zohra's character will be much more interesting than Gaiti. Zohra appeared to be a confident and even an intelligent girl. She is definitely not the least bit interested in Moosa. I wish some of the information about the character which was revealed on different portals online was not so detailed since it definitely takes away the charm.
Another thing I truly like about Moosa's track is the relationship he shares with his family. He is warm and loving around his mother, obedient and respectful when he is with his father and his relationship with Isa is turning out to be the best part of these interactions with the family. We get to see different shades of his character while he interacts with these people. He also gave Isa a piece of advice which came as a surprise since in the previous episode he was constantly judging Sakina. These dialogues about ghairat show how he associates his honor with the women in his life which makes the fact that he is in love with an escort even more interesting. Moosa's parents want to get him married to Sitara and it seems like she has a liking for Moosa. His mother can sense the change in him but she has no idea that she has actually found the girl he wants to spend the rest of his life with. Moosa asking his brother for help was another one of those scenes that showed a different side of his personality.
Isa and Sakina
Sakina's mom ki naak dialogue once again showed that she did not feel that trading her happiness for a life she didn't want was going to save her family's honor. She does not hold back while sharing how she feels in front of her husband either. Isa's conversations with Moosa were interesting since he tried to hide the fact that he actually liked Sakina. He feels more than ever that he is not worthy of her but he confessed his liking for her nevertheless. Both of these characters are equally interesting. Momin Saqib and Anoushay Abbasi did not have too many scenes tonight but they made sure that they made their presence felt even in these short appearances.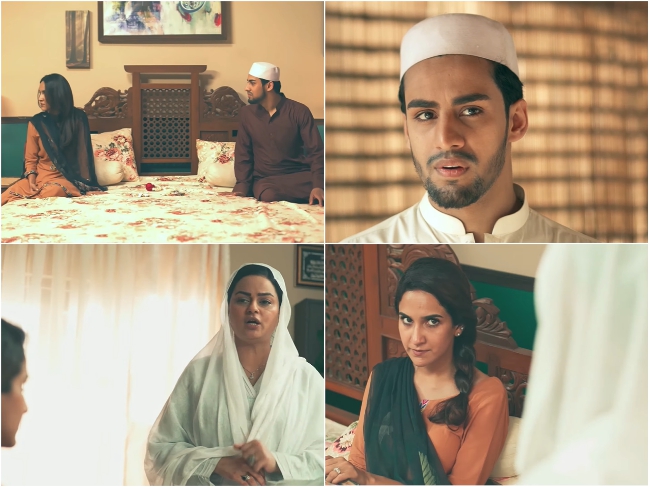 Final Remarks
Raqs-e-Bismil is off to an interesting start and there is definitely a reason to look forward to more. This second episode was the perfect example of teamwork done right. Imran Ashraf nailed his scenes yet again by breathing life into Moosa's character. Mehmood Aslam also makes his presence felt in every scene, his dialogue delivery is truly impressive. The preview of the next episode was equally interesting; I am definitely looking forward to the next episode since Raqs-e-Bismil's characters in particular are really appealing.
Did you watch tonight's episode of Raqs-e-Bismil? Do share your thoughts about it.