Raqs-e-Bismil's main theme is repeatedly being shown through different scenes in every single episode. I find the basic concept of the drama quite interesting but I feel that due to the undue repetition it is not having the impact it should be having. The pace of the drama has slowed down considerably. Also, due to minor errors in the execution of a few of the scenes and scenarios, some of the most important elements of the drama are unconvincing at times. After last week's episode, there was some hope that the story will go forward in this episode but most of the scenes were repetitive. Gharoor ka sur neecha was clearly the main theme of this episode. Sadly, the performances are going downhill with every episode as well because the actors must also be losing interest given how repetitive the dialogues are. Sarah Khan's make-up look did not go well with Zohra's present situation at all. She might not wear colorful clothes but she makes sure that her make-up is always on point! Since everyone is always talking about Zohra's sadgi, it was so important that Sarah Khan was not shown wearing so much make-up. Also, everyone's "fascination" with Zohra is unbelievable and forced.
Regrets and More Regrets
This episode focused a great deal on regrets; except for Moosa everyone else seems to be full of regret for some reason or the other. Tonight's episode opened with Chanda and Zohra's meeting. Chanda said out loud what has been shown in the previous few episodes. The viewers got to hear Zohra's perspective and how it has changed now. There was a time when she judged Moosa as well and everyone who came from such a background, yet for some reason, only Moosa's family's impression of Zohra seems to be the focus of attention. She was equally judgmental about them! Shehryar's track is still dragging on since somehow the writer is convinced that we need to see more of his bechargi! Personally, I am not interested in watching him suffer even more and I find these scenes forced. We all know that he lost his wealth and the support of his family, his track should have ended there! His conversation with Shehbaz Gill was confusing as well since when he had all the wealth, he was constantly trying to please him and never talked to him so aggressively and now with no money and support, he had the guts to ask him for a 'favor' in such an aggressive manner!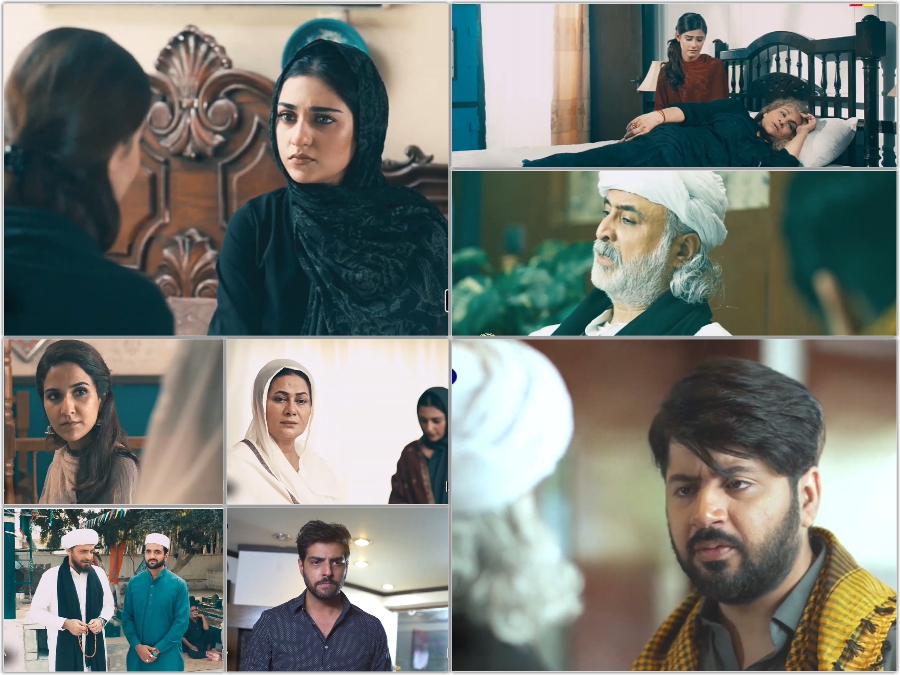 While I always wanted to know why Sitara suddenly disappeared and if there was an actual reason why she was part of the story, her 'comeback' in the story was not used to change the course of the story in any way! Yet again, the writer showed how those people who rejected Moosa were punished and that was about it!! Even Sitara could not convince Moosa to go back. He is waiting for his father to change his decision and it seems as if that is what he might eventually do. Moosa found out tonight that Sitara went to meet Zohra, another revelation that wasn't too impactful.
Zohra got yet another opportunity to learn more about Moosa when she visited his room and read his diary. Sarah Khan's poetry recitation was far from impressive in this particular scene. By the end of this episode, Sakina finally found out the truth about this stranger's identity. The preview of the next episode suggested that this will make little difference; she will probably continue to be in awe of Zohra and will be more convinced than ever that Moosa bhai was justified in falling head over heels in love with this girl. The writer is bent on making a saint out of Zohra and is making all the noble or affluent characters look like they are proud and misled!
Final Remarks
Tonight's episode was dragged as usual even though there are still some elements of the story that could have been interesting but the slow pace and repetitive scenes have undermined the entertainment value of the drama. Esa will be back in the next episode and his scene was a lot like many others we have seen lately. Peer Qudrat Ullah wants Zohra and Ahmed to get married once her iddat ends. Esa might be the one to inform Moosa about Zohra's whereabouts and this chase will finally end!
Did you watch tonight's episode of Raqs-e-Bismil? Do share your thoughts about it.