This was another interesting episode of Raqs-e-Bismil which focused more on Moosa's mad love for Zohra more than anything else. I must say that I am not the kind of person who instantly warms up to the love-at-first-sight scenarios but Moosa's madness was quite convincing. I also feel that through this story the writer has shown just how quickly things can change! All the characters and performances are turning out to be the most interesting aspect of Raqs-e-Bismil. So far, all the leading characters have some surprises in store in every episode. I especially like the way the writer has shown contradictions in Moosa's personality. He is much more than another religious figure with double standards. Being in love has revealed a naïve side of his personality, some degree of innocence even which is completely different from his rigid and regressive side which we were shown in the first episode.
I find Moosa's character most interesting at the moment and Imran Ashraf did exceptionally well tonight while translating just how clueless he is at the moment. Zohra took me completely by surprise because of the way she 'introduced' her real self to Moosa! Esa is extremely likable but he is not the kind of person who would quietly put up with everything; his vocal side makes him more appealing. Sakina is stubborn, more than anything else, which gives the viewers variation in characters. Momin Saqib's dialogue delivery was beyond impressive tonight especially when he was giving Sakina a reality check. So far, fate has been driving all these characters in different directions and even though all of them are intelligent and capable individuals, they are completely helpless in the face of destiny.
The Irony
The irony of the situation Moosa is in started when he introduced himself to the people Zohra called out for help. The fact that he was so sure that he was not doing anything wrong was reiterated by him repeatedly throughout this episode. He is too afraid to acknowledge that he is in love because only a few days back he vowed never to fall in love. He is also someone who has always looked down upon love in general and would have killed someone who dared to fall in love! All his circumstances can easily be termed as a direct outcome of the buddua Sakina gave him when he forced her into getting married to Esa. There can be no other explanation for Moosa pursuing a woman the way he has been in these episodes. Even now, he is not willing to admit that he 'likes' her. Moosa was like a young child today who had discovered something brand new and was trying really hard figuring out what it was. He wants to spend the rest of his life with Zohra but he does not know why! That is why I feel that the writer has shown through his track that sometimes a person has no idea what fate has in store for them. Only a few days back Moosa was completely in charge and focused; now he is trying hard to figure something completely new out.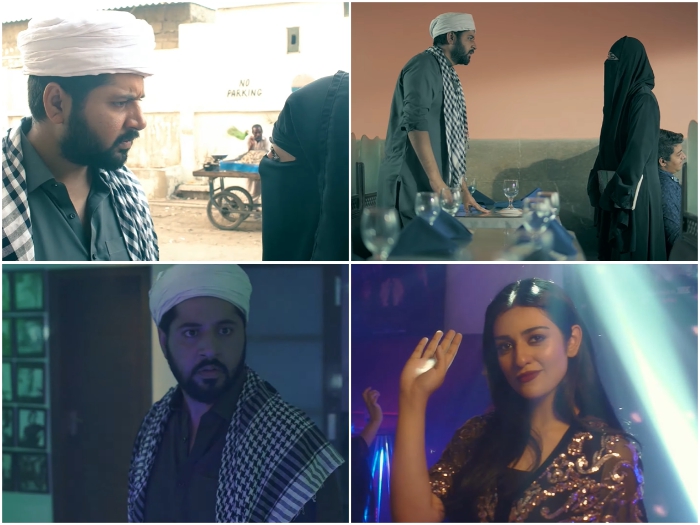 Another irony in this entire situation has to be Zohra's hijab and even the tiny details such as why she wears those gloves. Moosa's dialogue about wanting to marry someone who wouldn't even show her hands to others will surely come to haunt him. The writer has shown in such an impactful manner that the stereotypes attached to hijab can sometimes be so wrong just like any other such fixed beliefs. It was amusing that Moosa questioned the views attached to his beard and men who looked like molvis but he did not for a second question the beliefs he had attached to women who cover themselves. I am still waiting to find out what will make Moosa pursue Zohra even after finding out the truth.