The story of this drama is progressing at a fast pace and every episode has at least one conversation which leaves an impact. Moosa and Zohra's conversation in the opening scenes tonight was one such conversation. Tonight's episode was perhaps the most intense episode of Raqs-e-Bismil and one which made me feel for Moosa more than ever. Imran Ashraf has translated Moosa's madness in the most superb manner on screen. He has filled in the spaces left by the writer which could have only been filled by the perfect execution of the character. The writer has not spelled out some significant features of Moosa's transformation, they can only be seen on screen through Moosa's body language and expressions. There were some scenes in this episode that were really powerful and others lost their impact because of the way they were executed.
Zohra and Moosa
I see Moosa as someone who is not the least bit aware of what love is and how it works. After all only a few days back he was focused entirely on his work and did not even believe in love. Zohra's conversation with him today helped me understand his character even more. Esa's dialogues also clearly suggested that Moosa was not the same person anymore. When Moosa brought Zohra for the nikkah, he was certain that he was doing her a favor by giving her his name, he did not even pause for a second to think whether Zohra wanted that for herself or not. We have seen many heroes in Pakistani dramas who forcibly enter into a nikkah with the woman they love knowing fully well that they are wrong. Until now, Moosa did not even see that there was something wrong with what he was doing. Also, it was good to see a molana for a change who raised the important issue of consent since mostly in such situations the molana's are more than willing to go ahead with the nikkah!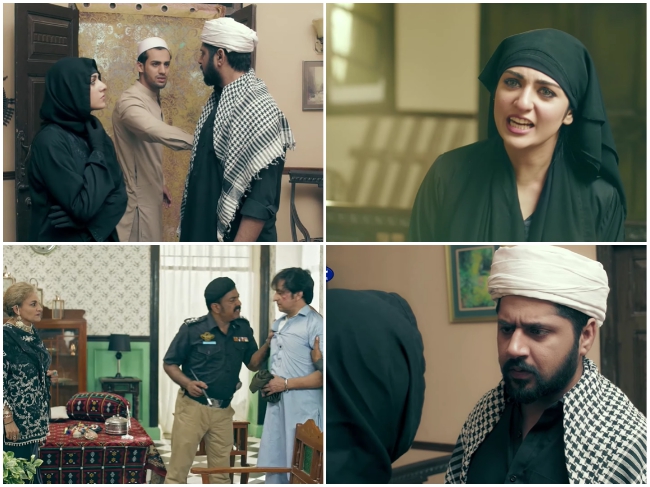 Moosa's thought process was communicated through his dialogues in the opening scenes. Why would Zohra want to continue living the life she was living? Wouldn't she rather be Moosa's wife? Since she did not love anyone else, she had no reason not to love Moosa! This was Moosa's thought process until Zohra gave him a reality check! Zohra won me over completely today mainly because of everything she said to Moosa. Her dialogues were penned down beautifully. The way she explained what it meant to love someone and told Moosa that she did not love him went to show that she was in fact not the kind of woman who was waiting for someone to come rescue her. In fact, she does not trust men at all and does not have a lot of respect for men in general therefore she has no expectations from the opposite gender. Right from the beginning, she has been constantly judging Moosa and telling him that he is like all the other men she knows. Later on, when she went back she took control of things by bailing Murad out. She is an intelligent woman who can get herself and others out of trouble. Zohra has certain strengths; I am waiting to find out more about this character especially after this episode.
Moosa is a lost cause, all he wants is to win Zohra over now, and nothing else matters to him. He is suffering in love, trying really hard to come to terms with this newfound version of himself. Even when Sakina slapped him, he did not react. This was such an intense scene but it would have been a much more impactful scene if Sakina and her mother were not glued to their chairs when Moosa's father was shouting at him. Even later on, watching Esa stand there while Sakina hit Moosa was not too convincing.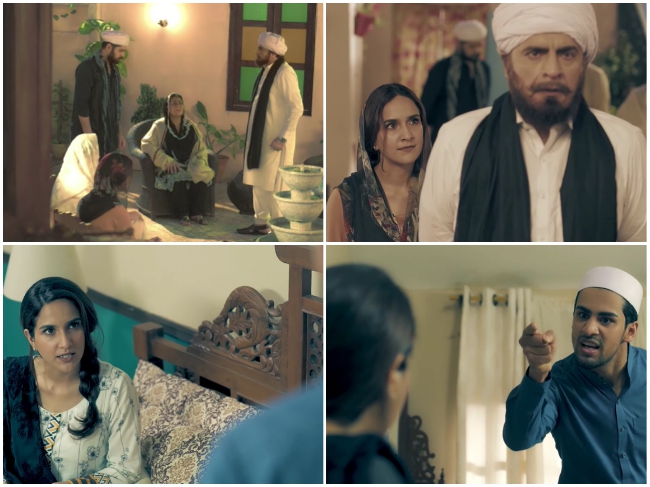 Sakina and Esa
Sakina made the most of the opportunity by punishing Moosa herself but even then she was not satisfied. She also instigated her Taya to give the most severe punishment to Moosa. Although, I did not 'enjoy' watching Moosa getting punished because like Esa said he is not the same person anymore, I liked the novelty with which this track was taken forward. Sakina did not 'plan' all this but it was fate that gave Moosa a reality check he was not ready for at all. I was expecting Esa to be slightly more aggressive this time around and even Moosa's mother just stood there crying while Sakina hit him. She was screaming more loudly and pleading more than she did tonight when Moosa wanted to kill Sakina. Esa tried to make Sakina understand that Moosa was not the same person anymore but she does not want to understand anything at all, all she wants is revenge. Sakina is a strong yet bitter woman; her character is intense and Anoushay Abbasi has translated it exceptionally well on screen.
Final Remarks
Right now the characterizations stand out for me more than anything else. All the characters have a certain screen presence; the credit for this also goes to the actors who have done complete justice to the characters they are playing. Moosa's journey, the gradual unfolding of Zohra's character, Murad's love for Moosa, Esa's loyalty towards his brother, and Sakina's growing hatred make this a story worth watching. So much has happened in these 6 weeks, I am wondering what the writer has in store next. The preview of the next episode showed Pir Qudrat Ullah Shah making his decision public. I absolutely love Mehmood Aslam in this role. The scene showing him take Moosa's turban off wouldn't have been so intense had it not been for his phenomenal performance. Kamran and Zohra will meet once again in the upcoming episode.
Did you watch tonight's episode of Raqs-e-Bismil? Do share your thoughts about it.