Tonight's episode of Sabaat had much-needed character development but it lacked flow altogether. Usman Mukhar's entry was quite plain, his character didn't have the same appeal as the one he played in Anaa. It seems like Dr. Haris will be a somewhat simple character. The change in scenery was refreshing, Hasan and Anaya finally got to spend some time together without the tensions in the house. The worst part of this episode was the direction, even those scenes which should have been impactful, lacked impact altogether. The transition from one scene to the other one at times was confusing, to say the least. The camerawork also left a lot to be desired, the close-ups of trees and coffee mugs interrupted the flow of these scenes. Some of the scenes were also written and acted-out in the most disappointing manner. Some of Hasan/Anaya scenes were cute but Anaya's parents just like every other episode stole the show altogether.
The 'Honeymoon'
No one really discussed the fact that Miraal set Hasan's room on fire and how serious the situation was. Even Miraal's parents' conversation revolved around something entirely different. Right now Hasan seems like the wisest character since he was the only one who mentioned that going on a honeymoon was not going to solve their problems. Miraal's father at times is really difficult to understand, her mother's dialogues tonight also suggested that he was just that! The actor playing the role has been performing really well but his character keeps me guessing just like some of the other characters. Also, there are so many things which we hear about from characters but don't actually get to watch them on-screen which also makes a lot of difference.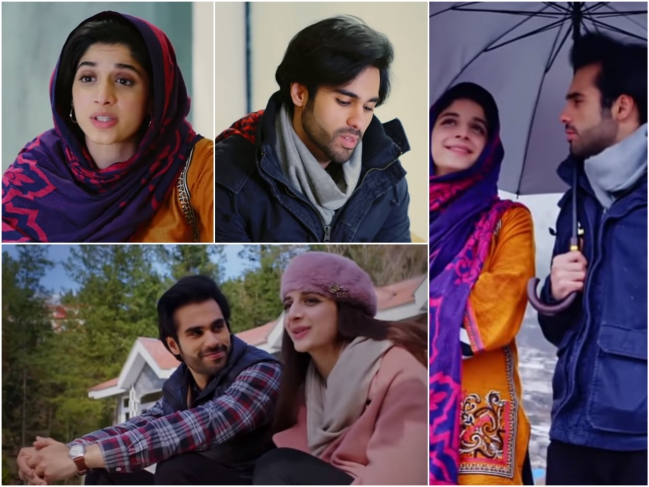 Hasan and Anaya's honeymoon started off well, the beautiful locations and their happy faces suggested that we would get to see some great on-screen chemistry and romance. The scenes that followed however were not all impressive. Some of these conversations and scenes were not the least bit romantic. Mawra Hocane definitely performed much more convincingly in these scenes as compared to Ameer Gilani. In some of the scenes, Ameer Gilani seemed rather distant and his expressions were also confusing. The biggest issue with these scenes was how the disappointing cinematography and editing. The editing was extremely choppy which basically affected the overall impact of these scenes. The locations were beautiful and it was good to see Hasan and Anaya bonding but this could have been covered in a much better way.
Miraal Decides To Get Help
Finally, Miraal decided to get help but just like every other big development in this drama, this one too was covered in the least impactful way possible! Miraal's confusion and fears were translated convincingly on screen in the past few weeks but the final realization just wasn't compelling enough. Although it was good to see her affectionate side when she hugged her mother, the background score made no sense!! Miraal's deceased naani was already haunting her therefore she was probably scared of losing her mother as well therefore she turned to her friend for help. As far as I know she should have gone to a clinical psychologist first but as it turns out Dr. Haris, the man most of us had been waiting for, is a psychiatrist. Although I had been waiting for Usman Mukhtar's entry in the play, I must say that I wasn't too impressed with the interactions between Miraal and her doctor. His pants which matched with the sofa made me laugh! Was it planned or a coincidence? Dr. Harris' evaluation of Miraal's state of mind was interesting but the preview of the next episode suggested that he will fall for her! I hope that doesn't happen this soon.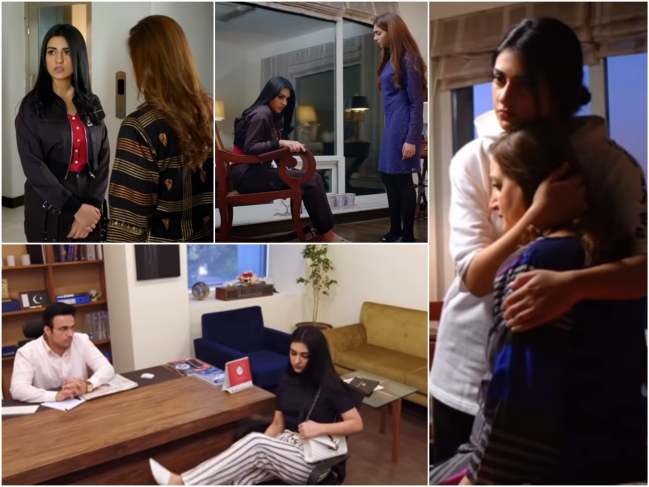 The dialogues and situations covering the slight change in Miraal were too plain. After this episode, I have little hope that this drama will actually shed some light on Miraal's mental health or bad parenting. Miraal's father has played a major role in making her the monster that she is, I hope that the writer sheds some light on that at some point. Although I feel for Miraal's mother and the fact that she is trying her best to avoid conflict makes her likable but Laila Zuberi's performance has not been too impressive.
Anaya's Parents
I am glad that Anaya's parents got enough screen time tonight and they have not been relegated to the background. The empty nest syndrome was reflected convincingly through these scenes. It was especially refreshing watching a couple of their age trying to support each other. Going to the cinema scene was just too cute! Seemi Raheel and Syed Muhammad Ahmed are extremely adorable in this role. It is good to see two different kinds of parents in this drama. It also goes to show how important it is for the parents to raise their children as a 'team'.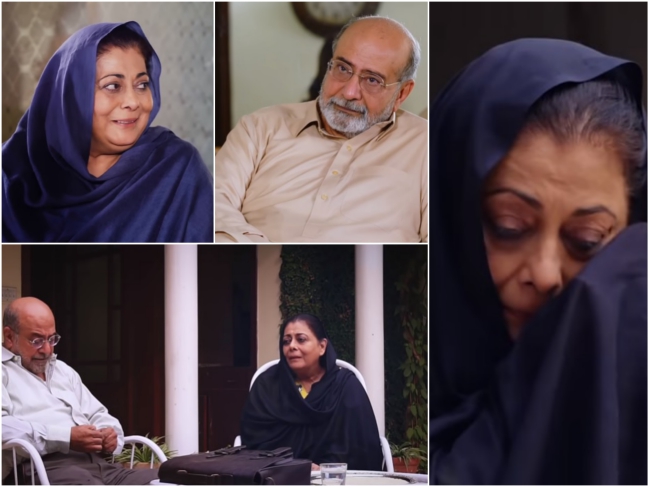 Final Remarks
This episode had some important developments but it wasn't impactful enough. The preview of the next episode suggested that Hasan's father might not like the idea that Anaya should work in his office. He will also continue to spoil Miraal further! The most disappointing part of this preview was Dr. Harris' scene, I really hope he does not fall in love with Miraal just like that! I really think that this drama needs to pick up pace, some of the conversations truly test your patience!
Did you watch tonight's episode of Sabaat? Do share your views about it.