After watching the previous episode, I didn't have high expectations from this particular episode. Tonight's episode however was pleasantly surprising. Although Hasan and Anaya's reactions when Hasan's mother suggested that they should move out of the episode were not too convincing, the overall development was quite likable. This was one of those few episodes which showed the bonding between Hasan and his mother. The best part of this episode was watching Hasan's mother turn from a caricature to a really strong character. I do feel however feel that Laila Zuberi has underplayed this character a little more than needed. This episode would have been faultless had the writer not tried so hard to make Anaya so 'politically correct'! Even after everything that happened, she was still willing to live in the same house as Miraal although she had been given the option of moving out of the house. The writer deserves credit for penning down Hasan and Anaya's scene in the apparent so beautifully. Ameer Gillani and Mawra Hocane's brilliant performances made these scenes extremely realistic. I must say that Mawra Hocane's performance, in particular, was simply outstanding. I still feel that the thappar in the previous episode was completely unnecessary since Miraal's insults were a good enough reason for Hasan and Anaya to leave the house.
The New Beginning
Most of us were hoping that it would eventually be Hasan who would make the decision to live independently but that was not the case. The writer change in Hasan's mother's stance more convincingly than anything else in the first part of this episode. In the beginning, she tried to convince her husband to get Miraal married but he has already decided that she will continue living in this house even after getting married. She could have talked to him about Hasan and Anaya living independently but she chose not to do that. There were times when Fareed seemed like the kind of man who could show some flexibility but clearly when it comes to pleasing Miraal, he does not even use his common sense! He is more than willing to let his only son go because he knows if he tries to stop him, Miraal will get upset.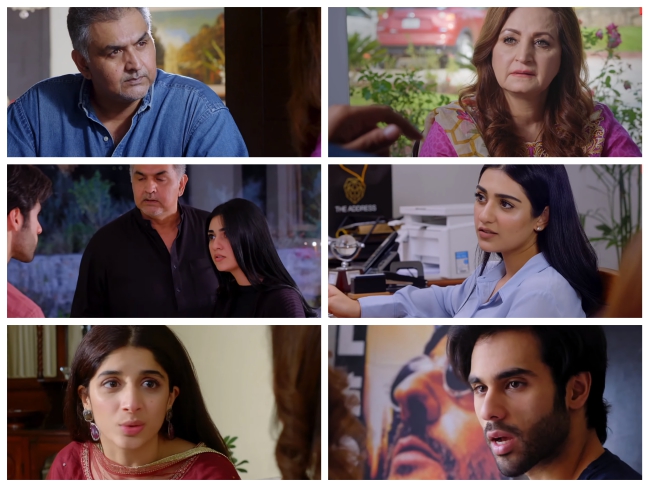 Although Fareed's attitude is extremely annoying, it is also the perfect explanation for Miraal's present condition. Any child who is brought up in this manner would find it impossible to hear no for an answer as an adult. I think the writer has intelligently shown how important it is for parents to do their job right! A parent's job is not to 'please' their child at all costs but their job is to ensure that their child grows up to be a balanced and responsible adult.
I couldn't understand why Anaya was all dressed up when Hasan's mother came to meet her since last week she was not willing to go back at all. Also, Anaya has not been shown taking any big decisions lately. It is as if the writer wants to portray a 'perfect' image of a wife and a daughter-in-law but in doing so he has taken the human element away from this character. Taking important decisions or stance does not mean that a woman is rebellious, she could have taken this decision and carried it out as gracefully as Hasan's mother did.
The scenes showing how much support Hasan got from his mother, the childhood stories and the lunchbox were some of those scenes which made me wish we could have seen more of this and less of Miraal's repetitive craziness. The director deserves tons of praise for shooting the apartment scenes so well. The way he captured the emotions of these characters and showed what it was like to move into a new place which isn't yet 'home' was extremely relatable!
Hasan and Anaya
Hasan and Anaya's scenes in the apartment were better than those which covered their honeymoon. Mawra Hocane did exceptionally well in the scene in which Hasan asks her if she liked the apartment. Everything happened suddenly, this was not the kind of change she planned or looked forward to. A girl who was always used to being around parents and family now had to start a new life. These scenes were beautiful and realistic because they covered convincingly how their life had changed all of a sudden.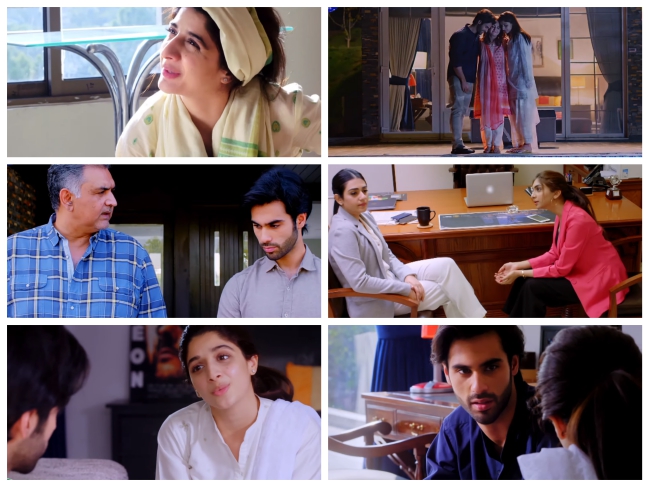 Hasan and Anaya are finally free! They can live their lives on their own terms and conditions, clearly, they are more than willing to give this new life their best. They literally were like two love birds who had just been freed from a cage! I am glad there was more friendship and support shown in these scenes than the done-to-death romance.
It was also good to see Hasan reacting to Miraal's insulting behavior for a change! Anaya put those pictures of Facebook and Hasan the video but later on, she said she did not want anyone to know yet that they had moved out of the house.
Harris (Absent) and Miraal
So after all these weeks of waiting for Usman Mukhtar to finally make his entry, we only got to watch a few unimpressive scenes so far and now Dr. Harris is absent from the scene. Even if he is not in touch with Miraal, the viewers should have been at least introduced to the character itself in this episode. I have watched all the episodes with Dr. Harris in them and I still don't know him! What kind of a person is he? Does he have a family? Does he have a story to tell? It has been 15 weeks, the viewers at least should have been introduced to his character properly. So far he is Miraal psychiatrist/psychologist (even that has not been determined yet) who now wants to be her friend and is, therefore, taking a 'break'!
Miraal is clearly not 'cured', she still has the same mission in life and she is not seeing a professional any more either. This entire track literally gets on my nerves because it is highly repetitive. The fact that Miraal is a narcissist is well-established by now, can we please move on! She is still planning to somehow end Hasan's marriage with Anaya which basically shows she is a dimwit too! This is definitely the track that has been the most unappealing aspect of Sabaat.
Final Remarks
I am definitely rooting for Hasan and Anaya after watching this episode. I just wish, the writer wouldn't have been so focused on making Anaya so 'perfect'. Tonight's episode belonged to Mawra Hocane, her performance was outstanding throughout. Hasan and Anaya's scenes were well written and executed, they made this episode engaging and quite likable as well.
Did you watch tonight's episode of Sabaat? Do share your thoughts about it.