Sabaat continues to be a mediocre drama because the script lacks clarity and the screenplay leaves a lot to be desired. Harris' background was finally revealed in this episode and he proposed to Miraal as well. After watching their scenes, I am still wondering why he is in love with this woman and why isn't he trying harder to 'fix' the problems she has. This track definitely lacks the kind of clarity which was required to make the viewers relate to this attraction Harris has toward Miraal. Since everything is being revealed gradually, all we can do it sit and wait!
Unfortunately, Anaya and Hasan's scenes were repetitive. There was a role reversal in this episode, Anaya was the one who constantly reassured Hasan. I was really hoping that we will for a change get to watch a couple which did not fall into the stereotypes our writers so diligently follow but that was most certainly not the case. The pace of this episode was just as slow as the previous few. It was difficult for me to sit through some of the scenes which could easily have been chopped down. I missed watching Anaya's parents tonight and Hasan's mother went back to being a caricature in this episode. Harris' comment about Fareed being a wonderful father made me laugh. Unless he turns out to be a negative or twisted character, his personality makes little sense. How could a psychiatrist be such a bad judge of character? How could he out of his own free will choose to marry a narcissist who made it pretty clear that he would have to win her over? Miraal's 'please me' attitude is was as clear as daylight in their third meeting yet Harris chose to ignore all these signs. I really hope that his troubled past would have some relevance otherwise there was no need to make his story so 'tragic'!
Miraal and Harris
After making sure that the viewers knew that there was nothing wrong with Miraal and Harris dating now, the writer moved on really quickly to showing them meeting frequently. Since they were not in touch at all after that email, their meetings were difficult to connect to. They appeared to be individuals who knew each other well yet we have seen very few scenes in which they had a meaningful conversation. This track has been covered and carried forward in the most unconvincing manner. So, we must assume that while both of them were meeting and talking on the phones during the therapy sessions, they drew close to one another. That is what all the conversation tonight and in the previous episode suggested.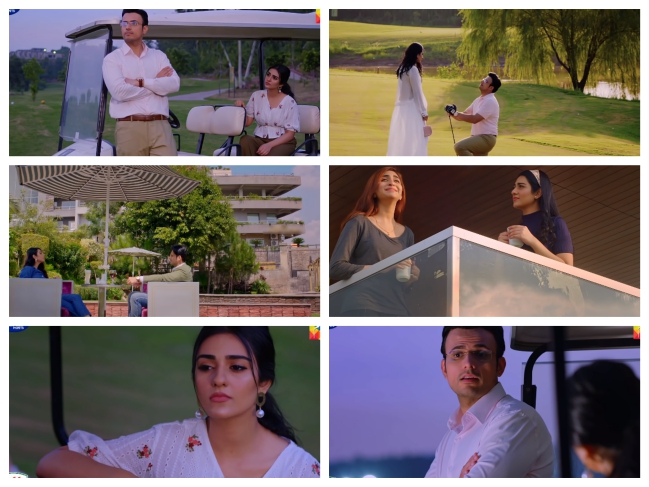 So. Harris had a difficult childhood, he has no relatives and does not like to stay in touch with his parents since they abandoned him as a child. I would have liked to know how he made it this far since it seems like he is financially stable. The proposal on Miraal's request and their conversation, later on, suggested that Harris was more than willing to be yet another person in Miraal's life who would do anything to please her. Also, the way Miraal talked about herself and how well he knew her went to show that she did not hide anything from him. Some of the readers were wondering if Miraal really revealed her actual personality in those therapy sessions since we never got to watch them, well we got the answer today! Yes, Harris knows how controlling Miraal is and that she likes people to please her, yet he sees nothing wrong with that. In fact, he thinks that Fareed has done a superb job raising his daughter!
Fareed was much more flexible when it came to Miraal's marriage, no surprises there. Although he had made up his mind that Miraal would continue living them after she got married, he did not put his foot down. Miraal once again got what she wanted quite easily. The way Fareed tells his wife off is just plain disgusting, watching women put up with such men in dramas especially when they have the option to leave the house is disappointing.
Anaya and Hasan
Although I absolutely loved Mawra Hocane and Ameer Gillani's performances tonight, their track took a disappointing turn. Anaya was shown working, making breakfast, lunch, and even dinner while Hasan felt completely useless. Why couldn't Anaya let Hasan help her? This was such a perfect opportunity for the writer to show that there is nothing wrong with a woman earning and a man looking after the house and cooking but their story took such a clichéd turn! Hasan felt useless and perhaps insecure as well. If he had the meals prepared for Anaya when she came back from the office, he would have felt more 'useful' but that was somehow not his duty!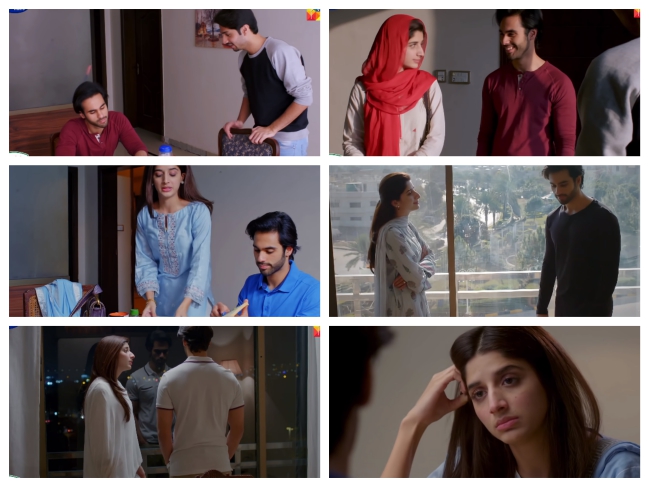 The construction business going down did not do Fareed any harm, someone who I was hoping would get a wake-up call once he loses his wealth but it affected Hasan and Anaya more. Anaya's parents were completely missing from this episode, their advice and support could have helped Hasan as well. All of Hasan and Anaya's scenes were more or less the same. In the previous few episodes, I was feeling for Hasan because he had to continuously reassure Anaya and in this episode, it was the other way around. Moving into a new house, away from Miraal could have been shown as a positive development in their lives but apparently it has created more problems for them. The preview of the next episode suggested that Hasan will get more frustrated with Anaya in the upcoming episode.
Final Remarks
I am still waiting to find out who Harris really is. Is he as nice as he appears? Does he have an ulterior motive? Tonight's episode was definitely not the best. The preview of the next episode showed that Miraal is still bent on creating a rift between Hasan and Anaya. So far, Sabaat's script lacks clarity, depth, and meaning therefore I don't have high expectations from the upcoming episode. The director has focused a great deal on making each episode visually pleasing and he has succeeded in doing so but many of the 'important' scenes are most often not as impactful as they should or can be.
Did you watch tonight's episode of Sabaat? Do share your thoughts about it.