Finally an emotional episode of Sabaat which was not perfect but it was engaging throughout. Muhammad Ahmed, Mawra Hocane and Seemi Raheal nailed their respective performances. Muhammad Ahmed is such a gem, no other actor emotes the way he does. He makes you feel his pain and love almost effortlessly. The on-screen chemistry he shared with Mawra Hocane throughout made this father-daughter duo the best we have seen on our television screens this year. Although, his character has passed away in so many dramas, everytime he makes an exit it is equally powerful and emotional. Perhaps that is the reason why after Durr-e-Shehwar, there have been barely any dramas in which his character got a happy ending. His dialogue delivery and the treatment given to the characters he plays is always so outstanding that even if he exits the play early on, he leaves a lasting impression. It won't be wrong to say that it was due to his performance that Anaya's relationship with her father dominated all the other relationships in Sabaat. This makes me wonder if watching Sabaat would have been a different experience all together if all the characters were given a different treatment. Adding some warmth to relationships and even some emotional moments can change so much.
The scenes in the second part of the episode were confusing since the transition from one scene to the other was rather abrupt. These scenes reminded me of the few scenes from the first episode. All of a sudden the director rushed everything when there was room for adding some detail there.
Harris Caught 'Red-Handed'
While all of us could tell that Harris' grand plan would not work out, he was utterly surprised by Miraal's reaction. We have all repeatedly talked about how 'blind' Harris' love for Miraal is and how he cannot predict her reactions. He comes across as those submissive wives in Pakistani dramas who are constantly under pressure and cannot think straight. All these character traits do not go well with his 'credentials'. A psychiatrist can have problems in his life too but he most certainly would be a better judge of toxicity in relationships. It actually made me laugh how Miraal caught him 'red handed'! The way she walked out of his room was even funnier, like she was superwoman. The treatment given to Miraal's character has been worst than the way this character has been written.
Miraal's reaction however made perfect sense. Her ego was hurt and while she has no moral compass herself she expects everyone else to be perfect! For a change her friend tried to make her understand the situation but she couldn't do much to change her point of view. Miraal and Harris' track continues to be the most absurd part of the drama. It provided some comic relief today since Anaya's track was extremely upsetting.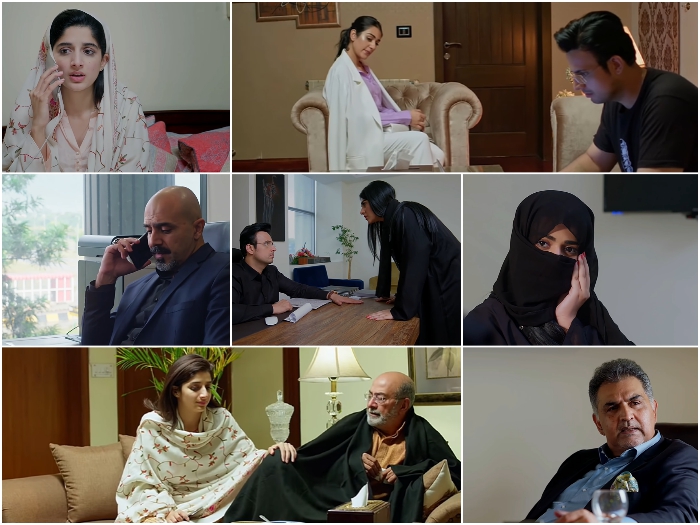 The Only Sane Person
Hassan's mother continues to be the only sane person in the family who has fear of God and some sense. It was good watching her trying to knock some sense into her son. Whatever she said made sense and hopefully the story will turn in that direction at some point. So far, most of such dialogues have fallen flat because all of us hoped that they would have some deeper meaning but they turned out to be totally meaningless. There were a few good dialogues in this episode but like I said most of them were merely words which did not have a profound effect. Laila Zuberi acted really well tonight, the fear was quite apparent on her face. The sad part is that no one listens to her.
Anaya Loses Her Best Friend
Anaya's father was her best friend, the only person who loved her unconditionally. The last few scenes of Anaya with her father were so poignant and beautiful. Anaya felt lost because she was not used to dealing with something so huge all on her own. She had to deal with that and then there was unbearable pain of knowing that she might lose her father at any given moment. The ambulance scene wasn't covered properly since Anaya was asking her father to get up and go to the ambulance! The director has definitely not done his job right especially when it comes to covering such minor details. If it wasn't for the remarkable acting by the actors involved, this scene could have been completely void of emotions due to such execution errors. This was one of my favorite scenes tonight:
The patients in our dramas need to stop taking off their masks and saying their final goodbyes. I give Muhammad Ahmed tons of credit for pulling this scene off in the most dignified manner possible but our writers need to stop writing such scenes. An oxygen mask is there for a reason, a patient cannot breathe without it, when you cannot breathe you cannot talk! As someone who has gone through a similar experience, I would like to request all the writers to stop writing such scenes altogether because they are beyond ridiculous and highly insensitive.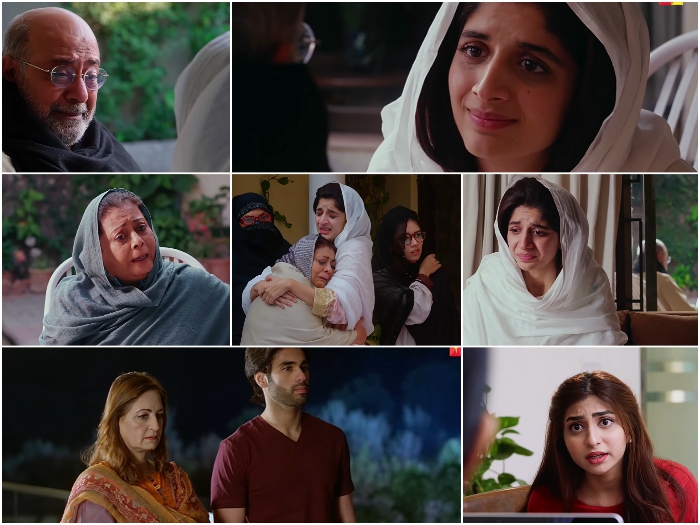 The Questions
So Atif somehow found out that Anaya's father passed away. This scene was highly predictable since Atif somehow knows everything that happens in Anaya's life but we can only wonder how he found out about her father's death! Even if someone from the university informed him, howcome they did not inform Hassan since they were class fellows? If the writer wanted to show just how evil Miraal was, he should have shown how Atif found this out and why didn't Hassan know. Hassan seems to be living under a rock ever since he left his home and came back. He looks at the world from Atif's eyes, which is quite lame considering the fact that he used to be an intelligent and opinionated young man. Atif's "har khabar par nazar' reporting style is getting more annoying with every passing episode.
Final Remarks
Anaya and her parents' scenes were the highlight of this episode yet again. The writer and the actors did complete justice to this particular track. Apart from Hassan's mother, all the other characters seem to be a lost cause at the moment. I am extremely disappointed with the director since the last few scenes were so rushed and haphazard. However, for a change, I am actually looking forward to the next episode.
While I absolutely dislike Miraal, I am finding it really difficult to feel for Harris. He is a meesna and a bonga who simply should have known better. Ali had more common sense than him because when he saw the red flags he ran away as fast as he could. This 'psychiatrist' did not only marry a narcissist but also suggested that having children would make their life easier and then lied like an immature young boy. Seems like this track is going to go further down in the upcoming weeks.
Did you watch tonight's episode of Sabaat? Do share your thoughts about it.