Why oh why did Bay Ji let Shano go with Amin….I was so happy to see Bay Ji giving Amin and Rasheeda a piece of her mind left, right and centre but when she put her faith in Amin and Shano got into that car I thought that was the end! Amin's confession however came as a wonderful surprise, he did not lie to Bay Ji and Abdur Rehman after all and perhaps that is the reason why they trusted him. But As Shano and Khalil rightly pointed out that no matter how good and pure Amin's intentions are the fact is that he will never be able to take a stand in front of Rasheeda. Like every other episode of Sadqay Tumhare this one too was filled with power packed performances and some very interesting conversations.
"Jeeta reh puttar mujhe bari khushi hui hai ke tujhe kisi ko mu dikhane ki fikar hai, Allah tujhe khush rakhe aur tujhe kisi ko muu dikhane ke joga kare"! I wish I could quote all of Bay Ji's dialogues here today, each one of them was a gem. Bay Ji said exactly what the viewers wanted to hear and that is exactly what Amin and Rasheeda deserved. When Amin and Rasheeda visited Bay Ji her message to Amin and Rasheeda was loud and clear, they were more than welcome to eat in her house and they could stay the night too if that is what they wanted but letting them take Shano with them was out of question. I definitely liked her stance in the beginning much more than her decision later on. Soon after Bay Ji made the decision it didn't take one of the relatives and Khalil long to convince her that she had made a big mistake. Bay Ji's character is turning out to be one of those very strong supporting characters in this play who have an interesting personality and she has a very important role to play in the story as well. Amin probably thought that telling the "truth" about Abdur Rehman's intentions in front of Bay Ji would change everything but Abdur Rehman's confidence and qasam and Rasheeda's reaction changed everything. Rasheeda played the I-will-kill-myself card yet again and I am not surprised that Amin fell for it and all the other emotional blackmail too. Amin knows that he needs to believe his wife's lies because believing Abdur Rehman's qasam would mean putting an end to his relationship with Rasheeda.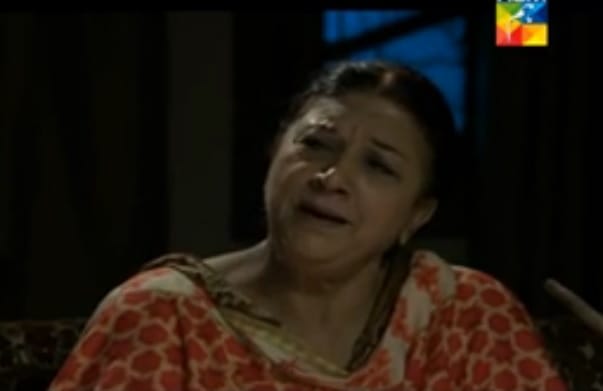 The way Rasheeda keeps on telling everyone how dirty their minds are is really ironic! If anyone knows anything about "projection" they would agree with me that that Projection is Rasheeda's ultimate defense mechanism. She knows how wrong her thinking is but she is not willing to admit it to herself even that these thoughts are hers. On the other hand she keeps on holding everyone else accountable for their actions as well as thoughts. Rasheeda's plan was perfect, that way she could ensure that Shano never gets married to Khalil and she gets to see Abdur Rehman every week! Amin is not allowed to doubt her intentions because if he does that he would be committing a big sin!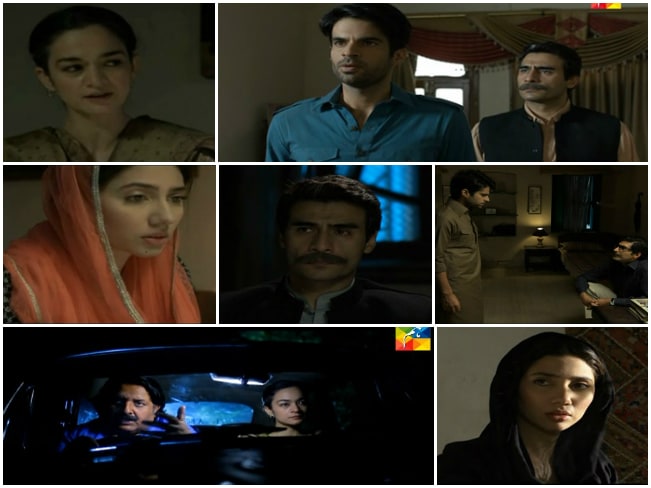 The scene in which Khalil gets on the bus was directed really well. Adnan Malik's body language and the way that scene was captured was perfect. Khalil's outburst was spot on and once again the dialogues were mind blowing. Shano never wanted to go back with her father but she also knew that there was no point in protesting because her father had managed to convince both Bay Ji and Abdur Rehman. "Dil tu kurta hai tere mun pe chupair maron Rasheeda pur tera mu tu meri chapair ke qabil bhi nahi nahi" . "Sadqay teri buddua ke Rasheeda mein samne bethi teri maa aur tere hatho chot kha ke bhi bethi hun, tujhe meri buddua ka dur nahi laga"? These were two of the MANY dialogues in tonight's episode which were music to my ears!
This episode had many scenes which were perfectly shot and the acting by all the actors was beyond commendable. Mahira Khan has portrayed Shano's character brilliantly; I am sure all the viewers didn't have a difficult time understanding what Shano went through in tonight's episode. She knew that her worst fears will come true but when they did come true she knew that she had to face what was coming ahead. Sammiya Mumtaz, Rehan Sheikh and Farhan Ali Agha were flawless like always and the actress playing Bay Ji deserves a special mention for nailing her character. The director Ehtesham Uddin has paid special attention to the tiniest details which makes this drama a treat to watch. Khalil-ur-Rehman's story and dialogues are always intense but tonight's episode was filled with dialogues which deserve to be quoted again and again!
The preview of the next episode promises a lot more action …. how will Amin respond to Rasheeda's demand of two baraats? I am waiting to find out! Usually when most dramas reach the 20 episodes mark you just want them to end but that is definitely not the case with Sadqay Tumhare.
Do share your thoughts about this latest installment.
Fatima Awan