There were two major developments in tonight's episode, both of which broke my heart. Humaira's change of heart and betrayal did not come as a surprise at all since we all knew where the story was heading but the way she made Shano vow that she will not get married to Khalil was definitely a sad case of a friend stabbing her best friend in the back in the worst way possible. Humaira's true feelings for Khalil only surfaced after Shano told her that she would not mind if Humaira got married to Khalil. Surely, those feelings were already there but those words just triggered them; it could be that Humaira thinks now that it was "okay" for her to feel that way about Khalil, like Shano had given her the "permission" to marry Khalil and now it was upto her to make that happen. I felt like Humaira is in love with Khalil's love for Shano, she wants to be loved like that. "Us ke khat purh kur mohabbat ho jati hai us se"….Humaira fails to see the look on Khalil's face when he sets his eyes on Shano, he can surely never be hers but she still wants to buy herself some time. I felt for Shano every step of the way tonight, Humaira was the only friend she had and now she too has turned into a Rasheeda! The presence of Bay Ji proved to be a consolation. Amin's sudden paralysis changed a lot of things in Shano's life; the nikkah did not take place and Humaira managed to convince her that the only way her father was going to get better was if she never got married to Khalil. I must say that Sanya Shamshad has handled this character with great maturity, I am sure many other viewers like me went from loving Humaira to hating her in no time!
Someone once said "selfish people live the longest!", that is so true for Rasheeda. All this time Rasheeda was the one who was blackmailing everyone by saying that if things don't go her way she will end her life but Amin turned out to be Rasheeda's next victim. People like Rasheeda might let the hatred and grudge they feel for others kill them for inside but they will never do anything to harm themselves physically for anyone at all. Rasheeda loves herself too much to let anything happen to her but people like Amin are entirely different.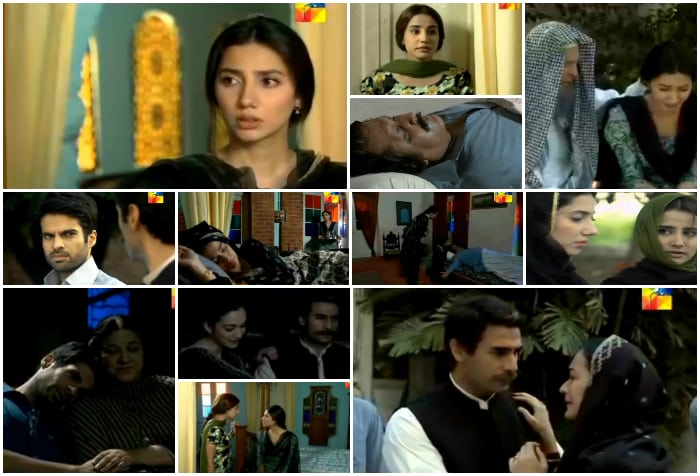 Amin could not bear the burden of knowing that his wife never loved him and that she still wanted to be with the man she was engaged to so many years back. Spending so many years with Amin and having his children has changed nothing, Rasheeda is the still the teenager who got engaged to Abdur Rehman. Abdur Rehman is an obsession for Rasheeda, having him in her life will serve not one but many purposes. Rasheeda will finally be able to get back at her sister for "stealing" her fiancé. Rasheeda sees herself as the victim, she fails to see that she was also having an affair with her sister's husband which was the reason why her marriage failed in the first place. The way Rasheeda made the most of Amin's condition was beyond disgusting. Abdur Rehman kept on giving Rasheeda the reality check she needed to get over whatever happened in the past but Rasheeda's reply to him clearly indicated that she didn't feel anything for Amin and she was more than willing to start a new life! Rasheeda fails to see that Abdur Rehman has "moved on" and he has a happy life with Inayat. The way Rasheeda openly keeps on making references to her affair with her brother-in-law shows that she is not ashamed of her past at all and she has learned nothing from it.
Apart from the flawless acting by all the actors, amazing chemistry between the leads and scenes that are beautifully shot the best aspect of Sadqay Tumhare has been that no matter what changes take place in the characters and the tracks one thing is constant – Shano and Khalil's love for each other. Shano and Khalil's feelings for each other never changed not even for a little while even when the circumstances were completely against them. There have never been any misunderstandings between these two because the way they trust each other is exemplary.
Will Rasheeda every pay for everything that she has done to people who loved her? She hurt her sister who never harmed her in any way, even when she found out that she was having an affair with her husband she quietly sent her away. Amin loved Rasheeda all these years but he did not even got her sympathy in return. Rasheeda cannot beat to see her own daughter happy. Will she be able to win over Abdur Rehman or create a misunderstanding between Inayat and Abdur Rehman? What is going to be the end of Shano and Khalil's love story?
Overall, this was another emotional episode of Sadqay Tumhare that made me look forward to more.
Do share your thoughts about tonight's episode.
Fatima Awan