This was another impressive episode of Sammi which showed many different ways in which people are treated like commodities and they are deprived of their basic rights – the most basic right being the right to life and the right to freedom of action. Although this episode had tons of powerful messages which were put forward in a very subtle manner but my most favorite part was the one which covered the importance of a woman's consent at the time of nikkah. We have seen many dramas in which women were forced into a nikkah most often by men who abducted these girls but not once did anyone mention that such a nikkah was not valid in the eyes of Allah. It was definitely something that needed to be highlighted, everything that the maulana sahab said in tonight's episode was loud and clear and his refusal to be part of a nikkah in which a girl wasn't willing to enter was my favorite part! I love how the writer in different ways keeps on highlighting the fact that Islam has given women a lot of rights. Salima's dialogues that Allah was as much hers as He was Rashid's was right on point! In the previous episode Naheed went to get a fatwa from the maulana sahab and whatever she found out clearly showed that she had a right over her parents' property as well. I am glad that the writer reached out to the people by involving religion in this debate.
All the tracks are getting more interesting with every passing episode. Naheed's nikkah was also an important development in this episode. Her conversation with Ghulam Rasool after they got married was so meaningful. They had done nothing wrong yet Ghulam Rasool was still insecure because someone who had been rejected all his life had a difficult time believing that for once he was accepted by someone. Also, the question he asked when Naheed said they would have children highlighted his own fears. Naheed and Ghulam Rasool's relationship has to be one of the most perfect unions in this drama yet they have to hide their relationship. I never thought I would find myself rooting for an on screen couple like this one but here I am wishing and hoping that both of them get to live a happy life together in the end even if it means running away and starting a new life in a different city. Their dreams are legitimate but Naheed's brother would much rather marry her off to someone who he can benefit from in some way too. Nadia Afghan is a personal favorite, she is one of those very few actors who can do comedy and serious roles both. I also like the actor who is playing Ghulam Rasool's role, he is doing complete justice to the role assigned to him. The credit for this goes to the director as well and also the person who chose the cast. It is always good to see new actors in dramas who perform well.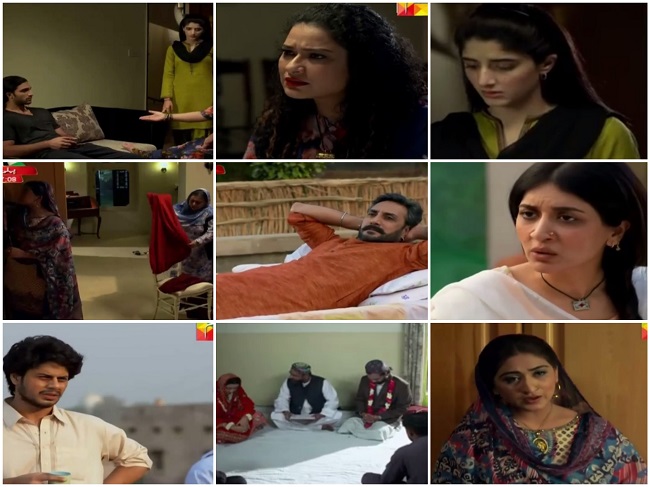 Rashid and Salima's track once again showed how Salima kept on trying to make Rashid understand that she could not bear any more of his children and Rashid's frame of mind was also translated on screen brilliantly through his thought process. He wants a son only to please his mother! Rashid's character is very interesting, he comes across as a person who might have a mind of his own but his sole purpose in life is to please the Chaudhris and his mother. He loves Salima but until she gives him a son they cannot have a normal relationship! Adnan Siddiqui has portrayed all the shades of his character impeccably on screen; his get up and acting both are perfect. I truly appreciate the fact that Saman Ansari is always experimenting with different roles which are never run-of-the-mill and she also has a very unique acting style.
Sammi and Chandni did not have a lot of scenes in this episode but the opening scene pretty much summed up Chandni's state of mind and later on Salar's proposal proved to be the final nail in the coffin. The opening scene was directed and acted out brilliantly. I absolutely love Sania Saeed in this role. Chandni has always made sure that Sammi stays within her limits and now that she can see that her son is showing interest in this girl, she wants to tell Salar and Sammi both that they come from two different worlds. She especially wants Sammi to know her "aukat".
This episode ended with Rashid asking his mother for another "chance"! The preview of the next episode showed Chandni kicking Sammi out of her house and Rashid finally finding out where Sammi is. Haris Waheed is another actor who has always made his presence felt because of his realistic portrayals, I remember he was very convincing in Alvida and here he is playing a completely different role yet he seems to pull it off almost effortlessly. I am waiting to see how the story unfolds in the next episode. All the tracks are interlinked at this point and all of them are equally interesting. Sammi has a very intricate, gripping and meaningful script which so far has been translated on screen impressively too. We need dramas like this one to keep on reminding us that there are people out there who don't even get the opportunity to fight for things which many of us take for granted.
Am I the only one who missed Chaudhry Nawaz in this episode? How many of you watched this episode? Do share your thoughts about it.