I love the fact that the writer is constantly reinforcing the fact that it is absolutely unacceptable to force a woman into a nikkah. This is one of those messages which is rarely put forward in our dramas although almost all Pakistani dramas focus on marital issues. I also appreciate the fact that this drama has absolutely no glamour in it and the team has relied solely on quality content to attract the viewers. The opening scene of this episode highlighted the issue of the consent of a woman at the time of nikkah in a subtle manner, Aalyan's reaction showed how wrong it was to get a girl married without her consent. Later on Salar's discussion with his mother regarding Sammi's "status" also emphasized the importance of a woman's consent at the time of nikkah. This is a relevant and powerful message which is the need of the hour since it is very common in our society for the guardians and parents to decide a girl's fate regarding marriage and an "obedient" girl is one who quietly agrees. The fact that Islam has given women the right to decide whether they want to enter into a nikkah or not goes to show how empowered women truly are and they have more of a say regarding their personal affairs than their family members. After watching the previous episode of Sammi and this one, the meaning of "qabool hai" at the time of nikkah has completely changed for me.
Salima finally put her foot down in this episode and there wasn't much Rashid could do about it. The clarity in dialogues definitely helps the viewers understand why women need to take control of their bodies and why husbands do not have the right to force their wives to bear children at the expense of their lives. It was shocking watching Rashid considering this option to please his mother. The scene in which Naheed saw Rashid's picture and her tone changed completely was one of the best scenes in tonight's episode.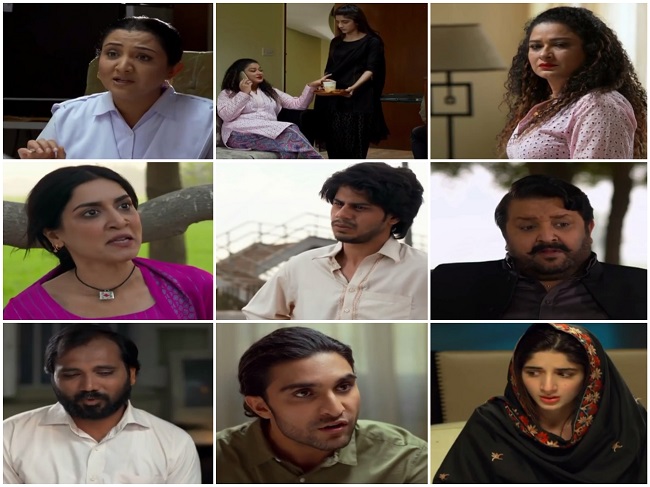 Chandni's state of mind was also highlighted through her conversations with her son. Once again her dialogues stated in a loud and clear manner what was going through her mind. She is justified in feeling insecure and there is a good reason why she cannot "share" her son with Sammi but even then the fact is that Salar isn't doing anything wrong. I had no trouble connecting to Salar's character today, he feels for Sammi and he wants to save her. Salar does not understand his mother's mindset because in his view he is doing nothing wrong. For Chandni this is betrayal but Salar feels that his mother is being unfair to Sammi. Sania Saeed is beyond brilliant as Chandni, just watching her perform is a treat. Ahad Raza Mir has also given a steady performance especially given the fact that this is his first play. His acting is always natural and effortless.
Chaudhry's son's conversation with his new master was very amusing. It once again showed how little this kid had actually learned in school and how twisted his idea of a learned person was. Chaudhry finally suspects Rashid and the preview of the next episode shows that the Chaudhrani isn't going to sit back and let Rashid's mother dictate to her. I find the way power is distributed in the Chaudhry household quite interesting!
Ghulam Rasool and Naheed's scene was one of the most meaningful scenes in this episode which showed how difficult it was for someone like Ghulam Rasool to accept the fact that there was finally someone in his life who had accepted him wholeheartedly for who he was. His insecurities were valid and the way Naheed understood and reassured him was very touching. These two are the perfect match, two people who truly complete each other but it remains to be seen what how their track develops in the upcoming episodes. Naheed's brother will find out about this nikkah at some point and when that happens all hell will break loose. Nadia Afghan and the actor playing the role of Ghulam Rasool have breathed life into their respective characters. The fact that these characters and the circumstances they are in have been penned down brilliantly definitely helps. Alone Naheed and Ghulam Rasool both are weak people but together they are strong and can dream about a future which wouldn't have been possible if they did not get married. This dreaming about the future part however right now is more of an escape than anything else. Personally, I find their track quite endearing.
Overall, this was another interesting episode of Sammi with a lot of powerful messages. I have to admit though that right now Naheed, Salima and even Chandni have more of a screen presence than Sammi. Once Sammi gets married to Salar then she will have endless opportunities but right now I am looking forward to watching how Chandni reacts to Sammi and Salar's nikkah more than anything else. The preview of the next episode completely killed the surprise factor because it showed Salar telling his mother that he and Sammi had entered into a nikkah.
Sammi has a well-thought-out script which is not only engaging but it also serves a greater purpose. I also appreciate the fact that due to the locations and the get-ups the drama has a very real feel to it. It is always great watching actors and directors step out of their comfort zones to make these dramas more realistic. Thank you for that!
How many of you watched this latest episode? Do share your thoughts about it.