The story moved forward considerably in this episode and the developments in tonight's episode proved that Sammi's story has some interesting and unexpected twists in store for the viewers. I am all for promos which are misleading and the preview of this episode was just that! Although most of the times it is easy to tell what way an important development in the story will go by looking at the promo of an episode but that was most certainly not the case here. I loved the surprise element and anyone who has not watched this episode yet should not read the review right now because it will surely spoil the surprise.
Sammi's refusal came as a very pleasant surprise and honestly speaking I heaved a sigh of relief when Sammi's headshake took this track to a completely different direction. Sammi insisted she wanted to go home even though she knew she will be killed when she goes there. Apart from Mawra Hocane's overall look which is a little too polished for a girl like her, everything else about Sammi's character is right on point. Although people who claimed to love her once have betrayed her in the worst possible way but even now for her home is where her family is. Anyone who is in Sammi's situation would have a difficult time trying to convince themselves that they are not only completely alone but also that people they spent all of their life with want to kill them for no reason! Sammi feels lost in this new city and she knows that getting married to Salar will not end her misery. I think the only reason why Salar "loves" Sammi is that he feels the need to protect her and that could be because he saw his mother struggling while he was growing up. Salar's advices to Sammi were spot on and I was hoping she will eventually turn to the media for help. I am waiting to see how Sammi's track progresses forward from here on.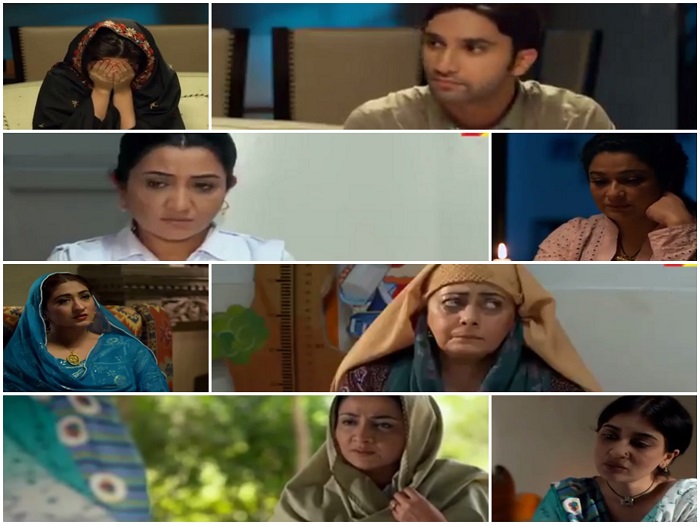 I wanted to see Chandni as Sammi's mentor, someone who helped her get independent but Chandni's character has taken a very different turn. Given the circumstances, I must say that Chandni's reaction isn't surprising at all. She is looking out for her own self and she does not feel the need to protect a girl she barely knows. She only called her contact and asked him to tell Sammi's brother where she was because she could see that her son was not listening to her at all. She was never shown as a social worker but as someone who was very practical and bossy therefore her reaction was in line with her character. Salar is the only family she has and she is not going to let Sammi take that from her. I enjoyed Sania Saeed's performance a lot in this episode. I love how her tone and expressions change when she is on the phone with someone. She makes sure that the person on the other side has no idea what her actual state of mind is!
Salima got a chance to spend some "quality" time with her husband, she also felt sorry for him because he was bed-ridden and she decided to be flexible. I really liked the way she found out who Rashid's mother was planning to get him married to. Naheed had no idea what Salima was talking about and she ended up telling her the truth. Saman Ansari and Nadia Afghan both are powerful performers, I always look forward to their shows.
Ama Zarina's conversation with the Chaudhrani and the constant threats from her effect the Chaudhrani even though she tells her off every time. The scene in which Ama Zarina is making future plans for his son while Naheed checked him was amusing. Now that she has found the perfect girl for Rashid she isn't dreaming of one son but she wants more!
Sammi is turning out to be an interesting play; the variety of characters and the multiple tracks in the story make it engaging. The preview of the next episode was brilliant, I am dying to find out what will happen to Naheed and Sammi both. I am also wondering if Chandni will have a change of heart. Really looking forward to the next episode.
How many of you watched this latest episode? Don't forget to share your thoughts about it.