Sammi never ceases to impress me; this was another remarkable episode with a lot of substance and many scenes which were extremely emotional. It happens rarely that you get emotionally attached to so many characters in a play, especially one with multiple tracks and variety of characters but Sammi has definitely managed to achieve just that because of numerous reasons. Firstly, the characters are beautifully and flawlessly etched-out. Their story has been told with utmost sincerity therefore they are realistic and easy to connect to. Secondly, all the actors have been beyond impressive (with the exception of Mawra Hocane) in portraying their characters. The eloquence and perfection with which they utter their dialogues and their outlooks breathe tangible life into their roles. Thirdly, all the conversations always add something to their story, all the dialogues are well thought out and Sammi is one of those rare dramas with absolutely no repetition. With every dialogue and interaction either the story goes further or you know something new about the character and sometimes these dialogues give perfect voice to what a particular character is going through at a particular moment. Lastly, it has been a long time since I heard such good use of Urdu language in any other drama.
This episode had so many poignant moments and it is difficult to pinpoint one scene which was my favorite. However, if I had to choose, I would choose the scene in which Salima announced that she finally knew the gender of their child. Rashid's reaction and most importantly the effect his words had on his daughters was priceless. What a beautiful message the writer put forward through this scene. We need to see more such characters in our dramas which change for good and we are shown how big an impact the change in one individual's thinking can have on an entire family. The scene in which Rashid hugged his daughters was very touching and it was the highlight of tonight's episode. Salima is finally convinced that she can have a "secure" marriage without a son therefore she no longer feels the need to lie to her family in order to be temporarily happy. All the actors involved in this particular track; Saman Ansari, Adnan Siddiqui and all these beautiful girls who are playing the roles of their daughters have always been brilliant throughout. This is the reason why their scenes always make me emotional.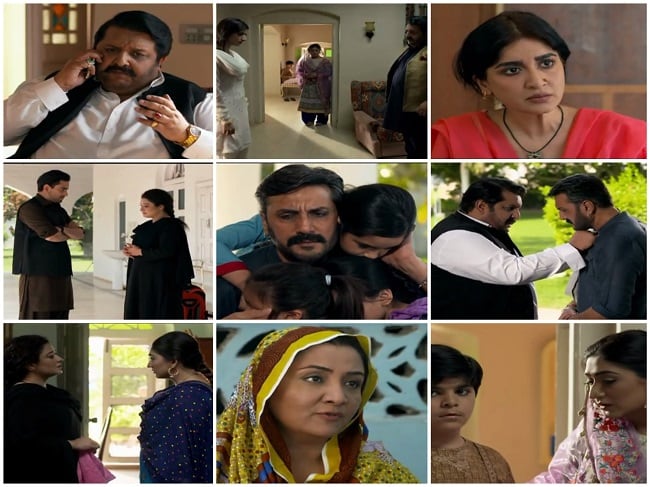 The change in Waqas' character and the scene in which he begged Sammi to forgive him was another intense scene with yet another strong message for all the "gheratmand" brothers out there. I cannot praise the writer enough for her overall approach towards all these issues. She has presented everything in such a way that those people who are guilty of these crimes would really have a reason to rethink their actions after watching this play. Waqas has realized just how wrong he was but Sammi does not want to forgive him now. Haris Waheed has been phenomenal as Waqas, he has proved through this play that he isn't just a natural actor but he is also versatile. Tonight even Mawra Hocane's acting was up to the mark therefore for the first time it was great watching Sammi stand up for herself. She is still scared from inside but she has made up her mind therefore she will not let this fear stand in the way of doing what is right. She is no longer willing to play the victim and no one can make her a victim without her consent.
Naheed is another woman who faced all those people who came to question her with courage but later on her reaction showed that she was completely broken from inside and rightly so too. The preview of the next episode gave hope that Naheed's track will have a happy ending – she deserves just that!
Chandni and Aalyan's scene was another powerful scene of this episode. Also. Chandni and Zulekha's conversations were deep and meaningful. Sania Saeed and Madiha Rizvi both are brilliant performers who always do complete justice to all the roles assigned to them. I am glad we saw the chota chaudhry worrying about his father's fate since he was there when Aalyan and Sammi were talking about going to the police. Just like every other episode Chaudhry Nawaz's dialogues and Rehan Sheikh's acting was right on point. He is such a powerful performer.
Loved this recent episode of Sammi, it was written beautifully and directed flawlessly. I can't wait to see how this drama ends next week. I will be very happy if it turns out to be one of those dramas which do not end with a tradegy, there is hope that it will have a good and positive ending. I am wondering what will become of chaudhry Nawaz. Will Rashid kill him?
How many of you watched this recent episode? Don't forget to share your thoughts about it.