This was another episode of Sammi which highlighted how weak are exploited by those people who have authority over them for some reason or the other. Chaudhry forced his brother into bailing Waqas out of the prison by threatening him and he finally got his way. Chaudhry's wife wants to save her son at Rashid's expense and Rashid like every other weak person in this play has accepted his status as a slave! The most interesting aspect of this play is that most of these people who are being pressurized into doing things which they would much rather not do are either dependent on the people who dictate to them financially or they fear that these individuals will take their support away if they disobey them. What Salaar said to Sammi when she was going to give him a pedicure summed up the message which this drama is attempting to convey to its viewers. People like Naheed, Sammi and even Rashid only choose to let others dictate to them because if they decide to free their minds and think of other ways out of the situations they are in then there are plenty of options. Although Chandni has been fair with Sammi but she has never gone out of her way to help her out therefore what Salaar said made perfect sense.
My favorite scene in this episode was the one in which Rashid's daughter asks her mother all those questions which would go through the mind of any child who is exposed to a lot more information than she should be! Rashid's wife's silence and the way she kept on taking her frustration out while her daughter bombarded her with those questions made this scene so powerful. Saman Ansari's expressions in tonight's episode in particular were right on point. I absolutely love the outlook and acting of the actress who is playing the role of Mariam, I actually find myself looking forward to her scenes.
Another scene in this episode which was meaningful and well put together was the one in which Chaudhry's son shares his dislike for English language. This scene showed that even with all his mother's efforts to ensure that he does not become a part of the system, what he saw around him shaped up his personality more than everything he had studied in his books so far!! His father was his ideal and he saw the world with his father's eyes. Madiha Rizvi is another actress who always does complete justice to all the roles assigned to her.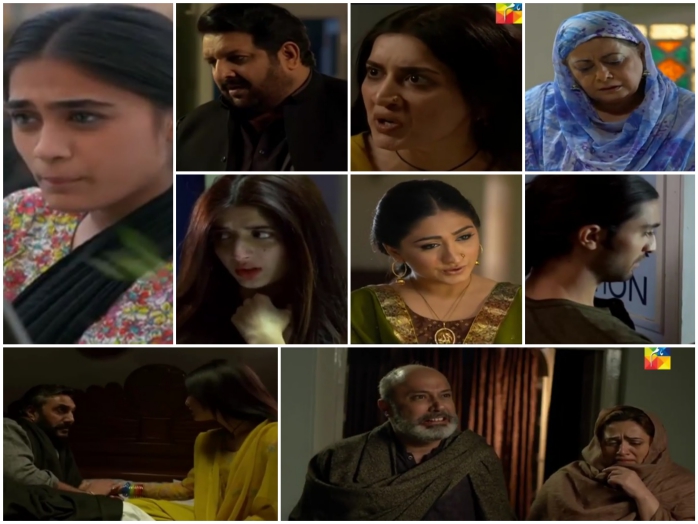 The conversation between Rashid and his wife revealed why he had to do Chaudhry's ghulami even though he was educated. The fact that he went to college puts a lot of things in perspective because he always came across as someone who was slightly more groomed than other people around him. I am not sure how I feel about Salaar's interest in Sammi just yet because if he falls in love with her then it would be somewhat clichéd. Sammi and Chandni's interactions have been the highlight of this drama ever since these two met therefore I was looking forward to Chandni shaping up Sammi's life more than anyone else but in this episode Salaar and Sammi's interactions were the focus of attention. Chandni and Sammi did not interact in the same manner as they did in the previous episode.
The preview of the next episode showed Waqas telling Rashid to help him find the person who helped Sammi escape, this particular scene shouldn't have been shown in the promo because it killed the suspense. Now we know that Chaudhry is not going to suspect Rashid. The preview also showed that Salaar for the first time will understand just how serious this whole situation was. I am also wondering if the video which he made today will somehow have a bigger impact on the story. I really appreciate the fact that there is no forced glamour in this drama because it wouldn't have fit in. The locations are perfect for telling this story which gives the drama a realistic feel.
How many of you watched this episode? Do share your thoughts about it.