Sana Javed is playing the leading role in the hit drama serial Aye Musht-e-Khaak. Her character is being liked by the viewers and is one of the main reasons why most viewers tune in to this show. Dua is a religious, morally upright, and soft-spoken woman who also has the confidence to stand for what she feels is right. This character needed to be translated on-screen elegantly otherwise it would have lost its essence. Therefore, apart from the performance, Sana Javed's dressing in the drama has played a major role in leaving the right impression on the viewers. Her entire wardrobe in the drama is not just elegant but beautifully designed as well. These dresses are also perfect for most girls out there who prefer wearing shalwar kameez. While watching the drama you can't help but notice the kind of attention that has been paid to the dresses Sana Javed is wearing. This basically goes to show that wardrobe plays an important role in giving the character a final and pleasant look.
Apart from her wardrobe, the make-up artist has also given Sana the kind of glowy natural look which goes so well with the character she is playing. The best thing is that this make-up and the wardrobe never look out of place. Some of the formal and casual looks which she has been seen sporting in the drama serial are the best we have seen Sana Javed in recently.
Here is a complete list of the most beautiful elegant dresses from the drama serial Aye Musht-e-Khaak:
Formal & Semi-Formal
Sana Javed has been seen wearing a few formal and semi-formal outfits in the drama which looked exceptionally beautiful. Although some of these dresses were relatively loud and colorful when compared to many others, they were designed in such an elegant manner that they went so well with Dua's style and character. The styling and make-up also played a major role in completing the look. Since Dua has her head covered with a dupatta in most of the scenes, all of these dupattas had the most aesthetically pleasing borders. Everything about these dresses was faultless from the color combination to the design. Here are some of the best formal dresses and looks which Sana Javed was seen in the drama.
The wedding outfits that Dua wore on her different functions were from Mohsin Naveed Ranjha's collection. The designer is known for his formal outfits. This also goes to show that some of the top designers in the country sponsored Sana's dresses.
This black and gold outfit which was also a clear winner was designed by Ansab Jahangir, another leading designer brand known for its formal dresses in particular. The shirt was decorated with intricate chikankari and gold embellishments.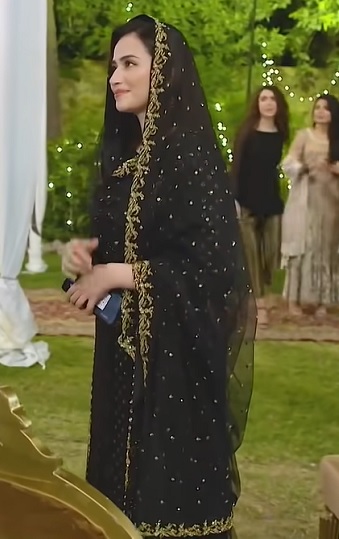 This pretty pink schiffli dress was another one of those dresses which stood out because of its color and design. This semi-formal outfit was also from Ansab Jahangir Studio.  
Here are some of our most favorite dresses which were perfect for formal and semi-formal occasions: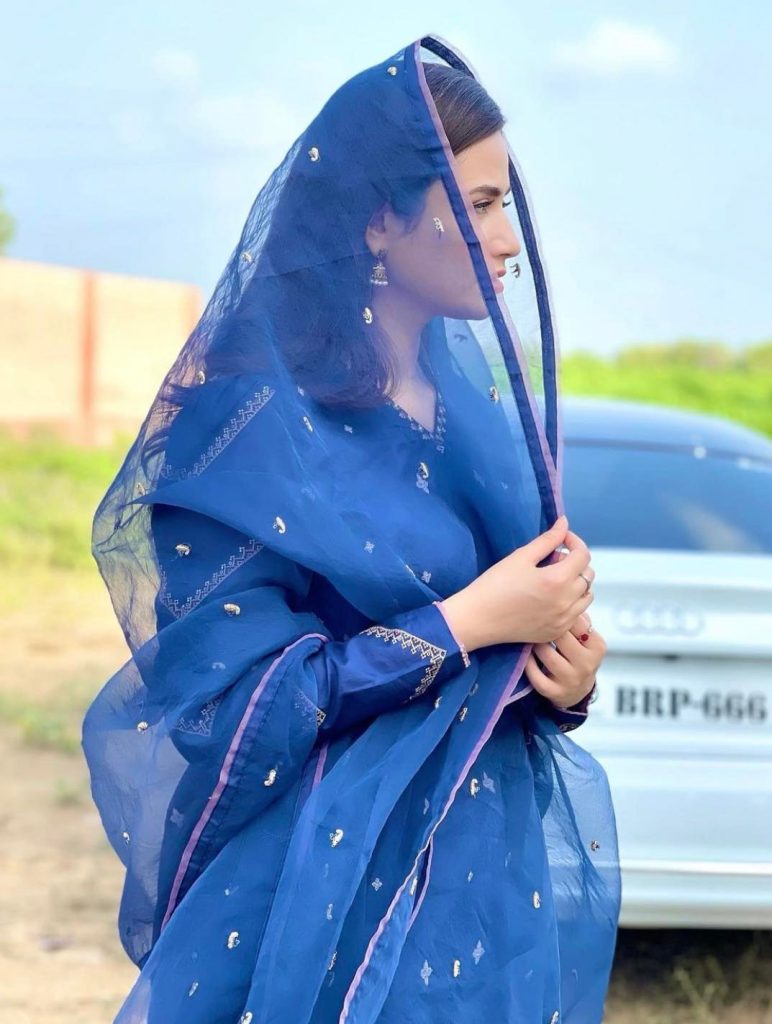 As is evident from all these looks, Sana made good use of jhumkas. She also wore bangles with these outfits which gave her the character a more traditional look.
Casual Pastels
Sana Javed chose to wear cool pastels for most of her casual looks. Like all her formal and semi-formal wear, these casual dresses were designed by some of the top designers in the country. Many of these dresses were from Zara Shah Jahan's collection. These were a mix of lawn and cotton, with organza or cotton net dupattas. There is no denying the fact that Sana Javed carried these dupattas so well even though sometimes it is challenging to drape organza dupattas. Sana Javed made these looks effortless and complete by carrying them so well. Zara Shah Jahan is known for her elegant designs which are ideal for women who like wearing shalwar kameez in the most graceful way.
Here are some of our favorite casual dresses that Sana was seen wearing in the drama:

Simple Solids
For her everyday look in the house, Sana Javed chose to wear solids that were designed in the same way. She used different colors but the same design for such casual scenes at home. All these dresses had a round neck and buttons in the front to give the neckline a neat finish and in order to add some oomph to a casual outfit. These are the kind of outfits that are a go-to for girls when they do not want to go through a lot of trouble to design their everyday clothes therefore relatable for many as well. We are glad that Sana chose to wear these for her everyday looks instead of going for something more intricately designed.
What are your thoughts about Sana Javed's wardrobe and looks from Aye Musht-e-Khaak? Which outfit and look was your favorite? Share your views.