Ohkay so, don't worry guys I've got my fix for the day i-e black coffee & thanks to that, I recovered from the shock & torture that I went through in the past hour even though the effect of it was wearing off but never mind. So, I officially declare Sanam as a new sit-com that is airing on HUM TV these days because I don't know about you guys but this drama surely makes me laugh a lot!!!
Even though I have labeled this colony as Harib Mohalla/Harib Chowk, I will rename it as Talaqyafta Chowk because looks like all those who're Talaqyafta frequent this place. Here's the list of all those Talaqyaftas who are residing in or around this Mohalla: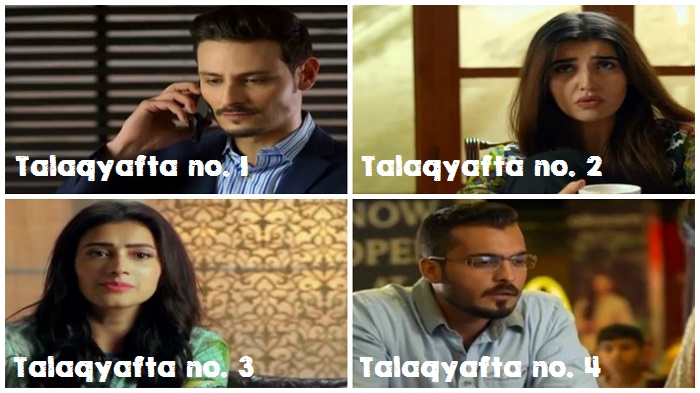 I find it actually quite amusing that despite knowing Shehroz & his ping pong ball-like nature, Harib Prince(ss) chooses to trust him. I seriously have my doubts about how Harib made it to the top & ended up doing so well for himself because it just doesn't sit well with me as to how could a masoom bechari jaan like Harib put up with the pressures of this ruthless & cut-throat world, just when he is unable to tame a psycho ex-wife, a tharki ex-girlfriend & a ping pong ball-esque friend who should be hit so hard with a racket that he never returns to this place!!!
I don't really understand why this zanani called Shehroz is running things here? At one hand, he pledges his allegiance to Harib & promises to understand him, but on the other, he fully supports Aila & her pagalpan. It was once again a Sanam Logic that the writer applied where just because Shehroz wanted Aila to believe in Aan & Harib, he decided that he should arrange a meeting of Aila & Sara? It was absolutely ridiculous & disgusting to see two divorcees acting like 16 year olds who just got introduced to the feeling of LOUUUU & were in some lala-land imagining how purrrrrrrrfect their lives would be with Prince(ss) Harib!?!?!?!?!?!?!?!?! But I think we shouldn't even bother about how many times the logic has been defied & has been murdered in this drama because writer was on a 'maaa writin' maaa rulezzzz' spree!!!
Chalo jee, Amman jaan ko beti ki Nokri janay ka kuch ziyada hi dukh lag gaya that she ended up getting a heart attack & was hospitalized. I do understand her attachment & her feelings for her daughter so no comments on that, obviously she was worried & took everything a bit too seriously. That's when things got juicy because Harib got to eavesdrop on Farhan & his mother & ended up finding out that Farhan is also Talaqyafta like Harib, wow such a new twist in the story right??? Even though for a split second I was excited that finally, Harib Prince(ss) found out about Farhan's reality & now he will save the day but then again I was reminded that the rating-hungry director won't end this drama before 40 episodes, so I can't even afford the luxury of a 'wishful thinking'.
It was absolutely traumatizing to see Aan entering the hospital to become Mannu again (queue dramatic music, dhan dhan dhaaaaannnnnn), why you do this Aan/Mannu/Maya, why you do theeeessss??? That's the moment when I felt the effect of black coffee was wearing off but I told myself, you could do this Zahra, you're strong enough to survive this apocalypse!!! We have been taking anti-Mann Mayal shots every single day to recover from the pain that it inflicted upon us & there you swooped in as a reminiscent of traumatizing Mannu. Maya Ali, your performance as Mannu wasn't 'classy or amazing' so there is no need to rely on that again & again & again. Like Shehroz advised Aila in this episode, that's the same advice I am going to give it to you 'banda apni purani ghaltiyon se seekhta hai', so Maya gurllll you need to learn some lessons from your past mistakes too!!!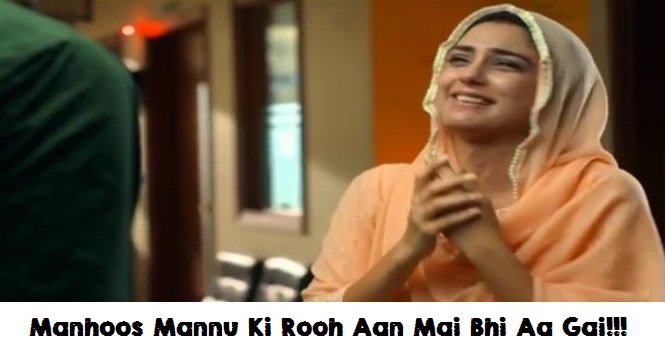 Also, the germophobe in me gave me a very very hard time when I saw that Aan didn't wash her hands after flushing her termination letter & it just didn't stop there, because she put the same hand on her face (queue vomit voice here, uaaaakhhhh)!!!
Just when I once again saw Harib Prince(ss) go on 'mujhe kuch samajh nahi aa raha' spree, I was like pleaseeee not again. Like is there anything that Harib UNDERSTANDS? I guess in the pursuit of turning him into a bechara, the writer forgot to add a very small yet important organ in Harib's body & that thing is called BRAIN. I just don't understand why Harib is always so clueless, like how old are you? Are you a school going boy or a toddler when it comes to having some IQ & brains? I really think Harib Prince(ss) needs to snap out of this 'haye Allah mai bechari, mujhe to kuch samajh nahi aa raha' mode, should man up & should take matters in his hands. It was amusing that before even doing anything, he gave up saying he couldn't afford to give more tension to Shabnam? Oh bhai tumne kaunsa dhindhora peetna hai Shabnam ke aggay, peechay peechay se sara masla settle karo na? Stealthily mohabbat ho jati hai lekin stealthily koi aqal ka kaam nahi ho sakta?
The preview of the next episode gave me such a good laugh because jokes apart & honestly speaking, it made my mood so much better when I saw a Gugu named Farhaan holding onto Harib's Girebaan, I was like alay lay lay lay layyyyy gugu ko gucchaa aa gayawwwww, awwwwww. Khud talaq de ke betha hai lekin Aan ke paas Harib bardasht nahi??? LOL! Anyways, honestly speaking, I am looking forward to the next episode because I want to see a cat fight between two weak men/boys/toddlers/infants aur phir Shehroz to hai hi teeli laganay wali aunty, so it's going to be so much fun! Please share your thoughts about this episode of Sanam!
Keep Supporting,
Cheers,
Zahra Mirza.
Shucks, there was no mention of food in this episode, may be that's why I am feeling low & hungry!!!
ALSO: