Sang e Marmar Episode 05 Review – A Rollercoaster Ride!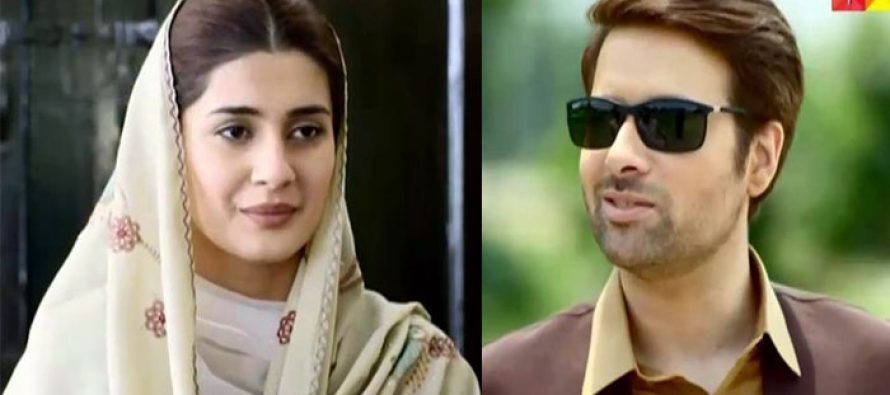 Oh wow!!! The makers of Sang e Marmar most certainly know how to keep the viewers at the edge of their seats. This entire episode was so engaging & intense, while still being unpredictable because it kept me guessing & I believe it was the unpredictability that made it even more interesting. I must say, the way the director has executed this play shows the understanding he had about this script & how his approach was filled with intelligence while directing a story like that. Even though there weren't a lot of scenarios covered in this episode but what they showed was a glimpse of what is yet to come.
Shireen & Dukhane themselves saw what sort of a person Gohar is & that is why Shireen succeeded in convincing Durkhane that she needs to put a kibosh on the relationship that she has with him because he has been fooling her all this while. Even though Gulistan Khan's character has been taken a back seat, his mention is enough to tell what he has done his entire life for people to detest him & his clan so much. Shireen knew that she had to do something because now even Durkhane learned the truth about her beloved. I love the relationship Shireen & Durkhane share because being Durkhane's friend, Shireen understood how hard things must've been on her, that is why she decided to meet Gohar on her friend's behalf & end everything, despite knowing that her sister in law was trying to put a dent in a relationship that Shireen & Saif ur Rehman share.
'Gulistan Khan ne tera dumba khaya hai, tu uska kumba kha', Torah & his friend got the opportunity that they were waiting for. They knew what Gohar was about to do will not only malign his reputation but it will cause distress to Gulistan Khan too. Even though Torah's personality is quite subtle & subdued, his aura is strong enough to showcase the hatred he has for the family members that he is surrounded with. What's amazing is that Gulistan Khan can never even conceive of the fact that it is Torah who has insinuated everything & he doesn't plan to stop as in the past, he was weak & helpless, but in the present, he has learned the art of playing mind games.
Shireen's bhabhi eventually learned the truth but she chose not to believe what Shireen was telling her because even she knew that Shireen & Durkhane will never tell on each other. That is why she couldn't believe that Shireen was being honest with her, because what she wanted to hear was something entirely different. At least Shireen succeeded in convincing her to keep her secret because she knew that she had a bigger problem to deal with at the moment. l feel the warmth & the beauty of the friendship that Shireen & Durkhane share every single time they both share a screen space. They both are so selflessly honest with each other & Shireen proved that she is Durkhane's friend because she wanted to protect her from falling into a deep pit without even bothering about what will happen to her if someone spots her & Gohar together. I love the fact that all these girls are so simple, yet they are so iron-willed that they achieve when they put their mind & heart into something.
The scene that all the viewers were expecting was totally different to what we all got to see. Saif ur Rehman did get tipped that it was his sister who was going out with Gohar & just when I thought that Shireen will lose everything, especially her brother's trust, we saw how strong our naive & gullible Durkhane turned out to be. Durkhane didn't allow Shireen to face the brunt for her wrong judgment & she chose to show that she had enough courage to undo her mistakes, that is why she went ahead & confronted Gohar with confidence as she knew that she wasn't wrong & it was Gohar who should've been ashamed for playing with someone's feelings like that. I honestly felt relieved when Durkhane ran away & saved herself even before Saif ur Rehman showed up. When Gohar fell weak, I felt good because he was now facing the consequences. The gunshots sealed the deal that something big is about to happen & while that scene was nail biting, the way Torah's friend was doing a victory dance had this depressing feel to it because even though it was his moment of glory, someone on the other side must've been killed. Things are going to get quite complicated because now it seems Gulistan will come into the foreground & run the show. Also, it looks like Gohar's prediction of Aurang's return to the village at someone's death might come true, it could be related to Gullalai or it could also be something that Gohar unknowingly said about himself, only time will tell!
Ohkay so, the entire episode was amazing because where it had those nail-biting moments, it had some heart-warming scenes too. All the characters have been written with so much of detail & I must say, the director has done a brilliant job in elaborating all these characters on screen with such effortlessness. I am glad we're getting to watch a drama that is different & has a meaning to it. I must say, the attention to detail in every aspect is making this drama a treat to watch – those tassled bed sheets, a certain type of furniture, their simple dressing & those shawls that the ladies always keep handy, all these little details have brought life to the drama. Once again, this episode was filled with some brilliant performances & was directed flawlessly. Please share your thoughts about this beautiful episode of Sang e Marmar.
Keep Supporting,
Cheers,
Zahra Mirza.
Zahra Mirza
The one who starts her reviews with 'Ohkay so'. ;)
---